Star Wars Land Opens at Disneyland This Week. Here's Everything to Know About Reservations, Rides, and Ticket Prices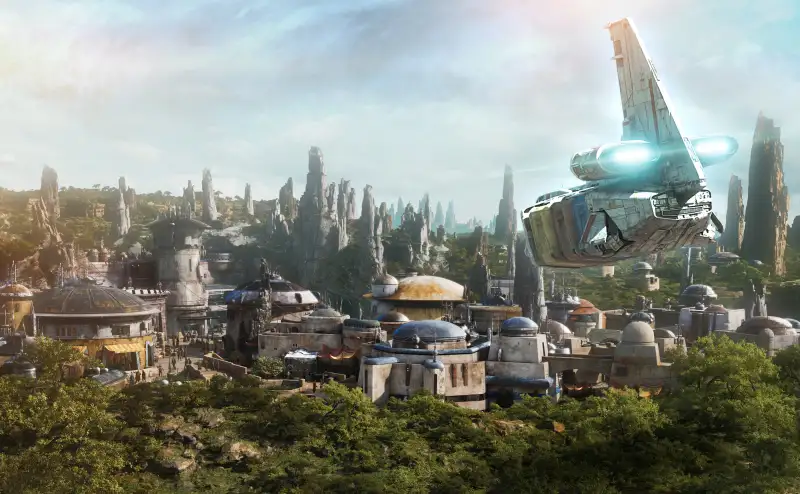 Disney Enterprises, Inc—Lucasfilm Ltd.
Disneyland's "Star Wars: Galaxy's Edge," the most hyped theme park attraction in years, officially opens on Friday, May 31, 2019.
The new "Star Wars Land" area (as most people are calling it) covers 14 acres and reportedly cost $1 billion to conceive and build. It features a Millennium Falcon ride at the opening, plus another ride, "Star Wars: Rise of the Resistance," that's coming later this year. Visitors to Disneyland's "Galaxy's Edge" will also get to browse in gift shops selling custom-designed lightsabers and droids, and there will be several areas to buy food and drink, including a Star Wars-themed cantina.
But Disneyland guests shouldn't simply show up at the theme park gates and expect to stroll into the new Star Wars Land — at least not initially. For the first few weeks that the area is open, all guests must have "Galaxy's Edge" reservations in order to gain access. That goes even for the gift shops and restaurants: If you want to look around, go shopping, or grab at bite anytime soon in Disneyland's newest territory, Star Wars Land reservations are required.
Here are all the details you'll need for a visit, including how to make Star Wars Land reservations, what guests can expect at "Galaxy's Edge," and when Disney's other parks, including Walt Disney World in Florida, will open their own Star Wars attractions.
How to Make Star Wars Land Reservations
Starting on the day "Galaxy's Edge" opens at Disneyland in Anaheim, California, and continuing through June 23, 2019, guests must have reservations in order to enter the new area. A reservation will grant you a specified four-hour window to tour Star Wars Land and enjoy all the attractions, shops, and restaurants.
Online reservations for Star Wars Land were completely sold out within a few hours of going on sale in early May. Disney also says that, at least initially, guests will not be able to use FASTPASS for any attractions inside the new Star Wars area.
The only way to get a "Galaxy's Edge" reservation now for the opening few weeks is by booking a Disneyland hotel stay during this time period. Disney will give you one Star Wars Land reservation for each registered hotel guest.
Be warned: When we checked for prices during early early, Disneyland hotel rates started at over $400 per night (based on a standard room for two guests), and availability was very limited.
How Much Do Star Wars Land Reservations Cost?
Star Wars Land reservations are free. You don't need to pay anything extra to get into "Galaxy's Edge."
You do, however, need to purchase Disneyland admission. Disney raises park ticket prices year after year, and the current Disneyland pricing structure has variable rates for single-day tickets, ranging from $104 on "Value" days (weekdays in late fall and winter) up to $149 during "Peak" periods (weekends, holidays, and all of June, July, and August).
Multi-day Disneyland tickets for guests ages 10 and up start at $225 for two days, on up to $340 for five days, and adding the "Park Hopper" option to visit more than one park on the same day increases the cost by another $55 per person.
How to Get Into Star Wars Land Without Reservations
The only way to visit Disneyland's Star Wars Land without reservations is to wait until the opening period is over. Starting on June 24, Disney says, "a separate reservation for 'Star Wars: Galaxy's Edge' will no longer be required" of guests.
Even so, if you're visiting Disneyland in late June or anytime this summer, it's wise to try to hit the new Star Wars Land as early in the day as possible. "Access to the park, land and experiences may be restricted or unavailable depending on Guest demand and other factors," Disneyland warns.
In other words, Star Wars Land may hit maximum capacity during peak-demand periods — which could be anytime during the summer — and would then shut down access to the area. Guests should also anticipate huge crowds and long lines at Star Wars Land, both before and after reservations are required, because fan interest is expected to be sky high.
Be on the lookout for grown men wearing Storm Trooper costumes and other gear too, because Star Wars fans tend to be, well, fanatical.
What Can You Do at Disneyland's Star Wars Land?
When "Star Wars: Galaxy's Edge" opens, there will be only one ride, called "Millennium Falcon: Smuggler's Run." Just like it sounds, the Millennium Falcon ride will simulate a voyage on the famous Star Wars ship, with Disneyland guests serving as pilot, engineer, or gunner. (Not everyone gets to be Han Solo, or Chewbacca for that matter.)
A second "Galaxy's Edge" ride, "Star Wars: Rise of the Resistance," will open later this year and place guests into a battle against the First Order — the bad guys in the newer Star Wars films.
Overall, "Galaxy's Edge" is designed as a replica of Batuu, a remote planet in the Star Wars universe that's home to rebels, smugglers, and outcasts. When the new Star Wars Land opens, the plan calls for all the main signs will be in alien language, though Disney says it should be pretty obvious where to find everything.
The shops and eateries in "Galaxy's Edge" resemble something of an open-air Middle Eastern bazaar. One of the most popular spots to hang out will surely be Oga's Cantina, a "notorious watering hole" where you can order drinks like the Jedi Mind Trick cocktail.
Like so many parts of the Disney theme park experience, "Star Wars: Galaxy Edge" will have plenty of opportunities for guests to buy stuff.
Among the items available for purchase at the new Disneyland attraction's gift shops are $32 collectible Porg mugs, $60 talking C-3PO toys, and $150 remote-controlled DJ R-3X droids that play music, according to the Orange County Register. A "Galaxy Edge" gift shop will also sell build-your-own lightsaber and build-your-own droid experiences, for $200 and $100, respectively.
When Does Star Wars Land Open at Walt Disney World?
The May 31 opening of "Star Wars: Galaxy's Edge" only applies to Disneyland in southern California. You'll have to wait a bit longer to visit Star Wars Land at Disney World's Hollywood Studios theme park in central Florida.
The official opening date for Walt Disney World's "Galaxy's Edge" is August 29, 2019. No reservations are required for "Galaxy's Edge" at Hollywood Studios. But, as with "Galaxy's Edge" at Disneyland, guests eager to see the Disney World counterpart in Florida should anticipate big crowds and long lines, along with the possibility that access will be completely shut off. Disney warns of "Galaxy's Edge" in Hollywood Studios that "access to the park, land and experiences may be restricted or unavailable depending on guest demand and other factors."