Auto Group Says Trump Trade Policies Will Kill 31,000 Car Jobs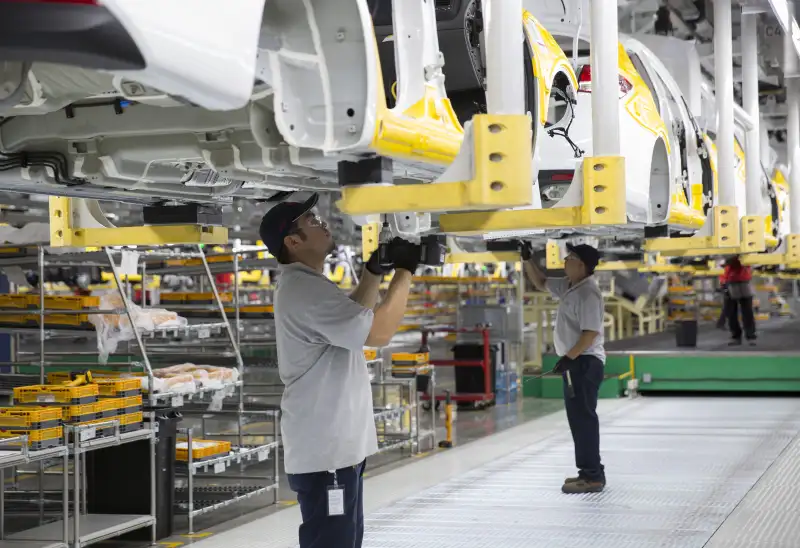 Bloomberg via Getty Images
Donald Trump has promised to be the greatest jobs president ever, and he's pledged to usher in a golden age of manufacturing jobs for American workers in particular. But a new report argues that Trump's trade plans could have the opposite effect on the auto industry, resulting in tens of thousands of American job losses.
A key part of Trump's plan to boosting jobs is changing America's trade policy. To wit, on Monday, Trump signed executive orders to renegotiate the North American Free Trade Agreement, a.k.a. NAFTA, which was launched under President Bill Clinton in 1994 with the goal of opening up the movement of goods and services among the U.S., Mexico, and Canada.
Over the years, Ross Perot and Bernie Sanders have been among the many critics who have argued that NAFTA policies result in the outsourcing of jobs in the U.S. to other countries. Trump has been one of the most outspoken critics. In one of the 2016 presidential debates, Trump said that NAFTA—which was signed by the husband of his opponent, Hillary Clinton—is "the worst trade deal maybe ever signed anywhere, but certainly ever signed in this country."
The biggest complaint about NAFTA is that it kills American employment, because it frees up companies to slash production costs by shifting manufacturing jobs outside the U.S. "America has lost nearly one-third of its manufacturing jobs since NAFTA," the Trump campaign has argued. With that in mind, Trump's position has been that as president he will "tell NAFTA partners that we intend to immediately renegotiate the terms of that agreement to get a better deal for our workers. If they don't agree to a renegotiation, we will submit notice that the U.S. intends to withdraw from the deal."
One of the threats Trump has made to companies shifting manufacturing outside the U.S. is the imposition of a 35% tariff on goods exported back to America.
However, the auto industry, which is one of the largest sectors potentially affected by Trump's trade policies, says that the combination of new tariffs and changes to NAFTA will ultimately kill American jobs—and result in higher car prices and fewer choices for American drivers to boot.
The Center for Automotive Research (CAR), a nonprofit founded with the goal of improving "the competitiveness of the U.S. automotive industry," published a new report highlighting how Trump's trade policies could hurt the industry and everyday consumers alike. "If the U.S. were to enact a 35 percent tariff on light vehicles imported from Mexico, CAR estimates the sales impact would be 450,000 units in the United States, and an implied loss of nearly 6,700 North American assembly jobs," the report states.
Meanwhile, because roughly 40% of the cars assembled in Mexico bound for the U.S. include parts that are manufactured in the U.S., thousands of other American workers would be impacted as well. All said, the report claims, "At least 31,000 U.S. jobs could be lost—in addition to some proportion of the 6,700 North American job loss—as a result of a 35 percent tariff on light vehicles and parts imports from Mexico."
What's more, the CAR report states that if the U.S. withdraws from NAFTA and Mexico takes the expected step of installing retaliatory tariffs on goods exported by America, the obvious consequence is that American exports will suffer—and China and other countries could benefit as a result. "If the U.S. leaves NAFTA, companies in Mexico and Canada may seek alternate, more affordable places to purchase these goods, such as China, India, and other regions with large, international U.S. competitors," the report states.
It should be noted that CAR represents the auto industry, not auto industry workers, and that its goal is to help America's automakers be as successful and profitable as possible. The upending of NAFTA would likely make it more complicated and costly for automakers to run their businesses. So there's clearly some self-interest inherent in the industry arguing against changes to the status quo.
Bear in mind that the Brookings Institution, the non-partisan think tank, has also argued strongly against Trump's plans to renegotiate from NAFTA and withdraw from the Trans-Pacific Partnership (TPP), the trade deal with Asian countries that was negotiated by Obama but never ratified by Congress. "Trump's current trade proposals will work against each other, threatening to cancel out any gains, and likely inflicting additional costs on the very people he has pledged to help," the Brookings Institution stated.
It's essentially the same argument summed up in the conclusion of the CAR report: