10 Ways to Give to Charity When You're Short on Cash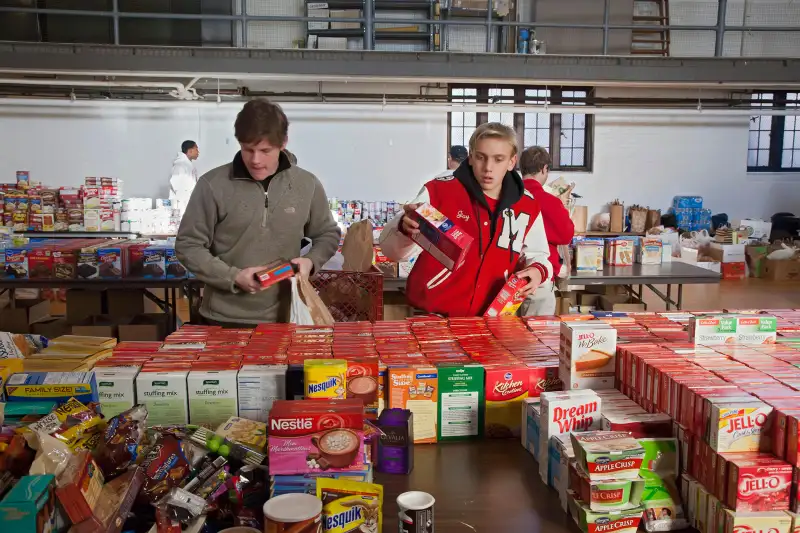 The holidays are hard on everyone's budget, so don't feel bad if you can't write a big check to your favorite causes this year. Instead, give back without emptying your wallet with these nine great strategies:
Volunteer Your Time
One of the best and simplest things you can do to help a charity is give your time. "Nonprofits need people more than they need money,"says Timothy Seiler, a professor of philanthropic studies at the Indiana University Lilly Family School of Philanthropy. "Everybody is good at something, and there are probably many nonprofits that are looking for your skills."
Charities can always use professional services assistance, people to help with legal work, accounting, graphic design, and writing, says Babbie Jacobs, program director of Bolder Giving, a nonprofit focused on helping Americans give more effectively. But even if you don't have those skills, many organizations just need people willing to give time to support their mission, whether that's being a mentor to a kid looking to get into college, offering free tutoring, or preparing food at a food bank.
Skills for Change is a great way to volunteer online based on your interests and talents. To help in person, contact local charities whose programs interest you and ask to speak to the volunteer services coordinator.
Clean Out Your Closet
No matter what unwanted item you have lying about your house, there is probably some charitable group that will benefit from receiving it. "Anything you can think of, nonprofits will be able to use, from books to old computers," says Seiler. Giving clothes, shoes, furniture, and the like to Goodwill, the Salvation Army, or a local church's thrift store is an easy way to help out low-income families. Your unwanted business clothes, for example, can help disadvantaged women gain a professional wardrobe through Dress for Success. Add to your local library's collection by donating good-quality books you've already read. Beaten-up sneakers can be broken down and used to create materials for public playgrounds and tennis courts through Nike's reuse-a-shoe program. Even your old car can be donated to groups like Habitat for Humanity.
Get Crafty
Certain charities need items that you might not readily have at home, such as tiny sweaters for penguins affected by oil spills or booties for premature babies. These charities are counting on people good with needle and thread to come to the rescue. Several charities offer patterns on their websites that you can download and use to craft items specific to their needs. For instance, you can knit blankets for shelter animals through the Snuggles Project, or make blankets for needy children with Project Linus.
Give Blood
With fewer blood drives being held during the winter months, blood donations tend to drop this time of year. But the need for blood remains steady; donated blood has a shelf life of only 42 days. All blood types are wanted, especially type O or AB.
You can also give platelets and plasma, which help with cancer and organ transplant treatments, at select donor centers. To find a donation center in your area, use the AABB blood bank locator.
Swipe Your Credit Card
Many banks offer credit cards that are affiliated with certain charitable groups. For every purchase you make, the card will gift a small percentage to the charity. While it's nice that you can give back while making everyday purchases, be aware that the help tends to be minuscule. For example, Bank of America offers a card that gives 0.08% to the Susan G. Komen breast cancer organization, which means you'd have to spend $10,000 to donate $8. You also don't get any tax benefits from using a charity card.
Rather than use a charity affiliated credit card, consider giving your credit card rewards or earned cash back to a charity. Most banks allow you to donate your earned rewards to a variety of charities and to claim a tax deduction. Just think, if you earn cash-back rewards of 2% on all purchases, gifting that, rather than 0.08% in the scenario above, would equal a much larger donation—about $1,990 more. To find the credit cards with the best rewards, see Money's top picks.
Shop Online
Buy online through AmazonSmile, a program the tech giant introduced in 2013 that automatically donates 0.5% of your purchase to a charity of your choice. It costs you and the organization nothing. The only catch is that you must start your shopping at smile.amazon.com; buying through Amazon apps, Kindle, or through affiliate links won't count. It's a nice bonus to gift to a charity while making everyday purchases, but know that much like with affiliate credit cards, the sum donated is very small.
You could also do your shopping through GoodShop, which works like AmazonSmile, gifting a small percentage of purchases to the charity of your choosing.
Surf the Web
Ditch Google and do your online web searching through GoodSearch, which donates a penny for every search to charities and schools that users choose. Play educational games on FreeRice, and every question you answer correctly will result in 10 grains of rice being donated to the United Nations World Food Programme. If you visit Care2's site, you can click on ads that require the sponsors to make a donation. The app CharityMiles turns every mile you run into a donation provided by its corporate sponsors—10¢ for each mile biked and 25¢ for each mile walked/run.
Become an Organ Donor
Each day 22 people die waiting for transplants that can't take place due to a lack of donated organs, according to the Department of Health and Human Services. Help reduce that number by registering in your state to become an organ, eye, and tissue donor. By doing so, you could save up to eight lives and help several others through tissue donation. Last year, donors made more than 28,000 transplants possible, and helped another 1 million people receive tissue transplants.
Get a Haircut
Several organizations such as Locks of Love and Wigs for Kids will happily take your chopped-off locks to make hairpieces for patients who lose their hair due to medical treatment or a medical condition. You may need to wait a bit and grow your hair out before doing good; the minimum length requirement is 10 inches.
Ask Your Company to Give
Lots of large organizations like General Electric, British Petroleum, and the Gap Corporation offer to match the amount you give to charity, effectively doubling your donation. You'll have to fill out a bit of extra paperwork with your HR department to get the company match, but it's worth it to ensure the cause you care about gets the maximum gift. If you are unsure if your company participates in such a program, contact your HR department.
Read next: The Smarter Way to Give to Charity