Donut Fails: 7 Flavors You Won't See On National Donut Day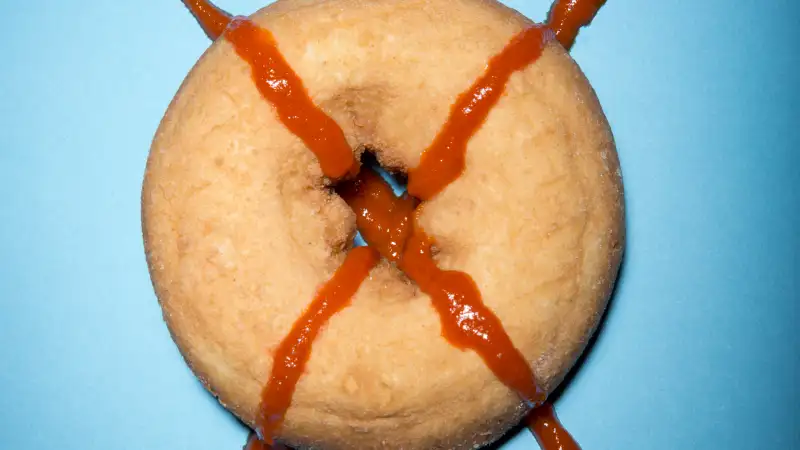 Sugar lovers rejoice: Today is National Donut Day, when donut lovers get to partake in the annual tradition of having a donut (or six) for free. In honor of this important holiday, we asked a number of donut makers one of the great existential questions of our time: Is there anything that can't be made into a delicious chunk of fried cake? Their answers were enlightening--if not exactly appetizing.
Some flops seem obvious. High off the success of a Cheerwine creme-filled number (Cheerwine is cherry-flavored soda that's big in the South), Krispy Kreme decided to try a collaboration with another regional brand: Texas Pete hot sauce. The resulting hot pepper-and-creme-flavored confection never made it into stores. "The consensus was that it might be a little polarizing," said a Krispy Kreme representative via email.
Strange Donuts of St. Louis doesn't typically have a problem with selling bizarre flavors. In fact, one of the store's recent hits was a meatball donut. Yes, that's a donut stuffed with meatballs that are made with--obviously!--stale donut crumbs. But there is one flavor that flopped, said co-owner Corey Smale: a Pop Rocks version, intended as a homage to the urban legend about Pop Rocks and soda. "Too weird," sighed Smale.
Other times a flavor might seem incredibly promising, but something is lost in the donut-ization process. Santiago Campa, owner of Donut Bar in San Diego, was pretty excited about a creating a lavender version. "We even got little lavender buds to put on top," he said. Despite multiple tries, the pastry just tasted like "shampoo in the mouth," said Campa. "And not even good shampoo--cheap shampoo!"
Location can also play a role. Mark Israel, owner of Doughnut Plant, said that while his sesame and even tahini doughnuts are always crowd favorites, the black sesame doughnut just won't work in the New York store. In his Japanese locations, however, it's a hot seller.
Another donut flavor sin: seeming too healthy. Krispy Kreme tried a whole-wheat version of its famous original glazed, but it was ultimately pulled from shelves due to lack of interest. When Canadian super chain Tim Hortons introduced the "Dutchie," a raisin-studded yeast donut that's popular up north, to the U.S. market, the company quickly discovered that Americans "didn't really get it and I guess really don't like raisins in their doughnuts!" a company spokesperson explained via email.
Then there's Portland's Voodoo Doughnuts, which claims credit (blame?) for launching the bacon dessert craze with its Bacon Maple Bar. A few years back, the store offered an oyster donut. When a customer ordered one, an employee would have to run down the block to a nearby oyster bar to procure the mollusk, throw it on top of the donut and douse it with sauce, recalled co-owner Kenneth Pogson. Sure, it was gross, but that wasn't what got it yanked from the menu, he said: "Nobody wants to wait."