Christmas Sales Already? Why Santa is Popping Up in Stores Ridiculously Early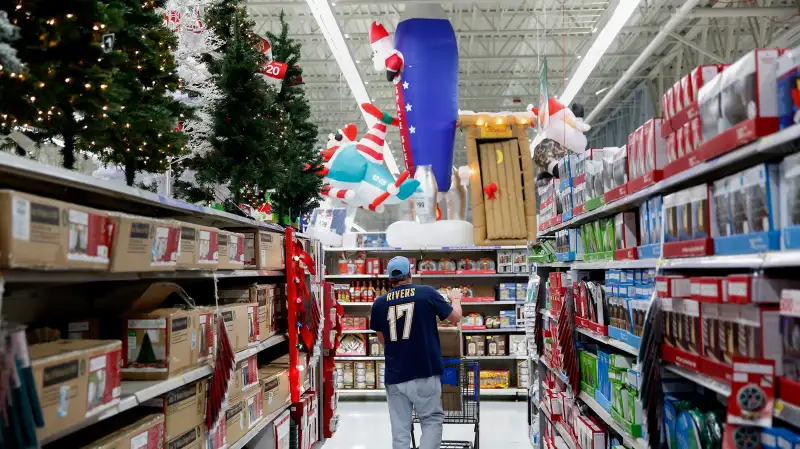 Patrick T. Fallon—Bloomberg/Getty Images
It's unclear exactly when the 2015 holiday shopping season kicked off. Some would say the new season was born on Prime Day, the manufactured shopping "holiday" in July created by Amazon as a summertime Black Friday. Others might point to August 28, when Walmart launched its layaway program for the 2015 holidays, or to September 4, a.k.a. "Force Friday," when a collection of new "Star Wars" toys that will surely be big holiday season sellers hit the marketplace.
Retailers have since continued to make moves aimed at grabbing holiday-season dollars ASAP, with Toys R Us reducing the minimum purchase threshold for free shipping from $49 to just $19, and Kmart revamping its layaway program in anticipation of strong early-season demand.
The gist of all of this is: If you were hoping to enjoy the late summer and autumn without being confronted by Santa Claus, Christmas trees, and Frosty the Snowman invading store aisles, you're out of luck.
"Holiday creep" has been pushing Christmas displays and promotions into stores earlier and earlier every year. In 2011, Walmart's layaway program launched in mid-October, compared to a late-August rollout this year. A year ago, Kmart started airing a Christmas commercial in September. But stores wouldn't roll out the holiday fanfare before the seasons technically haven't even turned from summer to fall if there wasn't a significant number of shoppers who were fully on board. In other words, if you hate holiday creep, you should probably blame consumers (and consumerism) as much as Walmart, Kmart, Toys R Us, and the rest of the retail crew.
Read Next: What Millennials Can Teach Boomers About Happiness
According to a survey released on Tuesday from CreditCards.com, some friends and neighbors are indeed embracing early holiday shopping. In a poll conducted before Labor Day weekend, one in seven respondents said they had already began shopping for the 2015 holidays. A minority? Sure. But if the survey is representative of the population, that's 32 million shoppers.
Unsurprisingly, parents are far more likely to start holiday shopping early (20%), versus folks without kids (11%). An outsized percentage of millennials say they're more likely to start shopping earlier this year—22%, compared to only 9% of shoppers ages 50 and up.
Read Next: The Easiest Way for Millennials to Become Millionaires
The results of another survey released this week, from the Rubicon Project, indicate that the CreditCards.com data may actually be underestimating how many people are already shopping for the holidays. According to the Rubicon Project poll, nearly one-third of consumers in the U.S. and U.K. have started doing some Christmas shopping, and 42% of parents are already shopping.
A small hardcore faction—2% of those surveyed by CreditCards.com—said they had already completed their shopping for the 2015 winter holidays. Granted, some of these individuals might be done because they never buy presents for anyone. Another group of bargain-hunting shoppers swears by the practice of browsing for super-cheap deals on Christmas gifts around the calendar year, meaning they could be done for the season long before Black Friday.
All this being said, if you haven't done a lick of holiday shopping yet and don't plan on doing so for weeks, you're more than normal. At the end of October 2014, 45% of consumers said they hadn't started shopping for the holidays, per National Retail Federation data. There's some wisdom in waiting as well. While retailers will certainly offer some worthwhile early season bargains to drum up business, for the most part the best overall days to find discounts tend to pop up much later, in mid- and late December.
Let us know: Have you made your holiday travel plans yet?