Red, White, and Blue ⁠— and Green! Here's How to Throw an Eco-Friendly 4th of July Party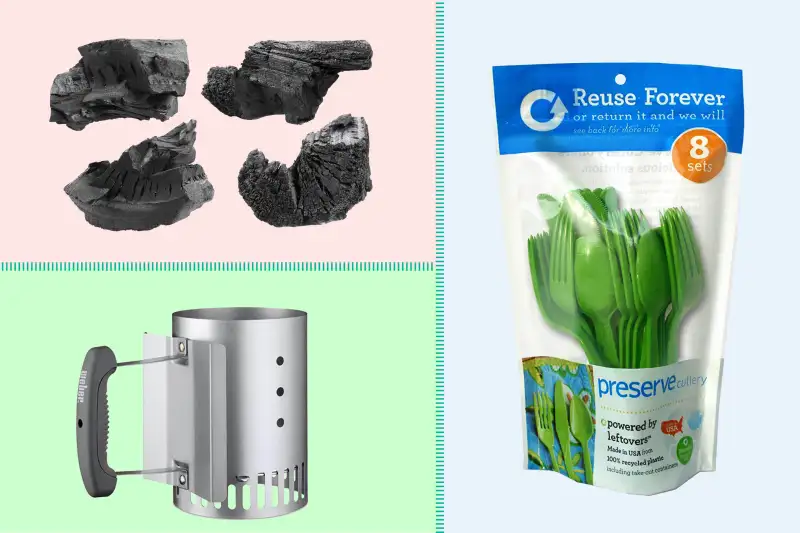 Getty Images; Courtesy of Amazon
July 4th is a prime picnic day.
Independence Day is a federal holiday, and most people have the day off and head outdoors to watch fireworks and barbecue.
All that party planning usually comes with a long list of items to buy and bring — and most end up being needlessly disposable for easy transport.
So here's everything you need to throw a summer picnic that doesn't rely on single-use plastic or wasteful items. It's easier than ever to go green (and still enjoy a hot dog...or two).
Get your potluck sign-up sheet in order.
Want to avoid getting 10 bags of chips, five watermelons, and no mains?
Send your guests a group sign-up sheet, which not only gives you a sense of who is planning to come, but allows you to create slots for the types of food you are looking for. SignUpGenius is the free website I use whose tagline is "summer organizing made easy."
Your guests can also see the number of people coming, which results in less food waste and easier clean-up.
You can also add a message with details or asks for guests. Create sign-up options for the highest single-use offenders like plates and cutlery so you don't end up with dozens of extra plastic forks. Better yet, sign up for those yourself so your guests forgo bringing the junky stuff and you can make greener choices.
Grab this grilling essential.
If grilling is part of your plan, take some time to look beyond the easiest-to-find options, which aren't necessarily the healthiest for you and the environment. One good option is Natural Wood Lump Charcoal, which comes from "renewable oak, hickory, maple and walnut hardwoods with no chemicals or additives" and costs about $30 for 15 pounds.
Replace your lighter fluid with this instead.
Who wants to smell or eat the remnants of lighter fluid? Instead, be a badass and start a fire you can feel proud of — like Girl Scout proud — by using a chimney starter, which costs $12.99. You can use it 'til the end of time.
Reusable cutlery that looks great, too.
Why throw money away every time you host a party and also add to the countless pieces of single-use plastics flooding landfills and floating around Earth's oceans? Instead, invest in knives, forks, and spoons that are dishwasher safe, can be reused hundreds of times and are made from 100% recycled plastic. This pack of 24 assorted pieces costs less than $8.
Don't forget the earth-friendly plates and bowls.
Made from unbleached, chlorine-free, pesticide-free, dye-free, natural discarded wheat stalk and bagasse (sugarcane fiber), these plates and bowls can go right into paper recycling after the picnic. (Super soiled ones can go into a compost bin.) Recycling offsets the cutting of the rainforest, and composting keeps it out of the landfill. This pack of 50 costs $8.98.
For that little midnight snack...
Everyone loves leftovers, and bringing takeaway containers encourages people to take food home. These sustainable clamshell containers cost $14.99 for 50 and are the perfect size for desserts.
Perfect for sipping in the sun.
Ask your guests to bring their own drinking vessel, and the benefits are twofold: less trash, and there will be no confusion over whose glass is whose. You can always bring a small stash of cups for friends who might forget. These cups are made from recycled plastic and are still recyclable.
Go bulk for beer.
Encourage kegs or growlers for your beer drinkers! At the very least, think glass bottles for recycling. Aluminum uses much more energy to make and all aluminum cans are lined with plastics, so while you might avoid heating food in plastic, you could still be ingesting them in your aluminum can drinks.
Don't forget to hydrate.
I recommend the 2.5-gallon water containers with a spout. People who bring reusable drinking vessels can fill up and so can guests who use recycled plastic cups. There is a higher likelihood guests will pour what they will drink and not waste water and countless plastic bottles and caps in barely emptied plastic containers.
And don't forget to separate!
The most impactful thing you can do during a picnic is to separate and recycle items while the party is taking place — and not wait until the end of the night.
Set up multiple bins that are clearly labeled so your guests can participate in disposing their items correctly. At a recent picnic, we had bins labeled with following:
Food scraps for compost (no bones or dairy)
Paper (free of food)
Plastic #1-2
Plastic #3-7
Not all plastics are the same, so be clear on what your county recycles and separate them. Water and beverage bottles are typically classified as #1, but the caps are typically #5. Milk jugs and larger water jugs are typically #2. Caps can be #4 or 5. Also, containers for things like yogurt, cottage cheese, dips, and the like are most often #5.
I live in Jersey City, where only #1 and 2 are accepted curbside. We had guests separate ones that are and are not taken by our local hauler. We take those to my mom's when we visit — her county recycles the rest — but you might find you have to toss them in with the trash. If you're lucky, your city or town takes #1-7.
Have a separating system created something like a game for guests, who all wanted to be the "best" recycler. If that doesn't make for a memorable summer, I don't know what will.