How I Made My Green Wedding Nearly Zero-Waste — Without Spending Any Extra Money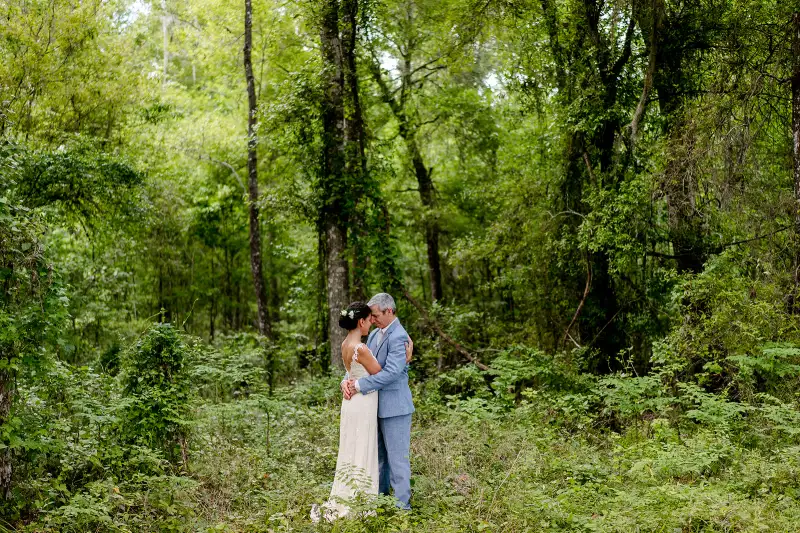 We often think we need to spend more money when making eco-friendly or organic choices. And in some instances, that's true. As manufacturers shift to more expensive natural ingredients or less-mechanized production methods, or companies pay fair-trade wages, things can (and perhaps should) cost more.
I make certain choices knowing that I'm getting the most healthful and least harmful items I can find, whether that's buying organic berries or choosing chemically sound household cleaners.
The more I've learned about getting "greener," the more changes I've made to decrease my personal footprint, from skipping takeout to avoid all the plasticware, to bringing reusable containers with me when going out to eat. It has definitely become more of a lifestyle, but I was recently faced with an even bigger choice: How to make my own wedding as eco-friendly as possible.
My new husband, Tim, is a longtime environmental activist. When we decided to move forward with a wedding that was more conventional, we knew it would be a challenge to adhere to the "Rs" made popular to promote environmentally sound practices: "Refuse, Reduce, Reuse, Repurpose, and Recycle," since weddings are often highly consumptive and high-waste events.
But we also realized this was an opportunity for ourselves and for our wedding vendors. We had to go the extra mile to reduce the negative impacts of the wedding, because it wouldn't be a joyful celebration for us if we knew we were causing harm to life on Earth and leaving a mess for people yet to come.
If you want to lay the foundation for your own zero-waste wedding — without inflating your budget — here are seven ways to start.
Check out family-owned businesses.
We had limitations regarding where and when we could hold the event if we wanted certain key family members in attendance (sound familiar?), so once we had our location locked down — in central Florida — we looked for a venue that would accommodate an outdoor ceremony under the trees.
We found that working with family-owned businesses not only helped us support smaller local establishments and economies, but their flexibility and established networks worked to our advantage.
Our initial conversations about a zero-waste event were very encouraging and tipped the scales for working with the family-owned venue, October Oaks Farm. We were delighted that the venue afforded some real cost savings, and also had interest in helping us with our green goals.
Ask what happens to the food.
Most weddings end the same way: an opulent and invitingly displayed buffet gets dumped into the trash after the lights come up and guests depart. But your own special event doesn't have to repeat this food-waste horror.
Don't be afraid to ask vendors upfront about leftover food.
Before we got into specifics about cost or meal options, we asked our potential caterer what happens to the food after the event. Michael, of Cuisine by Michael J, immediately said, "The food is yours. We can pack it up for you at the end of the night. Otherwise it all goes to two local churches in our area." Score!
We arranged to have leftovers available for guests to take with them (in containers made from sugarcane waste paper).
When we followed up after the event, Michael said about 20% of our guests took leftovers and the rest went to the community churches.
While every vendor might not have a similar plan, you don't have to accept that the meal you labored over coordinating — and which is, on average, 40% of the wedding budget — gets scrapped at the end of the night. You can help guide them with resources that dispel the notion that it's unsafe or potentially a greater liability to donate unused food. Check out Rescuing Leftover Cuisine for talking points to broach with your vendor.
Talk to your caterer about local and organic ingredients.
Our next question was about the ingredients used in crafting our wedding menu.
We wanted to ensure the food was largely local and organic so we researched seasonal items in the area and asked for menu items that could be incorporated, if the chef could find them. It worked out well and he had local farms in mind.
Again, ask upfront. Even if your caterer is not located on a farm surrounded by sustainable growers, as ours was, you'd be surprised how many chefs have relationships with growers within 500 miles, which is still designated as local. Considering the amount of foods we eat daily that come from other countries or clear across the U.S., 500 miles is indeed local!
Make a plan to handle 'waste' management.
The word "waste" is used very broadly. Much of what we toss daily (especially at a wedding) can be recycled to be made new again, such as organic waste, paper, aluminum, glass, and, of course, plastics.
The first step is clearly labeling all recycling and composting. We worked with Ann and Michael at October Oaks on creating new signage and receptacles for recycling and composting.
First, the venue covered all their barrel trash receptacles along the outside patio with the table linens chosen for the event, eliminating the possibility that guests would use the incorrect bins.
On the patio for cocktail hour, we had centralized bins labeled Compost, Waste, and Recycle. We encouraged our guests to participate with a sign that read: "As you celebrate with the couple, they ask that you also celebrate Earth by joining in their efforts to reduce waste." (We purposely avoided personalized language in the hopes that October Oaks may want to reuse it for other couples in the future!)
We were also lucky that they already practiced some composting, given that the venue sits on an 80-acre farm. Other caterers might not have means to compost, which might seem above and beyond, but recycling is something a venue can, and quite frankly should, take seriously.
Pick a venue that's generous with their decor.
An all-inclusive wedding venue can include such amenities as lighting, tables, and chairs, and even handle the catering and flowers, too, which can lead to big savings on what would otherwise be additional rentals.
Because we're loath to spend money on anything we won't reuse again, the added convenience of having little to pack up at the end of the event was all the encouragement needed to use as much of the available decor as possible.
We used dozens of items (barrels, wedding-specific signage, easels, decorative furniture, chalkboards, etc.), which not only saved us money but also lessened the environmental impact of items purchased for one-time use.
Was every single item the exact item of my dreams? No. But I was delighted in the ability to make use of them and was able to keep an aesthetic we loved…and we got nice feedback on the decor from our guests.
Before you commit, make sure you're aware of everything the venue can provide. Doing it on your own might take more money, time, and energy, all of which become highly valuable when you're planning a major event in your spare time.
Go digital where you can.
One area that can be high-waste and high-cost are paper items. Any paper product that we use that is not 100% recycled represents far more harm on Earth than I can bear, leading to loss of biodiversity and habitats, and negative impact on Earth's climate.
We were committed to using 100% post-consumer (PC) chlorine-free paper for the wedding invitations but happily used Paperless Post for the save-the-date card. The card was free because we designed and sent it without additional 'trimmings' (special designs, a background, envelope, and stamp are extra). We used a Polaroid-style card that was adorable and didn't feel like it was missing anything.
Reuse printer paper if possible.
Okay, hear me out.
I know a wedding is a big event: You're presenting yourself to your community and want to put your best self forward. Well, for us, our true selves were our best selves.
Tim had to work to convince me about this one, but I got on board once I saw he had used-on-one-side cardstock (that he had rescued from a former neighbor's business discards) and his computer was printing my brother's custom-designed signage. It was also completely free.
Tim also made nicely-cut tags to personalize each welcome bag (we used post-consumer recycled bags found on Amazon) waiting for our guests who traveled to join in the festivities. I loved them when I saw them.
By the end of our planning and prep, the "reused" paper was used for our tags, the readings for our ceremony, and the food description cards. We also used it for our request that guests put aside their cellphones for the ceremony.
When I saw the items during the wedding, I knew it was not only a great addition to our zero-waste wedding, but we could recycle them at the end of the event and not feel terrible about it.
I'm actually adding them to a keepsake box that I will always cherish. They're proof that it's possible to create a wedding that stays true to your beliefs — and is still beautiful, too.