Does Grandpa Need a Prenup?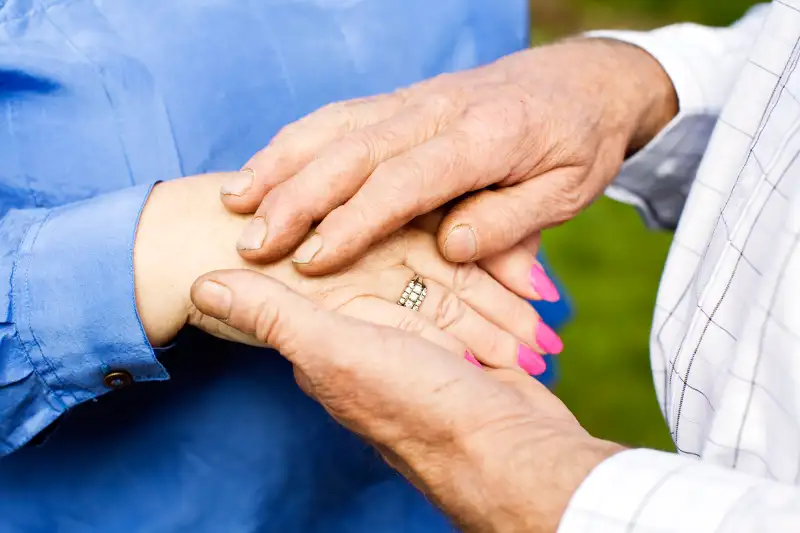 Tryman Kentaroo—Getty Images/Johner Images
Prenuptial agreements are not just for the young and wealthy. As life expectancy has climbed for both men and women, a greater number of elderly adults are now finding companions later in life.
For seniors who have spent their lifetime building wealth -- in the form of pensions, real estate interests, IRAs, stock portfolios, and perhaps even trust funds from a deceased spouse -- a new marriage can be complicated by increased financial assets and obligations. Therefore, it's important for seniors who are contemplating a wedding (as well as those of us with widowed or divorced parents or grandparents) to consider the following when it comes to prenuptial agreements.
Acknowledge Family Concerns
Even though we all want our mom, dad or grandparent to be happy, regardless of their age, adult children and grandchildren may feel threatened by a senior's new relationship. Marriage can put seniors' financial security at risk; not to mention jeopardizing a child or grandchild's inheritance.
Specific concerns can include the potential loss or delay of an inheritance due to the appearance of a stepparent; or perhaps there are worries about an elderly parent becoming financially responsible for someone else's continued care or assisted living.
Another major worry is how to divide assets in the event of a potential divorce. Therefore, it's important to sit down with family members and discuss how marriage will impact everyone, both personally and financially.
What a Prenup Can Cover
A prenuptial agreement can help alleviate many family concerns by having each of the parties waive all rights to inherit a spouse's property. In addition, the parties can waive any obligation to split assets in the event of divorce or pay alimony; an agreement can also detail who will be responsible for paying what costs -- such as assisted living or nursing home fees.
If one party is moving into the other party's house (or apartment at an assisted living facility), the agreement can detail what rights, if any, the spouse will have to live in the house or the apartment, and to be supported by family assets.
By clarifying the rights and expectations of the parties in the event of divorce or death, such an agreement can ease tensions with adult children -- and, in turn, reduce the potential for later emotional battles between a surviving spouse and stepchildren.
Once both of the spouses have died, an agreement can minimize disputes among stepsiblings -- who, in some cases, may barely know one another -- as they wind up their parents' affairs. An agreement that sets clear expectations and rights in advance should make it easier for children to divide up assets in accordance with their parents' wishes.
Understand What's Needed
Even though prenuptial agreements are generally governed by the law of the state in which the parties live, laws are (fortunately) fairly consistent from state to state. At a minimum, for prenuptial agreements to be valid, each party must have independent legal counsel and must disclose all relevant financial information.
Some states may have waiting periods between the time of signing the agreement and the date of the marriage. Even if your state does not have a waiting period, it's generally better to have the agreement signed as early as possible before the wedding day, so negotiations don't increase any wedding-day jitters.
Know When a Prenup Falls Short
While prenuptial agreements can be helpful, it's important to know that they are not a cure-all. Generally speaking, married couples are responsible for each other's assisted living or nursing home costs.
Even if a prenuptial agreement dictates what expenses each party should and should not pay, if one party runs out of money and wants to apply through Medicaid for help paying nursing home costs, the state will not respect the terms of the prenup. This means that even with such an agreement, one party may need to use his or her funds to pay for the other's nursing home care.
In some cases, marriage may not even be the best decision.
Here's an example: The widowed mother of one of my clients fell in love in an assisted living facility and wanted to marry and live with her new husband. My client's mother had assets that could fully support her for the remainder of her life, but the potential husband had very few assets and was almost 10 years older. Since there was a very realistic concern that he could end up in a nursing home -- making her financially responsible -- she agreed to have her clergy oversee a commitment ceremony instead of getting married.
In this case, the couple also created a cohabitation agreement that clarified the expectations of parties regarding living arrangements, the return of the (relatively large) deposit required by the continuing care community, and the parties' expectations about visitation rights at any medical facilities. Because such agreements may not be possible in every state, however, ask an estate planner to help you understand the available options.
Tracy Craig is a partner at Massachusetts-based Mirick O'Connell and chair of its Trusts and Estates Group, and a Fellow of the American College of Trust and Estate Counsel.