Everyone's Obsessed With These $98 Sneakers From Everlane. Here's Why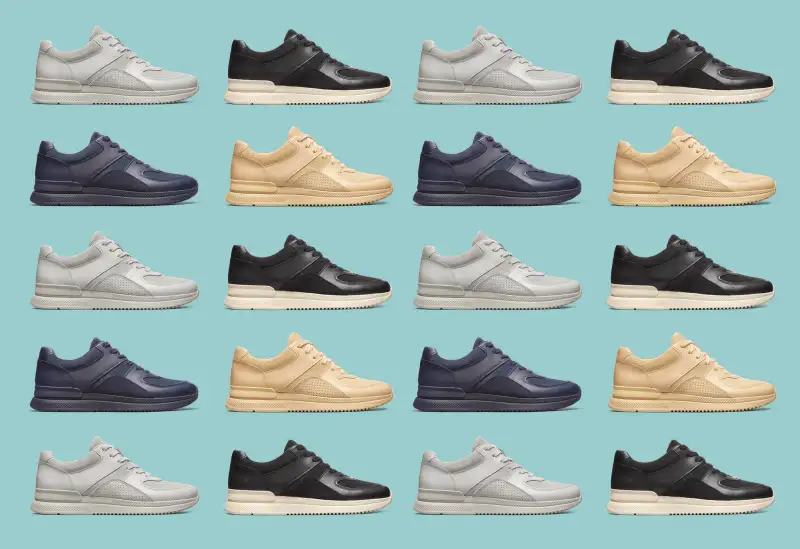 Photo illustration by Money; Courtesy of Everlane
A do-it-all, go-anywhere sneaker? Sounds impossible. Yet Everlane is making a bold attempt at creating one, and the mostly e-commerce-based retailer of sensible yet stylish basics seems to have struck a gold mine.
San Francisco-based Everlane started in 2010 with a very Silicon Valley approach to fashion, focusing on clothing essentials like T-shirts and sweaters with a transparent pricing scheme that shows customers the cost of materials, and exactly how much it's been marked up (which is usually still well below the cost of traditional name-brand retailers). The company expanded rapidly, and in April, moved into the competitive and coveted sneaker space for the first time.
"A sneaker is the footwear foundation of the American uniform," Alison Melville, the general manager of Everlane's footwear and accessories business, told Wired of the launch. "We've done T-shirts, we've done jeans. Sneakers were the next step."
After two years of development, the Tread by Everlane, available for men and women, is here. It has an average 4.78 rating (out of 5) from 72 customer reviews, and is racking up positive assessments online.
Here's why people can't stop talking about the game-changing Everlane trainers.
They're a rare environmentally-friendly pair.
The rise of fast fashion isn't doing the globe any favors. In addition to aiming for lasting quality, Everlane has in recent years focused on sustainability. The Trainer is made from recycled plastic, rubber, and leather from a famously clean tannery. Using recycling plastic is key, as Everlane has committed to shedding its manufacturing of virgin plastics (which are ubiquitous among the major sneaker brands) by 2021.
According to Everlane, the Trainer's sole is made from "a blend of natural and recycled rubber that's 94.2% free of virgin plastic." It also touts that the product's carbon footprint (no pun intended...we think) is "100% offset in partnership with NativeEnergy."
At a time when U.S. public concerns about environmental issues are reaching record levels, that earth-consciousness can also be a strong selling point. And you know, also just wise.
"However you feel about sustainability as a marketing tactic, I hope we can all agree that making things that are better for the planet is a good idea," Esquire wrote in its Tread Trainer review. "After all, you can't flex your personal style if you're too busy trying to avoid a horde of Mad Max-esque marauders."
They're way cheaper than they need to be.
Everlane's products are solid. The Trainer is, too: It's built from true leather and suede sourced from reputable suppliers. You're getting something to rival any high-quality, well-known sneaker brand.
Except now you can see exactly what it costs: While huge brands tend to rely on fat margins for much of their inventory (especially the newest and hottest items), Everlane's markups are more modest and fully transparent.
Take the pricing breakdown of the Trainer: Materials cost the brand $22.04, hardware is $0.60, labor is $9.15, duties are $3.18, and transport is $1.50. That comes out to a "true cost" of $36.47. Which means you're paying an up-charge of $61.53 for the privilege of snagging them and putting them on your feet. (Everlane also estimates that a traditional retailer would price the sneakers at $182.33, though the math on that is fuzzy at best.)
You don't have to be worried about getting suckered. "At a time when even super-affordable kicks like Vans and Converse can get pretty close to the $100 mark, a two-digit price tag is more than welcome," Esquire wrote. (Not to mention, those Vans and Converse are nearly always made with canvas, not leather.)
They're cool—but not too cool.
It's hard to keep up with the sneaker heads these days. The number of limited-edition kicks and reissues flying off shelves (or eBay) is dizzying. It's perhaps no surprise that the global athletic footwear market is expected to reach $95.14 billion by 2025, according to a report by Grand View Research Inc.
Amid all that noise, Everlane's Tread Trainer sticks to a classic (but not staid!) look. These kicks don't cause any fuss. They're monochrome, available in various solid colors like gray, off-white, and blush (there's also one black-and-white option). They're chunky, in the vein of on-trend Jerry Seinfeld-style sneakers right now.
But they have understated hints of personality. "The tonal colorways keep things approachable, sure. But [the shoe is] also paneled with varying textures of leathers, giving it some genuine dimension," Esquire wrote. "It's a minimal-ish shoe, not a minimalist one."
"I'd wear them everywhere from errands to airports and dressed up with blazers at our casual office (thank you, leather) or with sundresses on the weekend," Business Insider added in its review.
They're just comfortable.
Sneakers should look good, but even more importantly, they should leave you comforted rather than cramped.
"After having walked a day in them, I can say with confidence that there are no indicators of discomfort ahead—no rubbing at the heel, just enough width in the toe box, and a soft but firm footbed," Travel + Leisure wrote in its review of the Everlane Trainers. "And surprisingly, after wearing a lot of sneakers with light and slim soles (which unfortunately often come at a cost to the environment), it felt kind of nice to have a bit more heft between my foot and the ground."
And doesn't that sound better than spending $500 to be a hypebeast with blisters?
We've included affiliate links into this article. Click here to learn what those are.