Shifting Gears: Ex-Banker Sells Used Luxury Cars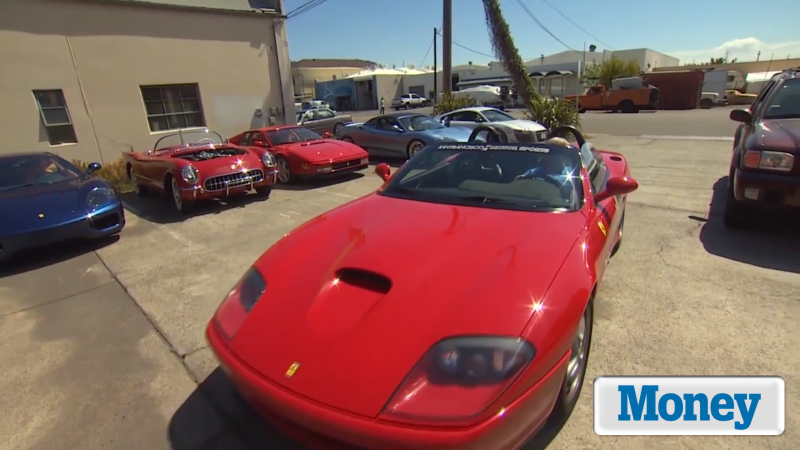 The sharp turn Douglas Dolton made years ago -- to leave behind a 30-year career in financial services in order to start an exotic-auto dealership -- took him in a direction he'd long dreamed of going.
"I've always been a car nut," says Dolton, who races his red Ferrari F355 six times a year and confesses to having owned 58 vehicles in his 55 years.
In late 2008 the gearhead was serving as CEO of Zopa, a U.K.-based peer-to-peer lending site, when the company shuttered its U.S. operations.
Dolton wasn't eager to look for another job in the field. "I'm best at lending, and people were in too much debt," he says.
Talking to an executive coach, he blurted out that he'd like to indulge his passion for Ferraris.
While he wrote off the possibility of a new-car dealership, which would take millions to get going, he grew interested selling select preowned rarities -- including Ferraris, Maseratis, and Porsches -- that he'd purchased or acquired on consignment.
At meetings of his local Ferrari owners' club, he polled people on his business concept and got positive feedback. When asked their plans for their next car, "they scratched their heads," says Dolton. "They still wanted to move up a model, but with the economy changing they seemed more interested in used Ferraris."
Inspired, Dolton launched San Francisco Motorsports in 2009, partnering quickly with a veteran salesman and a master technician. He also bought four Porsches. To get word out, he advertised in auto enthusiast newsletters.
BY THE NUMBERS
What it took to start up: $350,000
To cover showroom rent and initial inventory, the father of four put in $50,000 from savings and borrowed $300,000 against his investments. He hopes to clear the debt within two years. Meanwhile, his wife, a lawyer, continues to save for their retirement.
What he's paying on a $600,000 line of credit: 4.25%
He obtained the line of credit in 2011 so he could buy more cars.
The former banker was turned down six times before getting approved. "The executives said, 'Talk to us after you've been in business for two years,' " he recalls. "It was so insulting."
When Dolton expects to match his old salary of $300,000: 2014
Once his business shows consistent growth, Dolton hopes the bank will raise his credit line to $2 million, enabling him to buy more cars -- and thus boost revenue to $6 million within two years. "There are a lot more transactions that I can access than I can do now," he says.