What Expedia's Acquisition of Orbitz and Travelocity Means for Travelers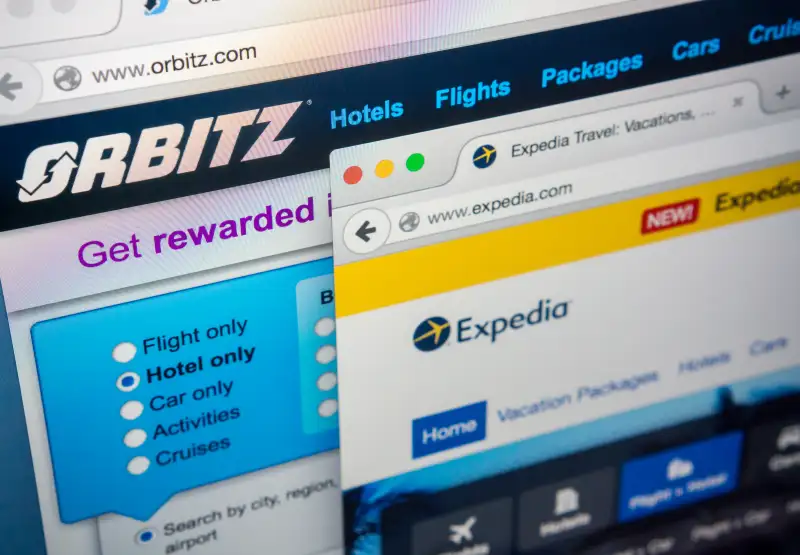 Richard B. Levine—Newscom
Consumers have good reason to fear consolidation. Many observers trace the past year's soaring flight prices back to the United-Continental merger, among others, which cut competition and allowed the few existing airlines to scale back routes, raise fares and fees, and achieve sky-high profits.
This week, Consumers Union, a division of Consumer Reports, issued a lengthy manifesto arguing that Comcast's proposed merger with Time Warner Cable would be an utter disaster for pay TV and broadband Internet customers—a scenario that would likely mean higher prices and worse customer service for us all. None of this is a surprise to consumers. In a Consumer Reports poll conducted last summer, three-quarters of Americans said they feared that a combined Comcast-Time Warner Cable would result in higher monthly bills.
So naturally, Thursday's announcement that Expedia is buying Orbitz for $1.3 billion—just a few weeks after it also purchased Travelocity—looks like cause for concern for travelers. After all, when more travel search engines are in the hands of fewer and fewer corporate owners, there's obviously less true competition. Simply put, less competition = bad for consumers.
And yet, the consensus among industry observers is that competition in travel search remains vibrant, and that Expedia's flurry of acquisitions will have almost no impact on what the average traveler finds in search results or pays for trips.
Travel search, you see, has been undergoing consolidation for several years. Before the recent high-profile buyouts, another period of rapid acquisitions took place in 2013, most notably with Priceline buying Kayak. As the New York Times then noted, the impact of such consolidation on everyday travelers was presumed to be minimal:
A few years back, Google paid $700 million for ITA Software, which is the technology now used for scouring the web to find routes and airfares via Google Flight Search, as well as other search services including Fly.com, Hipmunk, and Kayak.
While the interfaces at various travel search options are different—some people swear one is more intuitive or just plain better than the rest—most travelers understand that the results are almost always the same no matter where you search. And because there have been so many competitors drawing on the same data and providing essentially the same services, more and more consolidation has seemed inevitable. In the struggle to compete, Orbitz Worldwide, which itself owns search brands including ebookers.com and cheaptickets.com, reportedly started exploring a sale in late January, with Google, Priceline, and Expedia among the likely buyers.
Even after all of the Expedia and Orbitz travel sites come under the domain of the same giant company, there will be forces at play compelling search engines to continue retrieving the same options, at the same prices, for travelers. "There are so many ways now to buy travel online— Priceline, AirBnB, Google Flights, buying direct from vendors like AA.com, Hilton.com, and many more to come that there will still be options and competition, and little consumer effect," George Hobica, founder of the low-price flight specialist AirfareWatchdog (part of Smarter Travel Media, whose sites also include the travel search BookingBuddy.com), said via email.
For now at least, travel search consolidation isn't a strategy to build up a monopoly and squeeze customers with higher prices. The state of competition simply wouldn't allow this to happen. Instead, according to Hobica, the scene today in travel search is that of "a free-for-all and a race for survival."
Still, the acquisition of Travelocity and Orbitz by Expedia will have some impact on the industry. Most likely, "on the hotel side it will give Expedia more clout in bargaining with hotels and other vendors so that might be a good thing, for a while at least," said Hobica. Likewise, travel-focused sites such as Skift and the View from the Wing blog noted that the acquisitions will give the newly bigger and more powerful Expedia more leverage in terms of negotiating hotel rates and commissions.
Does this mean hotel rates paid by guests will fall? Or perhaps rise? Again, because there is still substantial competition in the travel search space—and because it only takes a traveler seconds to find other options if the first search results are unsatisfactory—in all likelihood the latest round of consolidation will have little to no effect on travelers. "To most consumers [these acquisitions] will be almost meaningless," the View from the Wing summed up.