Fast-Rising CEOs Have These 4 Things in Common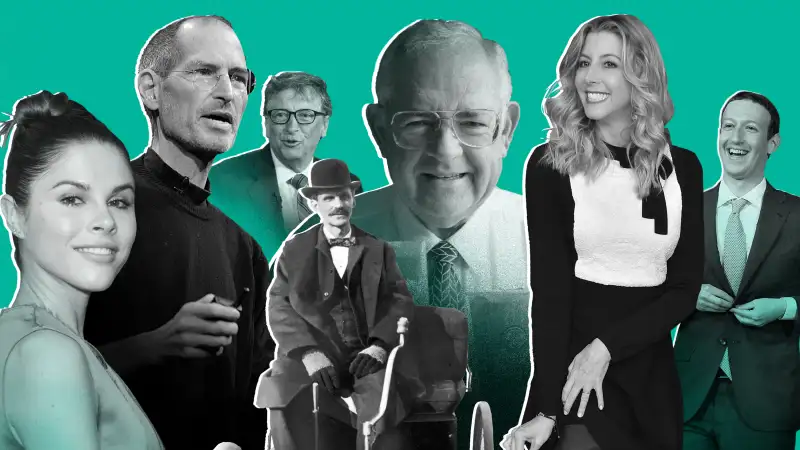 Photo illustration by Sarina Finkelstein for Money; Getty Images (6); Shutterstock (1)
What makes a great CEO?
Charisma? Drive? The perfect blend of ivy league degrees, boatloads of experience, and a blemish-free resume?
Hardly.
According to The CEO Next Door, a new book by leadership consultants Elena Botelho and Kim Powell, the people at the top of the food chain aren't the prodigies we think they are. Statistically, a CEO is more likely to drop out or skip college altogether than they are to go to an ivy league school, they found. And the typical CEO definitely wasn't "born to lead" — only about 30% of top executives had their eye on the c-suite at the start of their career.
And it makes sense. Some of the most powerful CEOs in history sprang from humble beginnings. Henry Ford grew up on a farm. Dave Thomas, the late CEO of Wendy's, left high school to bus tables at a local restaurant. Tech industry CEOs like Bill Gates, Steve Jobs and Mark Zuckerberg all dropped out of college. Spanx CEO Sara Blakely spent $5,000 of her own money into starting up her hosiery line with no experience in fashion sales. Glossier's Emily Weiss turned a blog into a multi-million dollar cosmetic company and ecommerce giant.
The average CEO, it turns out, is a lot like the rest of us.
"We don't think of CEOs as 'normal people,'" Botelho says. "But a lot of the aspects of becoming a CEO are much more accessible to everyone."
Over the course of 10 years, Botelho and Powell surveyed more than 17,000 chief executives, and took an in-depth look at 2,600 of their careers — a study they deemed the "CEO Genome Project." They found that those who make it to the corner office don't often have a sparkling record, with only 7% attending an ivy league school. Even more interesting: 45% of them had at least one major career blowup at some point along the way — a giant, nearly career-ending mistake "like destroying half a billion dollars in shareholder value," Botelho says.
The difference between the types of people who become CEO and everybody else, the study shows, is their willingness to make those mistakes in the first place.
"They make decisions faster, and with more conviction," Botelho says. "They put a stake in the ground and keep moving. The differentiation between who succeeds and who fails is not whether or not they make mistakes — it's whether they use them for learning, or become so ashamed that they can't move forward," Botelho says. "It's more about taking the right risks, as opposed to playing it safe."
This CEO secret sauce is even more apparent in a subset of the study's participants they call "CEO sprinters," or fast-rising executives who reached the executive role in less than the average 24 years after their first job. Like the larger pool of business leaders, "sprinters" aren't the white-collar caricatures we assume they are. Typically they're no more extroverted, or more motivated, than the average Joe. The common denominator, rather, is a willingness to step into the unknown, without knowing exactly where it will lead.
Botelho and Powell says this manifests in three different ways — what the researchers call "career catapults."
More than a third of the so-called "sprinters" made a "big leap" at some point in their career, jumping into an opportunity without knowing if they were actually qualified for it — taking on a role that quadrupled their leadership authority, say, or spearheading a large project they have no background knowledge in.
Likewise, more than 30% of fast-rising CEOs successfully led teams through some sort of downturn, like a disastrous product launch, or an underperforming unit. And 60% of these executives made a strategic decision to "go small," by taking a lateral or lower rank, moving to a smaller company, or starting their own business in order to get more responsibility or to build something from the ground up.
A whopping 97% of the fast-rising CEOs who participated in the "CEO Genome Project" had at least one of these experiences, and nearly 50% had at least two.
This is an important distinction, because it proves that leadership isn't written in the stars. And the path to the c-suite might be a easier than we think.
"The whole notion of being 'destined' to become a leader is false," Botelho says. "There is no perfectly-carved plan, but there are ways to make better choices."