Meet Fingerlings, the Adorable Robot Monkeys Poised to Be the Holiday Season's Hottest Toy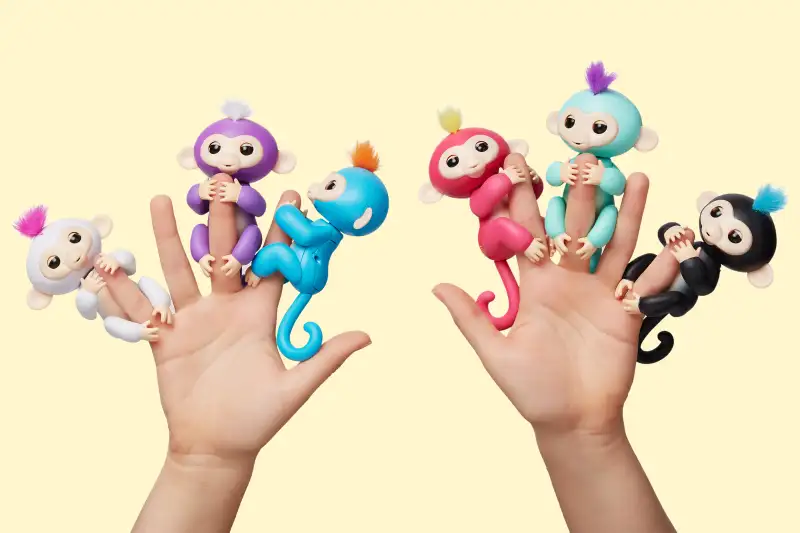 It might be only September, but the rush to find the Next Big Thing in the toy aisle is on: Hatchimals, last year's breakout hit (no pun intended) gift, are gearing up to be at the top of kids' wish lists again this holiday season, but there's another animatronic critter that might just snatch that crown away from them.
They're called Fingerlings, and although these adorable little robot monkey pets made their debut just last month, they quickly climbed up the top holiday toy lists at both Walmart and Amazon.
Brightly colored, with fluffy mohawks and faces that make them look a bit like Teletubbies, these palm-sized plastic baby monkeys "curl around your finger and come to life when you play, responding to sound, motion, and touch with over 40 animations," according to manufacturer WowWee. There are six different Fingerlings (Bella, Boris, Finn, Mia, Sophie, and Zoe), and stores are generally selling them for $15 and up each.
Toy industry experts anticipate Fingerlings sales will be extremely hot over the next few months. "It's brand new this year and it seems to be flying off the shelves," says Juli Lennett, toy industry analyst at The NPD Group. "I think that could potentially be one of the top toys for the holiday season."
In fact, they're already so popular that some colors and versions are listed as sold out more than three months before Christmas. If you are unable to buy them right now, don't worry; Amazon is rolling out some exclusive Fingerlings that that can be pre-ordered and will be released in November.
Fingerlings touch on a few rising trends, according to industry pros. For a toy to hit the big time, "it has to have strong play value," Lennett says, "and maybe be something a little bit unique." Oh, did we mention that Fingerlings also burp and fart?
Another thing Fingerlings have going for them is that robotic pets in general are very popular now. For instance, FurReal toy pets have been a hit in spite of triple-digit price tags. The newest version, "Tyler" the tiger, is another entrant on Walmart's and Amazon's top toys lists.
"Pets and that nurturing play really seem to stand the test of time," said Adrienne Appell, director of strategic communications at The Toy Association. "Toymakers can make these things even more lifelike," and Fingerlings provide animatronic interaction at a fraction of the normal price.
What's more, that price point — from roughly $15 apiece, or around $30 for "special editions" that come with stands or other accessories — is low enough to land them squarely in the popular "collectible" genre.
"Collectibles have been very strong," says Gerrick Johnson, an equity research analyst at BMO Capital Markets, since kids will want a whole menagerie of the toys.
This is probably great news for WowWee and the retailers selling Fingerlings, but for parents, the only phrase more insidious than a cheery "collect them all!" at the end of a commercial might be "batteries not included." In what is perhaps a silver lining — that is, until you get sick of the squeaks, chirps and, um, other noises emanating from these little robot monkeys — Fingerlings do come with batteries included.
We've included affiliate links into this article. Click here to learn what those are.