The Best Time to Book Thanksgiving and Christmas Flight Deals Is Coming up Very Soon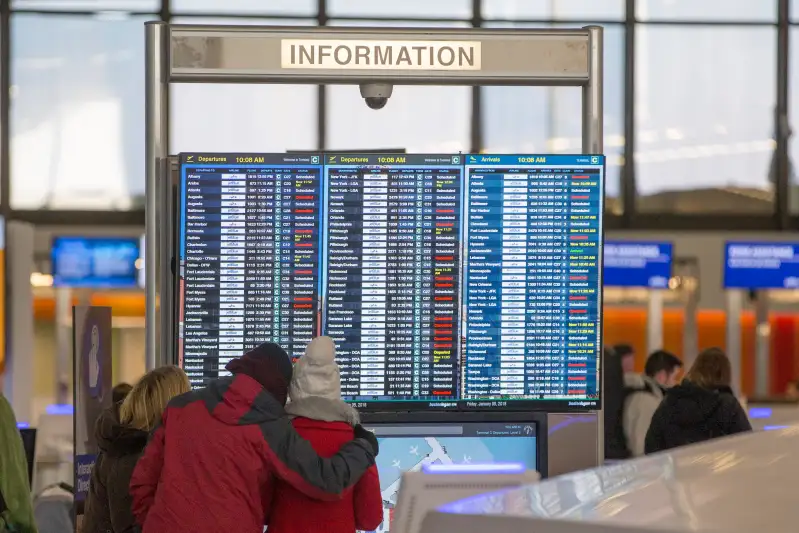 You may have hardly unpacked from your summer vacation or gotten your first taste of that pumpkin sweetness, but it's already time to start thinking about winter holiday travel plans.
Yes, really.
According to a report from AAA, Thanksgiving and Christmas travelers should start searching for flights as soon as Wednesday, September 25, in order to get the best airfare deals. That day marks the beginning of a month-long period when flights are cheapest for travel in November and December, an analysis of three years of AAA Travel's flight booking data showed.
It shouldn't come as a big surprise that you should purchase holiday flights early to try to get the best prices. Thanksgiving — which falls on November 28 this year — and Christmas are historically two of the most popular travel times of the year. Last year, the AAA projected 54.3 million Thanksgiving travelers, and a record 112.5 million travelers during the longer December holiday.
That means longer than average wait times, more crowds than usual, and higher than average flight prices all over the country.
Interestingly enough, both holidays have similar windows for the best time to book, which means that — if you plan on traveling for both — you might want to book all your holiday flights simultaneously.
For Thanksgiving, most travelers book between September 25 and October 27 for an average $491 ticket. (To be more specific, a different study, for the 2018 winter holidays, indicated that you'd find the lowest flight prices for Thanksgiving during the first week of October.) But airfare prices can vary widely based on many factors, including your routes and the days of the week you travel.
For Thanksgiving 2019, you can save some money by choosing to travel on the Monday before ($486 on average, nationally) or on Thanksgiving Day itself ($454), AAA research shows. Flight prices tend to be much higher ($564) to travel on the Sunday before Thanksgiving.
Similarly, Christmas travelers tend to book flights between September 26 and October 25. Prices will go up if you wait for that October 26 to November 27 timeframe, but not too dramatically ($551 vs $561), so it's alright if you need to spread the two expenses out a bit. And the best day to fly in terms of price and crowds winds up being Christmas Eve — about $527 on average — while the worst day is the day after Christmas ($692).
Can you find last-minute travel deals for Thanksgiving and Christmas? Sometimes there is indeed a reward for taking the risk of waiting to book at the last minute. AAA found that travelers could find some of the best pricing for both Thanksgiving and Christmas flights within as little as a week to two weeks before the day of ($482 and $488, respectively). But if the goal is to be frugal, don't take that chance.
"Procrastinating travelers may be able to find last-minute deals on flights close to the holidays, as airlines look to fill their last few remaining seats," says VicePresident of AAA Travel Paula Twidale. "But flight availability for these peak travel weeks will be very limited by that time."
And why spend your November frantically searching for cheap airfare when you could be jumping into piles of leaves and cutting into pies?