Auto Experts Have a New Favorite Electric Vehicle (Hint: It's Not a Tesla)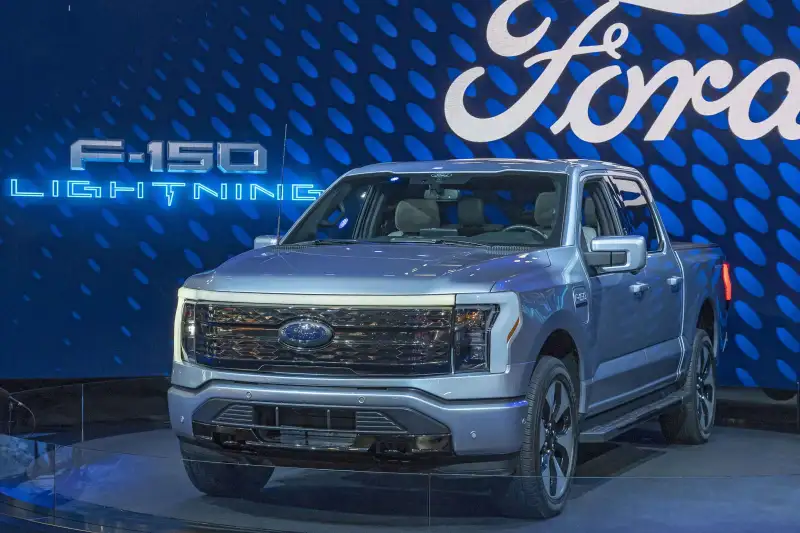 A new electric vehicle is dazzling the auto industry and racking up numerous accolades. And, no, it's not a Tesla.
Ford's F-150 Lightning electric pickup truck is wooing auto experts with its sleek, unpretentious design, semi-autonomous driving system and a starting range of 240 miles-per-charge on the 2023 model — all with a price that doesn't break the bank.
What the experts say
Since trucks have been the best selling vehicles in the country for some time, experts say that if manufacturers are serious about going green, they need to put forward more attractive, electric pickup trucks.
Ford's F-150 Lightning is the perfect answer, according to numerous industry awards.
The Lightning also garnered Kelley Blue Book's "Best Buy" title for electric truck.
"When historians write about the automotive revolution in the 2020s, the Ford F-150 Lightning will take center stage," according to Edmunds' writeup.
Keep in mind
Depending on the model year, the retail price for an F-150 Lightning starts between $46,000 (2022) and $56,000 (2023). While it's no low-budget option, when compared to the average cost of other new EVs and pickups, it is a good value.
According to Cox Automotive, the average price of a new car is closing in on $50,000. The latest stats show that, in December, the average price of a new vehicle reached an all-time high of $49,507.
Meanwhile, the average price of new EVs, which is historically much higher than regular vehicles, fell to $61,448.
The Lightning truly shines when stacked up against the cost of the average full-size pickup truck, which was

$64,207

in December.
What's more, the 2022 F-150 Lightning is identified on the Department of Energy's list of vehicles as potentially eligible for the new $7,500 EV tax credit that went into effect this year. According to the EV industry publication Electrek, the 2023 model may be eligible for the credit as well.
More from Money:
Why Gas Prices Will Fall in 2023, According to Experts
One Kind of Car Is Skyrocketing in Sales While the Rest of the Market Is Slumping