Millennials Love This Old-Fashioned Company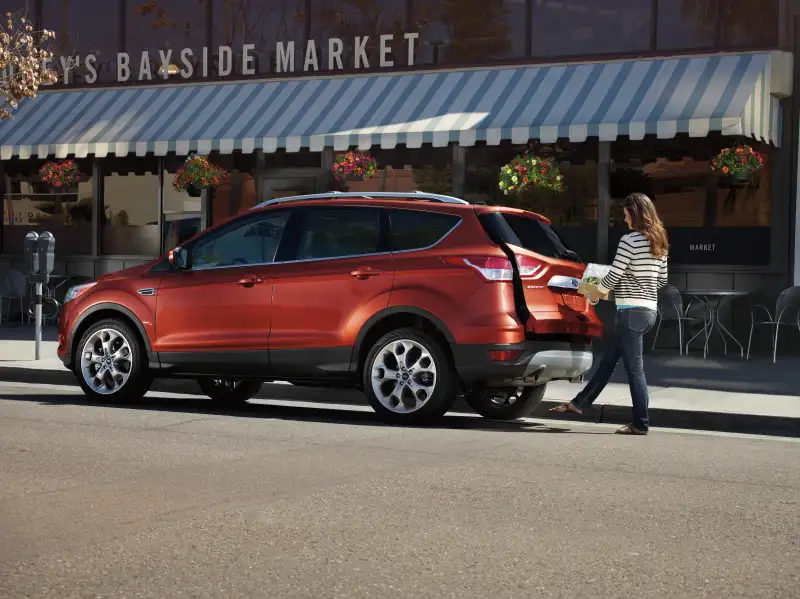 It's a common belief that millennials are indifferent to car ownership. They aren't buying cars anywhere near the percentage rates of previous generations, and fewer young adults even bother to get drivers' licenses. However, none of these factoids has stopped automakers from trying to win over the business of this huge demographic—which might not be flush with cash now but will surely represent a gigantic chunk of car buyers down the road.
A new study from Maritz Research shows that one automaker has been particularly successful over the past few years in appealing to millennials, and the name may come as a bit of a surprise: It's Ford, the staid, century-old, all-American company from Michigan. According to Maritz surveys—which have been pumped up in a Ford press release—in 2008, Ford ranked fourth among millennials as the brand they'd most likely consider buying. (Honda and Toyota held the top two spots.) By 2012, however, Ford leapfrogged over the competition to grab the No. 1 ranking.
"The jump was really at the expense of the Asian-based manufacturers," said Maritz Research vice president Chris Travell, who pointed out that General Motors has also improved in the eyes of would-be millennial car buyers. "The North American manufacturers are making better product than they ever have. You can't say that they're not reliable and aren't good quality anymore."
Millennials have taken notice. They also aren't likely to have much memory of the auto world of decades ago, when the perception was that American cars were overpriced and would break down quicker and more often than many imports. "Millennials don't remember the bad stuff," said Travell. "They're coming in as mostly clean slates. Ford is not considered the 'old Ford' to this generation."
The automaker has been catching the eye of younger buyers with its focus on techie features (admittedly, not always successfully), and, most important, a lineup of vehicles and price points that appeal to their needs right now. From 2008 to 2013, more millennials became interested in crossovers and SUVs, and fewer wanted compacts and other small vehicles, which is the strength of Asian car manufacturers like Hyundai, Honda, and Toyota. "The trend of millennials starting families comes at the same time Ford is updating or replacing nearly its entire product lineup," Amy Marentic, Ford global car and crossover marketing manager, said via press release. "These fastest-growing segments—like small utilities—coincide with Ford's product strengths."
Ford has also actively targeted millennials and strategically pursued them as customers now and, ideally, in the future. "One thing we recognized is that millennials don't want to be just fed information and trust it, necessarily," said Lisa Schoder, Ford's global small-car marketing manager, according to Forbes. "So how can we be part of their lives and inform them about our brands and products without overtly advertising to them? That has been our critical differentiator. They need to participate in experiences versus just being spoon-fed something."
Accordingly, Ford introduced Focus Doug, a "spokespuppet" (a sock puppet, actually) in a series of online videos, and used social media in a variety of other unorthodox, irreverent ways to put vehicles like the Focus, Fiesta, and Escape on the radar of millennials. The Wall Street Journal just reported on Ford's recent efforts to win over female customers via programs like Live.Drive.Love, which invites women to take Ford cars on 24-hour test drives.
What does reaching out to women have to do with millennials? Well, overall among car buyers, less than 4 in 10 of purchases were made by women in 2013. But among millennials, 53% of buyers are female.
Young women who are starting families or just want more space for mountain bikes and other gear are likely to be intrigued with Ford models like the Escape and Explorer. And those with less need for space, or those with simply smaller budgets will be more likely to go with the subcompact route, via the Fiesta. As Ford crowed last summer, the Fiesta has been a big success in the 18- to 34-year-old demographic, and the Ford brand overall increased retail share among millennials by 80% from 2009 to 2013.
MORE:
10 Things Millennials Won't Spend Money On
Check Out This Revolutionary Car-Buying Advice—Then Disregard It