Free Coffee at Chick-fil-A for Entire Month of February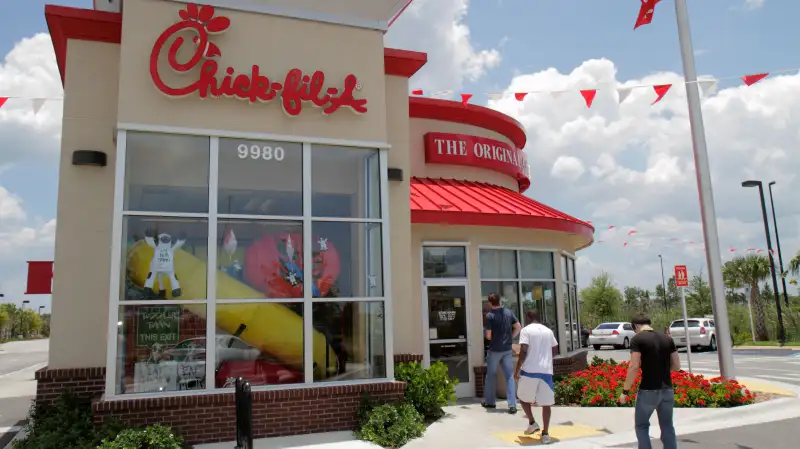 The new year kicked off with dueling free coffee promotions from McDonald's and Dunkin' Donuts in some parts of the country, and now another fast food player is entering the coffee wars with an even bigger, broader, no-strings-attached giveaway.
On Friday, Chick-fil-A announced that throughout February, restaurants nationwide will pour customers free cups of hot or iced THRIVE Farmers Coffee—all day long, no purchase required.
Chick-fil-A launched a partnership with THRIVE, a Georgia-based company that networks with family-owned coffee producers in Central America and reportedly allows them to earn up to 10 times the norm, in August 2014. Now the push is on to win over customers by giving the coffee away, with only a very little amount of fine print to worry about:
The coffee giveaway especially makes sense in light of how important breakfast has become to fast food restaurants. Breakfast is the only meal of the day that has experienced consistent growth in sales in recent years, which explains why more competitors are entering or expanding into the space—notably Taco Bell. Another factor explaining the fresh coffee push: Consumers are more prone to grabbing a cup of Joe at Dunkin' Donuts, Starbucks, McDonald's, or at convenience stores such as Cumberland Farms and 7-Eleven, not just for breakfast but at any hour of the day. Chick-fil-A clearly wants to be thought of as a great spot for a quick anytime coffee as well.
In all cases, the hope is that when folks swing by for coffee, they'll also pick up a scone, donut, hot dog, Egg McMuffin, Slim Jim, chicken biscuit, or some other specialty of the house.