Start Off the Year with a Free Doritos Locos Taco at Taco Bell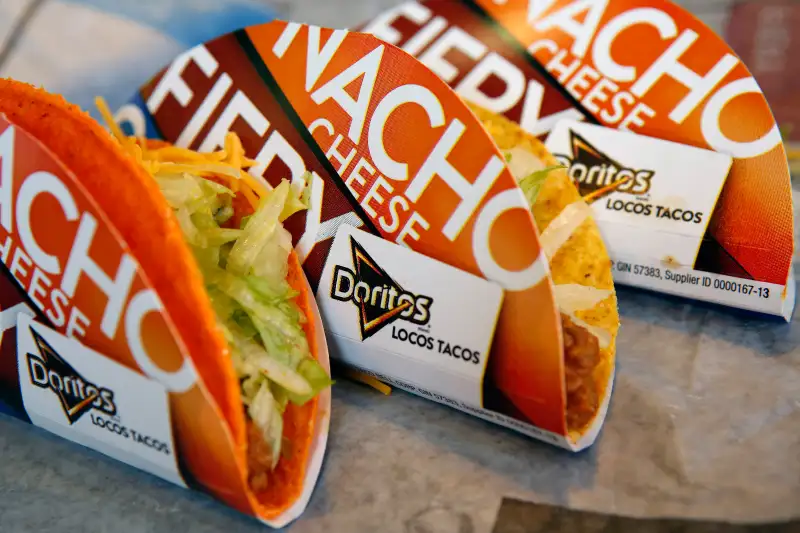 Bloomberg via Getty Images
Taco Bell introduced a new mobile ordering app in October, making it easier for customers to satisfy their cravings by allowing them to order and pay for food with a few taps and swipes of a smartphone.
Now, the fast food giant is making a big push to get the masses to download and start using the new tool, via a special promotion. Throughout January, anyone who makes a purchase with the new Taco Bell mobile app will receive a free Doritos Locos Taco as a reward.
The Doritos Locos taco has been called the "biggest launch in Taco Bell's history," reaching the 100 million sold mark just ten weeks after being added to the menu. The runaway success of the original nacho cheese shelled product has since spawned sibling Doritos Locos Taco flavors Cool Ranch and Fiery Doritos. The bonus free taco provided in exchange for a Taco Bell mobile purchase app can come in any Doritos Locos flavor of your choosing.
The editors of Nation's Restaurant News, by the way, gave Taco Bells mobile-ordering app mostly glowing reviews after several tried it out a month ago. "Taco Bell's mobile app does what it is suppose to do – accept and customize food and beverage orders, handle payments and permit users to skip the ordering line inside the restaurant – and does it pretty well," they summed up.
As for the idea that Taco Bell could be sabotaging the New Year's resolutions of countless Americans with such a promotion at the very start of the year, it certainly wouldn't be the first time this has happened. In fact, fast food chains have a history of rolling out cheap, tempting deals in January—which, coming on the heels of the budget-and diet-ruining holiday season, is peak time for consumers to try to eat better and spend less, and is generally a slow month for restaurants. So the timing might not be entirely random for, say, the Triple Chocolate Threat Donut just introduced by Krispy Kreme on a limited-time basis.