Meet the Unconventional Couple Designing A Stunning Jewelry Line For 'Game of Thrones'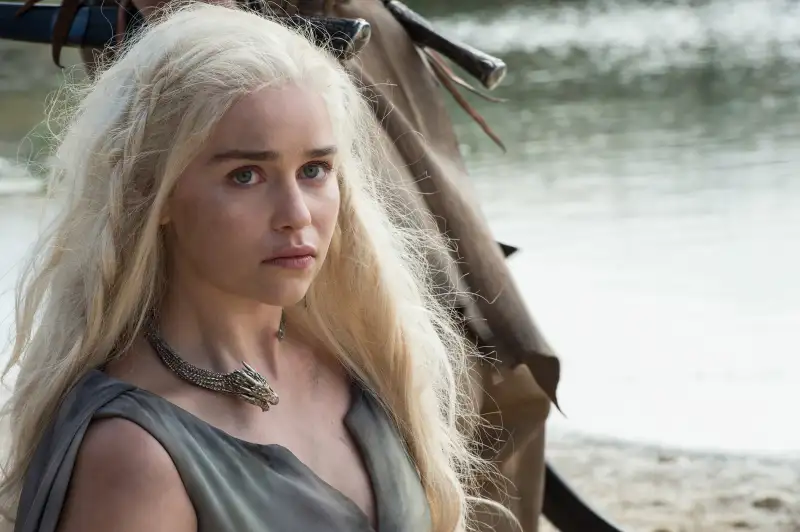 There's a scene in the fifth season of Game of Thrones that made fans lose their ever-loving minds.
Daenerys, a.k.a. Khaleesi, a.k.a. the Mother of Dragons, finds herself in the middle of an ambushed sword fight. As the people around her drop like flies, her beloved dragon shows up in the nick of time and puts the hurt on some swarthy barbarian-types.
It's an important plot point and it got all the usual accolades. But not for the usual reasons.
This time around, a dragon-shaped necklace that cuffs Daenerys' neck like a silver safety harness stole the show. A genius bit of costumery-as-foreshadowing, the piece resonated with fans, and after the episode aired, many took to social media to ask for their own.
"There was an immediate response to it," says jewelry designer Eliza Higginbottom. "It's a real turning point in Khaleesi's story, and she's wearing this sterling silver dragon that's a display and protector at once. There's a lot of symbolism there."
Higginbottom and her husband, fellow designer Yunus Ascott, collaborated with Throne's costume designer Michele Clapton to create the now-iconic necklace. After fans went gaga for it, the trio launched an online jewelry brand, with earrings, wrist cuffs, and rings inspired by, and sometimes worn on, the show. The line starts at about $100, and goes up to $2,730 — the price of a handmade replica of the dragon necklace from season five (cash strapped GOT diehards can get a stripped-down version of the piece, sans wings, for a cool $2,000).
Sculptors by trade, Higginbottom and Ascott are relatively new to the fashion world. The London-based pair fell into jewelry design sort of haphazardly. While mucking around with some experimental sculptures in 2008, they made a miniature piece, modeled after the Greek god Poseidon, that was small enough to wear as a ring. A journalist from The Independent spotted the design on a visit to the couple's studio, and ran a photo in the UK newspaper. The couple quickly brainstormed a company name, and mocked up a website to direct prospective buyers to.
Now, it's their full time gig.
"Yunus & Eliza," as it stands today, is a bespoke jewelry brand that blends wide swaths of art history — a Salvador Dali-inspired ring that lets negative space drip around the wearer's finger, a cuff that invokes the figureheads on old viking ships, a colorful mask necklace that looks almost Vaudevillian. The entire line ranges from $400 to $15,000, Higgenbottom says.
True to their sculpture background, Higginbottom and Ascott start each new design by molding it into wax, and use hot pens and fine tools to make changes as they go along. Once perfected, they cast the wax into fine metal, like the sterling silver shown on Thrones.
"Because we're not trained as jewelers, we don't have to conform to a certain way of doing things," Higginbottom explains. "We don't have to worry about how a traditional ring sits on your finger, or the steps it takes to get it there. Our jewelry doesn't just sit with you, it's a symbiotic relationship."
Higginbottom declined to give specific sales figures, but says their personal line seen a bump in sales since the HBO partnership. Two seasons later, the trio has collaborated again for the latest iteration of Thrones. Higginbottom can't give many details, but she says fans will know the piece when they see it.
It was a logical pairing, she adds. Higginbottom, Ascott, and Thrones' Clapton have a shared aesthetic--a mix of old and new; renaissance and science fiction — and an interest in creating jewelry that "reveals the intent of its wearer," Higginbottom says.
As for the rabid nature of Thrones fans, she admits that her recent work has forged an unlikely path to success. But she credits one person, really.
"The association with such a global hit is great for exposure and building brand strength," she says. "Everybody wants to be a bit like Khaleesi."