George W. Bush's New Book of Portraits Is Burning Up the Amazon Charts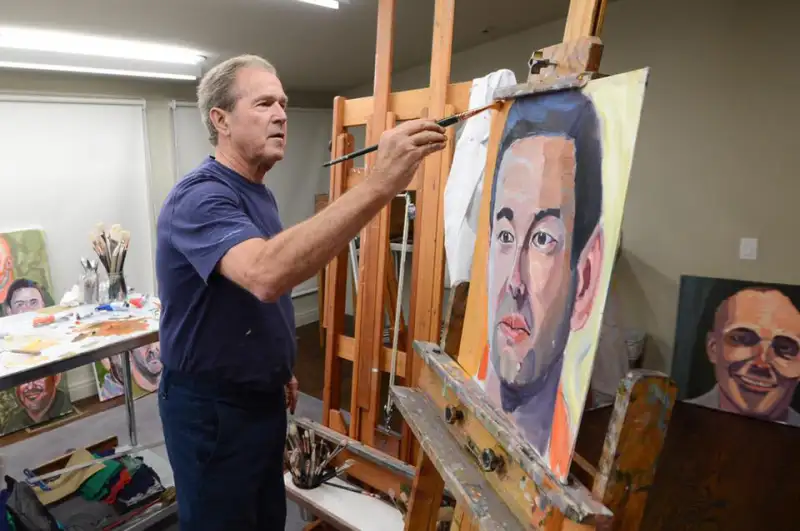 Former president George W. Bush's new book of oil paintings is skyrocketing in pre-order sales.
Portraits of Courage, a collection of more than 60 portraits and stories of people who have served in the U.S. military, officially hits stores Tuesday, but it's already snagged the top spot on Amazon's best selling books list.
Bush, who became an avid painter after leaving the White House, sat down with Today's Matt Lauer Monday morning in a rare media appearance that instigated the spike, according to a spokeswoman from the book's publisher Crown. Monday morning, the $22 book was the 114th most popular in Amazon's rankings. By early afternoon, it shot to No. 1, Amazon confirms.
A spokeswoman for Barnes & Noble says that "demand is strong" for pre-order sales. On the company's website, a deluxe, signed version that comes with a $225 price tag is currently outpacing the regular version.
This is the first art book for the 43rd president, but only the latest in a string of titles he's authored. Both 2010's Decision Points and 1999's A Charge to Keep were New York Times bestsellers.
Bush will donate the net author proceeds from the new book to the George W. Bush Presidential Center, a non-profit that helps post-9/11 veterans transitions to civilian life, according to a statement on the organization's website.
We've included affiliate links in this article. Click here to learn what those are.