I Stockpile Presents in a 'Gift Closet' That Saves Me Hundreds of Dollars a Year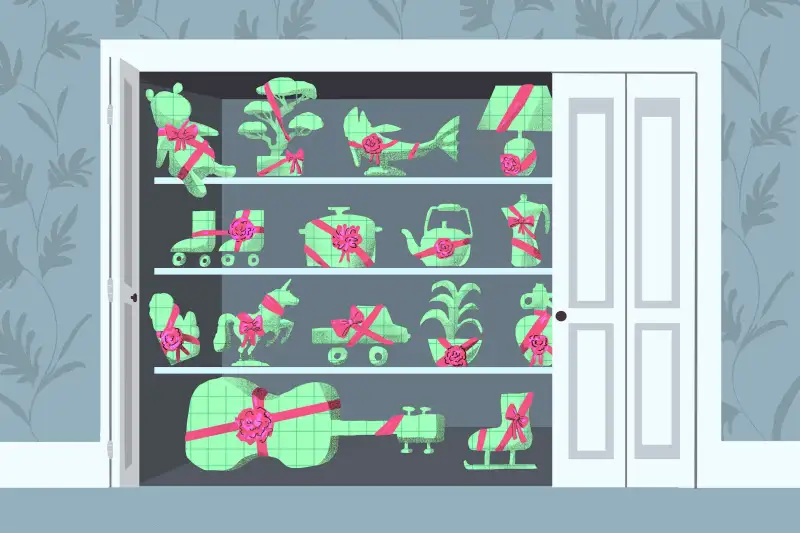 Illustration by Jade Schulz
Shopping for gifts usually occurs as a reactionary approach. You're notified of an upcoming birthday party or last-minute event — cue the scramble to find the perfect present.
Or you've been so busy during the holiday season that you realize it's two days before Christmas and you haven't even started your holiday shopping. So you frantically browse the aisles of the nearest department store hoping to find something that doesn't scream "last-minute buy".
I used to be this person, too. But about five years ago, almost as long as I've been chronicling my budgeting tips on The Frugal Convert, I changed my approach. I wanted to start controlling my time and my money, so I started a gift closet.
A gift closet is essentially a space in your home where you store gift items that you scored throughout the year when they were heavily discounted. It's your stockpile of gifts for any occasion. And it's a dream for anyone pressed for time or constantly on the go.
How I started building my gift closet
When I first set up my gift closet, I cleared out an unused hall closet and brought in a small shelving unit to put inside for organization. Then I got to work accumulating gift items throughout the year as they were on sale.
You don't necessarily need an empty or unused closet to have a gift inventory in your home. If you have limited storage space, think about having a small container that you keep under your bed, or a box you can put into a closet.
The idea is to create a space to store some items so you can get ahead of the gift-giving game.
Here are some ways my gift closet saves me hundreds of dollars per year.
1. I buy items when they are at their lowest prices
I once bought a gel nail kit when they were sold online for $8. They came with a nail curing machine and three nail colors, and all of the tools needed to do DIY gel nails at home. This was a perfect gift for any tween or teen and was a high-dollar item everywhere else. Even Costco sold a similar nail kit for $39 at the time.
Giving someone a gift that they'll love at a price that your wallet loves is a win in my book.
2. I stock up on classic and practical items
If a Crock Pot or blender goes on sale for $12, I'm going to buy three or four of them, as much as the store limit allows me to.
This helps me save a lot of money, since these small kitchen appliances tend to be at least $25 when they're on a regular sale. These gifts are perfect for a bridal shower, wedding, or housewarming party.
Of course, it's nice to buy personalized gifts for certain people, but so many gift-giving occasions are easy to anticipate. You can buy baby accessories for baby showers, and household goods for bridal showers. And when you do need to find a special occasion gift for a husband or parent, you'll have more time to find something unique for that person.
3. I stick to neutral items
For toys, I don't buy gender-specific items. Instead, I buy items that would work for everyone in a certain age group.
When my kids were younger, I always kept around items like board games, card games, art sets, Lego sets, etc. The more neutral the items, the easier it is to plan out gifts for birthday parties and holidays.
4. I look for the deals and join groups with the same mindset
When I first started my gift closet, I subscribed to websites like Krazy Coupon Lady and Hip 2 Save. These websites were experts in finding the best deals on a daily basis. They tell you the price of an item, the dates of the sale, and the location.
Some of the deals were found solely online, while others were in-store only. You can search on their sites by store or by item.
Through these sites, I've been able to find amazing deals on toys, clothing, nail sets, small kitchen appliances, baby shower gifts, and more.
It's one of the best ways to find deals without taking time out of your busy schedule to look for the deals yourself.
5. I have a monthly budget for gifts
A monthly budget is key to maintaining your gift closet. I currently have a monthly budget of $30 for gifts and always look for deals on items that are priced at about $10-$12 each.
Having a constant flow of incoming gift "inventory" has been one of the best ways I've been able to maintain my gift closet over the years. I check in regularly and maintain my inventory list so I know what I need from month to month. This keeps me in control and always prepared.
When my kid is invited to a party at the last minute, or they happen to forget until the night before the event, I no longer have to stress about running to the store on a Saturday morning to scrounge for a gift.
I also don't have to be subject to paying higher prices on last-minute gift items. In the past, I would be in a rush and end up spending $30-$40 on a gift that wasn't even that great.
Now I'm always prepared, always within my budget, and always able to show up with a thoughtful gift.