Yes, You Should Be Buying Groceries at 7-Eleven, According to a Budget Shopper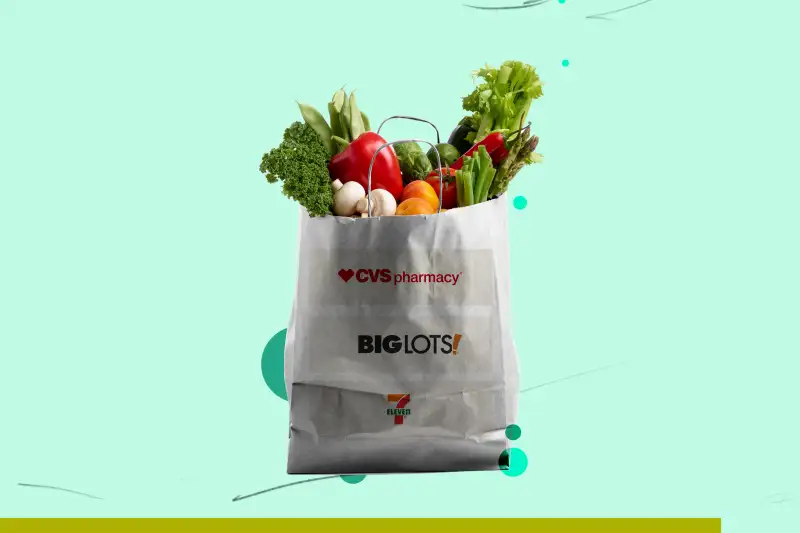 The saying "don't judge a book by its cover" also applies when you're shopping for groceries.
Because saving money is about more than just clipping coupons. It's also about looking for savings anywhere you go, even if it's not your ordinary grocery store.
Shopping at big box stores like Walmart and Costco is so common that consumers often have an easier time finding deals and discounts there. If you shop at the same stores for a long time, you can usually predict the next sale.
(Hint: Sale cycles occur every three weeks or so, in case you were wondering.)
But what if we started looking outside of the biggest stores in order to find great deals?
Being the Frugal Convert that I am, I took the challenge of finding new ways to save money on my groceries — without shopping at any of my regular grocery stops.
I found that there are a few uncommon places where you can grab groceries and save money in the process. While I might not shop there on a weekly basis, it's good to know how to save a few dollars if you're in a pinch.
Here are 5 unconventional places to save money on your groceries. (Prices may vary according to location.)
1. 7-Eleven
One day, after I finished shopping in two grocery stores, I realized on my way home that I forgot something vital to my weekly grocery run: a gallon of milk.
Too tired to go back to the store, I went in to the corner 7-Eleven purely out of convenience. At that point, I was so tired, I really didn't mind spending a little more if that meant I didn't have to drive another mile to the store.
To my surprise, the gallon of Vitamin D milk at 7-Eleven was just $2.35, which was less than the sale price of $2.49 I've paid at my local Food 4 Less.
(Even though this staple was particularly cheap, I would avoid purchasing their snack items, since you can get better deals elsewhere.)
2. Big Lots
Big Lots is much more than close-out patio furniture at rock-bottom prices. At my local outpost in Los Angeles, they offer about three full aisles of grocery items, many at incredibly low prices.
While I suggest checking the expiration dates on the food items you buy, if you look closely, you'll find that there are many deals to be found at Big Lots.
I bought a 32-oz. jar of coconut oil for $7.99 and 8-oz. bags of Snyder's of Hanover flavored pretzels for $0.25 per bag. Yes, I know, the latter deal sounds unreal. The pretzels had about one month before they would expire — we had to eat fast — but it was still a major deal.
Big Lots also sells name-brand granola bars and other snack items, often for less than the regular price at the local grocery store.
3. Drugstores
Coupons are not just for regular grocery stores. Using coupons at a drugstore like CVS can translate into great savings.
As an avid couponer, I check all my local ads, including the drugstore. Recently, I combined a coupon with a Rite Aid weekly sale to buy DiGiorno family-sized frozen pizzas for $2.50 each.
For comparison, DiGiorno is usually $6 to $7 per pizza at my local grocer. So I was able to pay 60% less for an item that would feed my family for dinner. Where else can you get dinner for a family of four for $2.50?
4. Dollar Tree
When I used to think of the Dollar Tree, what would come to mind was deals on gift bags, cleaning supplies, and organization containers.
But surprisingly, the Dollar Tree now offers a good selection of food items. From snack items like granola bars to steak in the freezer section, you can likely find something that can feed your family on a budget.
Even better, the Dollar Tree accepts manufacturer coupons. I got an additional $0.50 off a 4-count box of Nature Valley crunchy granola bars, making each bar about 12.5 cents each.
Dollar Tree also carries other name-brand food items for which you might find manufacturer coupons. If you keep an eye out, you can snag those items at a very low price.
5. Amazon
Recently, Amazon has become an up-and-coming competitor in the grocery sector. The company offers everyday groceries delivered to your door, some at very cheap prices. (For additional savings, they also have a subscription service Amazon Fresh, which costs $14.99 per month for Prime members.)
Amazon offers an 18-count variety box of Pringles potato crisps for $6.48, the same price as Walmart.
Likewise, a 6-pack of 32-oz, unsweetened vanilla Silk almond milk costs $10.48 through Amazon, the same price you'll find at Sam's Club, without paying the membership fee.
A little digging can help you find some of the same prices — or lower — than those at your average grocery store.