How the Government Shutdown Affects Food Stamps—and the 40 Million People Who Rely on Them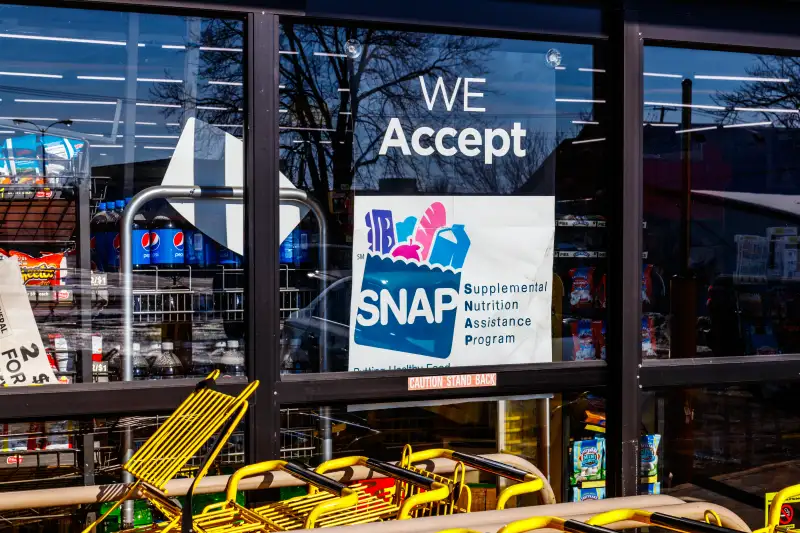 jetcityimage—Getty Images
Federal workers may be the most obvious group of people affected by the partial government shutdown, but they're not the only ones facing hardship and uncertainty lately.
People who rely on the federal government for benefits and services—particularly the 40 million Americans who receive food stamps through the SNAP program each month—also stand to be impacted as the shutdown wears on. Those who earn 130% or less of the poverty line, or about $26,600 per year for a family of three, are eligible for SNAP assistance. The average SNAP household receives a little over $250 per month.
Here's how the government shutdown is affecting SNAP (full name: Supplemental Nutrition Assistance Program) so far, and all the information we know for people who are worried food stamps will be cut off soon.
February Food Stamps Were Issued in January
Food stamp recipients should have already received their benefits for January and February 2019. But that doesn't mean Americans who get food stamps have nothing to worry about — because it's hardly "business as usual" at many federal agencies, and no one knows when the government shutdown will end.
Here's how things have played out so far for food stamp recipients. Because of a lapse in funding during the government shutdown, the U.S. Department of Agriculture (USDA) had to create a special plan to help states distribute SNAP benefits — a.k.a. food stamps — for February 2019.
Normally, SNAP participants typically receive their food stamps during the first half of each month. But the special provisions enacted by the USDA called for February's food stamps to be paid out ahead of their usual schedule.
According to the terms of the plan, the USDA required states to request and issue February 2019 food stamps no later than January 20. In other words, SNAP recipients received their benefits 10 or more days ahead of their usual time for February.
It is unclear if food stamps for March 2019 will also be issued ahead of usual schedule, or if they'll be issued at all. Many are concerned that in a few weeks if not sooner, people will run out of food stamps and have no way to pay for groceries.
"When SNAP recipients get their benefits, they tend to spend them right away," Tanya Triche, vice president and general counsel of the Illinois Retail Merchants Association, said to the Chicago Tribune. "We have to be prepared for there to be a bit of a rush."
States have been warning food stamps recipients to be particularly careful budgeting their grocery purchases over the next few weeks. "Unless the federal shutdown is resolved, benefits for March MAY NOT be available," a recent message regarding food stamps from California officials said, according to Politico. "We are waiting for federal guidance and will keep you informed."
A public information manager for the Idaho Department of Health and Welfare told the (Spokane) Spokesman-Review that the organization is advising SNAP recipients that they should "budget food stamps as long as possible," and is urging others to make donations to food banks. "Because as people run out of their food stamp benefits, I would imagine they will be looking to community resources to help fill the gaps," the Idaho official said.
March Food Stamps Are Uncertain
If the shutdown continues into February or beyond, will food stamps be cut off? At this point, we don't know.
The USDA says that it is trying to come up with plans that would allow SNAP recipients to get their March 2019 food stamps, but the hope is that the government shutdown ends soon and funding is restored to the programs.
"We continue to examine our options for SNAP benefits in March," USDA spokesman Tim Murtaugh said in an email to Reuters, without detailing any specific plans. "The best solution is for Congress to pass appropriations legislation in a form the President can sign."
Some Stores Can't Accept Food Stamps
Another complication for SNAP recipients during the government shutdown is that a small percentage of stores have stopped accepting food stamps. Why? As a "PBS NewsHour" report explained, roughly 2,500 stores around the U.S. failed to meet the December deadline to renew their licenses for the Electronic Benefit Transfer (EBT) debit card program — and they can't renew them now that the government shutdown is in effect.
SNAP benefits are provided via these EBT cards, so stores without valid licenses cannot accept grocery payments with them.
Only a tiny percentage of stores is affected. The USDA says that 99% of stores licensed to accept SNAP during normal periods are still accepting food stamps during the government shutdown.