Grateful Dead Fans Gouged in More Ways Than One for Reunion Shows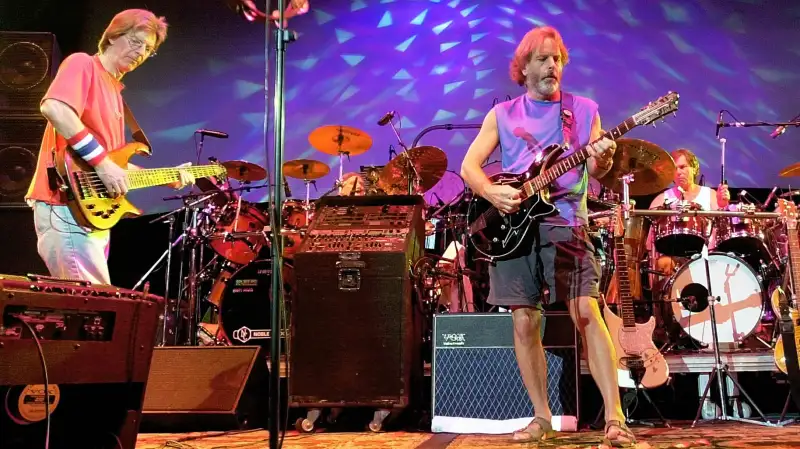 Morry Gash—Associated Press
"Every silver lining's got a touch of grey."
The Grateful Dead's Jerry Garcia sang these words in one of the band's extremely rare hit singles back in 1987. The Dead was considered mostly past its prime even then. Of the 20 essential Grateful Dead shows as named by Rolling Stone, only five took place after 1977, and none of TIME's picks for the best Dead shows were after 1975. Still, some of the revived interest in the 1980s and '90s came from the children of the band's original fans, and the Dead's fan base has grown and grown and now ranges in age from roughly 8 to 80.
For the most diehard fans, the early 2015 announcement that surviving band members would reunite to celebrate the 50th anniversary of the Grateful Dead—and 20 years since Garcia passed away—with a few "Fare Thee Well" concert shows was a dream come true. But the "touch of grey," in this instance, is that the short-lived tour would be accompanied by some extremely unseemly business that has generated loads of aggravation (and loads of money) from the Dead's mellow, peace-loving fans.
Almost immediately, ticket prices for the Dead's shows at Chicago's Soldier Field over July 4 weekend went bonkers. Before tickets had even gone on sale, ticket aggregators like TiqIQ reported that prices on the secondary market were averaging $876. The speculation and expected resale of Dead concert seats drew comparisons to the 2015 Super Bowl, when some seriously shady price gouging took place.
Some 500,000 people tried to buy tickets at face value ($59.50 to $199.50) when they actually did go on sale, and the extraordinary demand pushed scalper prices skyward. For a while, Chicago resale tickets were averaging $1,400 to $2,000, and the cheapest get-in price (for the worst seat available) was over $350. Greedy online sellers were asking over $100,000 apiece, and some fans forked over $10,000 or more per ticket.
The Dead shows had a similar effect on the Chicago hotel scene. Rates at some downtown properties during the shows were three, four, even five times more expensive than the same period in 2014, Bloomberg reported.
After the concert dates drew near, and after the band added additional tour dates at Levi's Stadium in Santa Clara, California, however, the bottom dropped out of the market. Earlier this week, tickets for the Santa Clara shows were available for as little as $19, and Chicago seats could be had for under $200.
As of Friday, the resale site StubHub was listing tickets in Santa Clara starting at $48 for this Saturday, and $36 for Sunday. Get-in prices for next weekend's shows in Chicago ranged from $175 to $198. StubHub data indicates that average resale ticket prices remain quite high—$222 for Santa Clara, $862 for Chicago—and some of the asking prices on the secondary market are still absurd, at $5,000+ for prime seats.
According to the research of Beyond Pricing, a software development firm focused on dynamic pricing for Airbnb and other vacation rentals, the July 4 weekend lodging market in Chicago went on a rollercoaster ride similar to that of Grateful Dead concert tickets. Here's what happened, and here's why many Deadheads have a right to feel like they've been ripped off, per Beyond Pricing's Ian McHenry:
More recently, however, ticket scalpers have been dumping seats at lower and lower prices because they don't want to be stuck with them at show time. And hotels that were once listed as sold out, or that were attempting to gouge guests with insane markups are posting available rooms at rates that are a more reasonable 70% or so above the norm. Airbnb rates in Chicago have taken a nosedive as well, partly thanks to the dramatic increase in supply, "from 2,500 before the concert was announced to over 4,300 the week before the event," Beyond Pricing notes. Like hotel rates, Airbnb rental rates next weekend in Chicago are about 70% higher than normal.
The speculators, scalpers, hotels, and Airbnb hosts still stand to cash in big time on the backs of diehard Deadheads over the next two weekends. But it appears that fans aren't getting ripped off quite as badly as they were in the recent past.
In what's been a long, strange, likely unpleasant and distasteful trip for legions of Grateful Dead fans, perhaps a few more words from Robert Hunter and Jerry Garcia's "Touch of Grey" will provide some comfort and allow them to enjoy the shows:
"It's even worse than it appears / but it's all right."
Read next: Grateful Dead Tickets Once Priced in the Thousands Now Sell for $19