How Gucci Mane Kicked a $500-a-Day Drug Habit and Turned His Life Around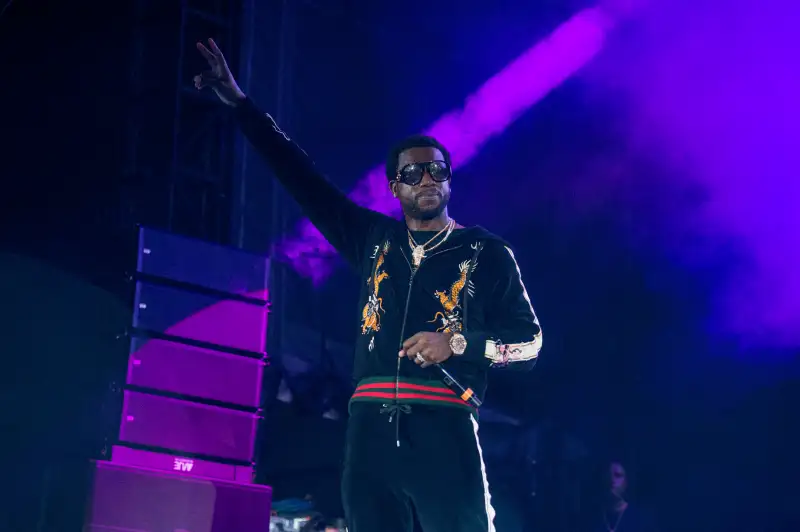 Amy Harris—Amy Harris/Invision/AP
It's been 16 months since Gucci Mane left federal prison with a newfound vigor that included a 90 pound weight loss fueled by cold turkey sobriety and a strict exercise regimen. It was so radical fans wondered, with varying degrees of earnestness, if he'd been cloned.
He wasn't cloned, but has turned his life into prose. His new autobiography, hit shelves this week and it's not a breezy read. Born Radric Davis, the 37-year-old rapper grew up in a notoriously crime-riddled neighborhood in East Atlanta ("Zone 6"). Money was tight—bills were a constant stressor—and Mane started selling drugs in grade school. A violent, unruly lifestyle led to multiple arrests; one murder charge was ruled self defense and dropped in 2006.
In the book, Mane blames addiction for many of his transgressions: For years, the rapper drank prescription cough syrup ("lean"), often from sunup to sundown. An infamous 2013 Twitter rant, lobbed at hip hop superstars like Drake and Nicki Minaj, was the aftermath of one particularly lean-heavy day. "It f--ked me up mentally, physically, professionally," he says of the drug. "All facets of life."
Mane's two-year prison sentence, handed down after he plead guilty to a weapons charge, tightened more than just his waistline. He still speaks with the same gnarled, lingering drawl he's always had, but he chooses his words carefully, and more deliberately, than he once did. For an expert antagonist set on reviving his career, that could be the most salient change of all.
On a short break from recording, Mane shared some wisdom about the cost of addiction, his new health-conscious lifestyle, and what it means to be a hustler.
In The Autobiography of Gucci Mane, you write about how you started rapping, not so much as a hobby, but as a way to make ends meet. What was your dream job as a kid?
I think the first thing I wanted to be was an athlete. A basketball or football player, something like that. But even before that, I knew I was going to be rich. I didn't know how I was going to do it, but when you grow up lacking, thinking the lights are going to get cut off every month, you think, no matter what I do, I'm going to be wealthy.
But it's so hard to make it in the music industry, right? Why did you think rap was viable?
A lot of people in my neighborhood were trying to rap. When I was 19, 20 years old, there was an artist I would pay studio time for. That's how it was going to make bank, by putting out a rapper.
When I got arrested [for a drug charge in 2001], that was a pivotal point. Once I knew I couldn't stand on that corner anymore, I was like, let me try to make a career out of this myself.
And you liked the music hustle …
100%. It was like a challenge. The first couple of songs I made, I would press up and sell myself for $10 a CD. I was trying to be as creative as possible, while at the same time learning how to promote myself, and finding a way to generate income.
In your book, you call your dad a "hustler." What did you learn from him?
My daddy was a hustler. That is, he was a streets guy. I did learn a lot from him, like how to make something out of scraps. But he wasn't a rich hustler. He was never rich, it's just what his profession was.
To be a good hustler, you have to be resilient. Sometimes, I don't even think about how I'm going to do something. I just know I'm going to get it done. No matter what happens, I'm going to figure out a way. I set hurdles, and I keep pushing.
You've struggled with drug addiction. Of all the drugs, why was lean the one that got you?
I don't know. I don't know what made me addicted to lean. But I do know that it took me out. It made me unprofessional. When it was time to be on point, on time, it made me on leisure time. It tore me down.
How much do you think you spent on lean a day?
Three to four years ago, when that was going on? Maybe $500 a day. Wow. Yeah. Listen, $500 a day adds up.
Jamie McCarthy—Getty Images
Not a cheap addiction.
It's expensive, but it's more expensive when you squander opportunity that's in front of you.
You spent some time in rehab. What was that like?
It was great for me but I was ordered to go by the court, so it didn't stop me. What stopped me was when i was facing 20 years in prison [in 2014]. That was the deciding point for me. I knew I couldn't have [drugs] in my life.
You got in crazy good shape in prison — which you started by running up and down the stairs in jail prior to your court date. Do you remember the first time you ran up those steps? Did you vomit?
I didn't vomit, but I couldn't even go straight up the first time. It took a minute to get to where I could go up and down and up and down. By then, I'd lost 30 pounds. Working out became part of my routine. And once I was in prison, I lost the remaining 60 pounds.
The first time I did those stairs, you know, that was the most important thing. That first day. You do a little until you can do a lot.
What are you doing to stay healthy? Are you still on the kale train?
I try to work out every day. Today I went to the gym, I did some pushups, I did some sit ups. I try my best to be conscious about what I eat and what I drink.
If, throughout the day, I'm watching what I'm putting in my body, that transfers to what I think, and what I say. Where I go. And who I have around me.
The Autobiography of Gucci Mane is out now.