Haagen-Dazs Is Giving Away FREE Ice Cream Cones Today. Here's How You Can Get One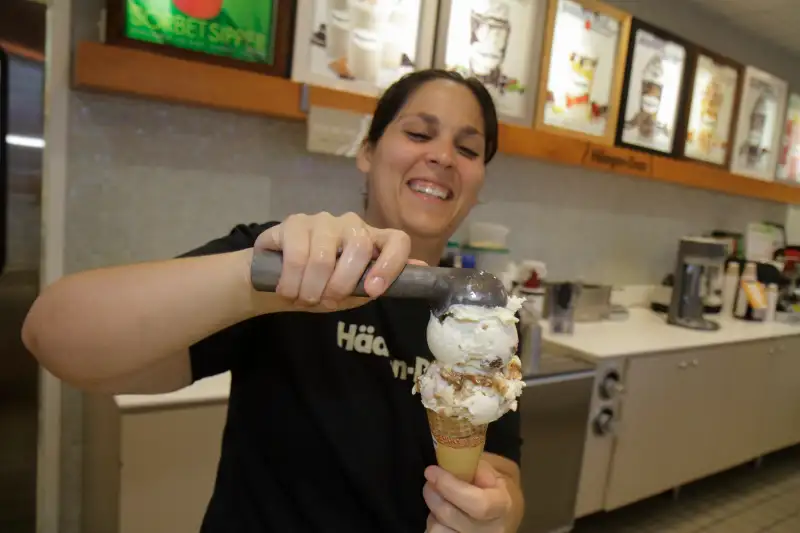 Jeff Greenberg—UIG via Getty Images
A delicious free ice cream deal is available nationwide to greet you at the end of your day at work or school today: Tuesday, May 14, is Free Cone Day at Haagen-Dazs ice cream shops.
To get the free ice cream deal at Haagen-Dazs, stop by a participating shop from 4 p.m. to 8 p.m. Nearly all locations are participating — you can use the Haagen-Dazs locator to find a shop nearby — and all guests will get a free mini cone, in any flavor, with no purchase required.
The only hiccup could be that, unsurprisingly, there are likely to be long lines of people waiting to get free ice cream at Haagen-Dazs shops today. After all, it's FREE ICE CREAM!
While waiting in line, you may be wondering why shops give away free ice cream — or, for that matter, why there are other "holidays" devoted to giveaways of free coffee (always on September 29), free donuts (first Friday in June), free Slurpees (July 11), and such.
Well, the calendar of freebies has evolved as a big way for retailers, brands, and products to make customers happy — and gain favor with them in the long run. Shops may lose money by giving away some ice cream or donuts on one day of the year, but the idea is that these special days get customers excited enough to come back for more on days when they'll be paying full price.
It's also unsurprising, then, that there's a flurry of free ice cream deals in spring, just as the peak ice cream-buying season of summer arrives. In addition to the Haagen-Dazs freebie today, Dairy Queen and Ben & Jerry's had their own free cone days recently.