'Hamilton' Musical Has Thrown a Big Wrench into Putting a Woman on $10 Bill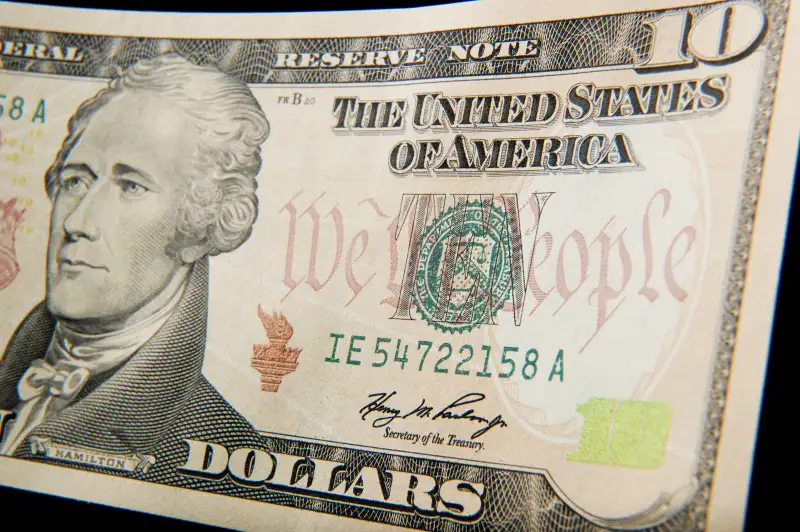 Richards, Paul J.—AFP/Getty Images
Last year, former Treasury Secretary announced that founding father Alexander Hamilton was sure to depart from the $10 bill, where he's been for almost 90 years. The Obama administration had called for a woman to take Hamilton's spot on a newly redesigned $10 bill, and current Treasury Secretary Jacob Lew decided to take suggestions from the public as to who that woman might be.
But then the "Hamilton" craze hit. Unexpectedly, the phenomenal success of the Broadway musical based on Hamilton has resulted in significant pushback as fans have lobbied for him to stay on the $10 bill.
According to a tweet from Lin-Manuel Miranda, Secretary Lew has indicated that Hamilton may in fact stay on the bill. In an interview with Charlie Rose, Lew revealed that Hamilton was one of his heroes and would stay on currency in some capacity. He suggested there would be different, concurrent designs for the $10 bill as well as other bills in the future, many featuring women. "We're going to put a women on the face of our currency," he said.
Bloomberg reported that the "Hamilton" groundswell has changed the landscape significantly over the past year, according to an undisclosed Treasury source.
The obvious solution is keeping Hamilton on the $10 and replacing Andrew Jackson on the $20. Jackson was a slaveowner who enjoyed dueling and was responsible for a genocide with the Indian Removal Act and the Trail of Tears. It would be difficult to see him as the focus of an inspiring Broadway musical.
Read next: These 10 Countries Already Have Women on Their Currency
Still, putting Jackson on the chopping block instead of Hamilton won't be easy because of security. The $10 needs an upgrade badly as it's not nearly secure enough from counterfeiting. And since bill redesigns take such a long time and it seems unlikely the Treasury would do two redesigns at once, it could be a long time before Jackson is kicked off the $20.