President Says 'Everybody That Ever Bought a Harley Davidson Voted for Trump'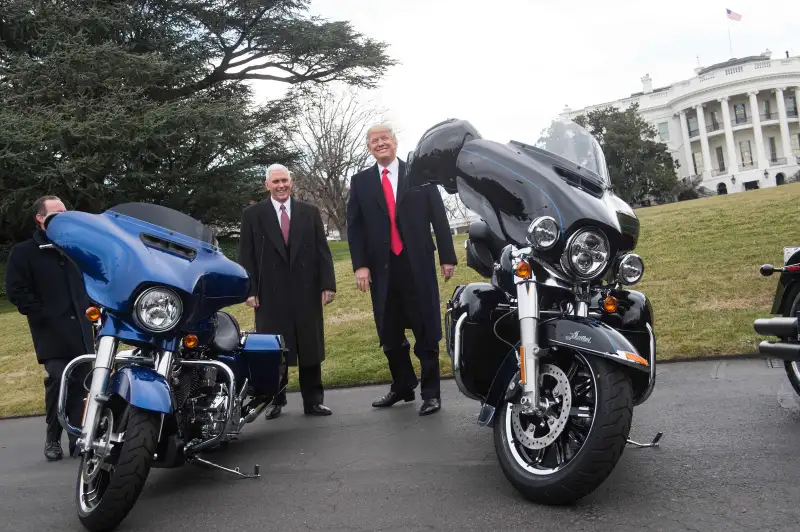 Nicholas Kamm - AFP/Getty Images
President Donald Trump again slammed Harley Davidson's announcement that it was moving some production of its motorcycles overseas in response to retaliatory tariffs – claiming that the company's customers will punish the brand because they're all Trump supporters.
"I guarantee you everybody that ever bought a Harley Davidson voted for Trump," the President said in an interview with Fox News' Maria Bartiromo on Sunday morning. "I don't know if you know that... they call them bikers for Trump. There's hundreds, and they're very unhappy about it."
Trump added: "I don't think they should do it. I think that Harley is an American bike. It's an American motorcycle and they should build them in this country. They shouldn't play cute."
Trump attacked the American motorcycle manufacturer on Twitter last week after the company said in a regulatory filing that it would have to move some of its production outside of the U.S. Trump's steel and aluminum tariffs on the European Union have prompted the governing body to fight back with retaliatory tariffs of their own, which Harley Davidson said will make it too expensive to keep production in the U.S. for motorcycles destined for European Union countries.
In his Fox News interview Sunday, Trump dismissed the idea that Harley's decision had something to do with his tariffs and said the company planned to outsource production long before he announced them. He admonished the company for not sticking to its American roots.
"They made this deal at the beginning of the year, long before they ever heard of the word 'tariff,'" he said.
The president also claimed that Harley Davidson's customer base is made up of Trump voters who are upset with the company's plans to build motorcycles overseas.
Harley Davidson said in its filing that it was not the company preference to manufacture bikes out of the U.S., but Trump's tariffs would cause the price of its motorcycles to jump "$2,200 per average motorcycle exported from the U.S. to the E.U." Overall, the added costs from steel and aluminum tariffs could amount to $100 million a year for the company, it said in the regulatory filing.