Is This Prince Harry and Meghan Markle's New Home? What We Know About the Mysterious 21-Room Apartment 1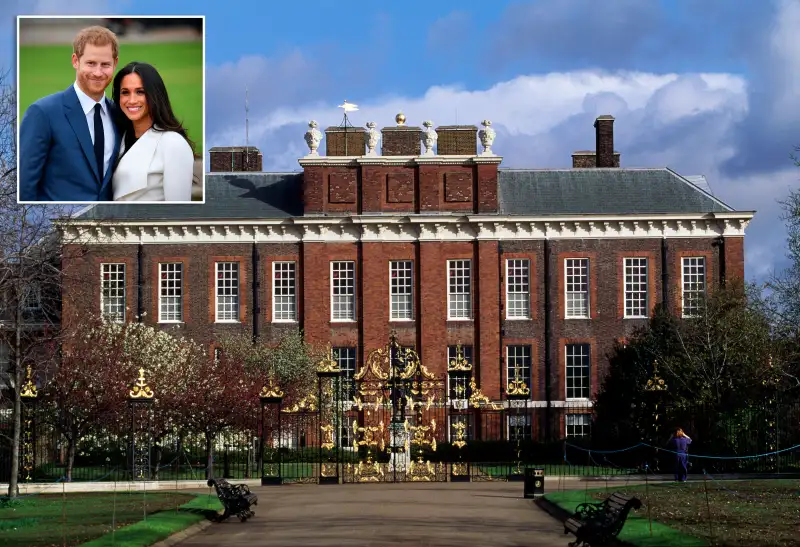 De Agostini/Getty Images; (inset) Shutterstock
On Saturday Prince Harry will carry Meghan Markle across the threshold. But which threshold will it be?
While there is no official word, royal watchers and the U.K. press, fueled by hints from royal relatives, have been speculating the couple will settle down in a sprawling pad known as "Apartment 1" that is part of London's famed Kensington Palace.
Such a move would not require the couple to travel far. While the couple is already living on the Kensington Palace grounds, their current digs, the quaint and mysterious Nottingham Cottage, is said to have only have one to two bedrooms.
Here's what we know about Apartment 1, the royal couple's potential next home:
It's huge -- and right next door to Will and Kate
According to reports, the palace's Apartment 1 is a massive 21-room spread across a wing on the southwest side of the palace. That's quite an upgrade from Prince Harry and Meghan Markle's current cottage home.
While there are no photos showing the inside of the apartment, it's likely to closely resemble the 20-room Kensington Palace home Prince William and Kate Middleton -- now formally the Duke and Duchess of Cambridge -- moved into in 2013. Throughout much of the palace's history, the two apartments were a single gigantic residence, which was divided only in the 1950s.
Those close quarters, which are said to connect with a shared door, would make Prince Harry and his brother next-door neighbors.
It's fresh off a new renovation
Rumors of the Harry's relocation to Apartment 1 have been floating around since at least 2014, when Princess Michael of Kent, who also lives at Kensington Palace next door to William and Kate, told Tatler magazine "I think Prince Harry might go there." The speculation gained steam after the royal family's 2017 financial report announced a project to renew the roof, repair windows and update the scaffolding associated with Apartment 1 -- shortly before the royal engagement became official last November.
It's housed a long list of royalty
In the 300-plus years since William and Mary purchased the property, Kensington Palace's Apartment 1 has, at different times, housed dukes, princesses and flocks of free-flying songbirds.
One of the apartment's known former residents was Prince Augustus Frederick, the sixth son of George III. The prince moved into the spread in 1805 with a "menagerie of birds," who were allowed free reign to fly throughout the apartment, according to an illustrated history of the royal family.
Other occupants of the apartment had less memorable uses of the space: Princess Louise, Duchess of Argyll, and Princess Marina of Greece and Denmark, the wife of Prince George, Duke of Kent, also lived in the apartments, according to reports. Most recently, Apartment 1 was home to the Duke and Duchess of Gloucester, though reports say the pair moved out in November.