Americans Aren't the Only Ones Paying Crazy Prices for Hatchimals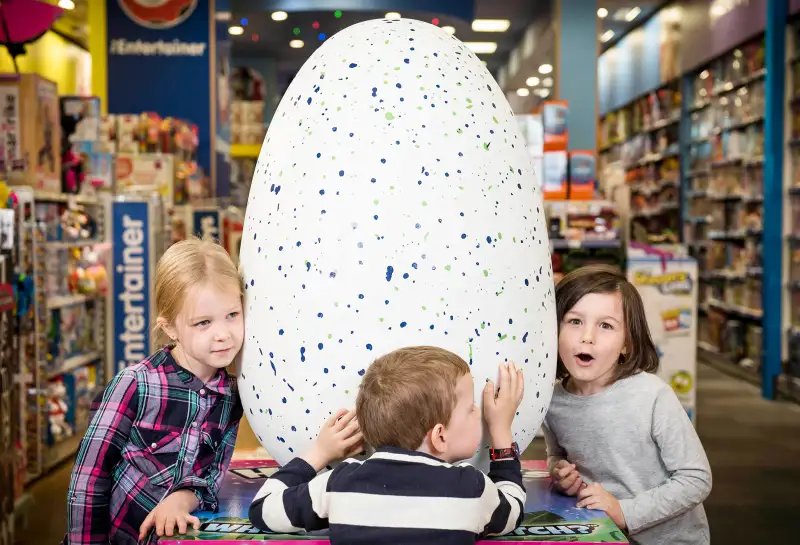 John Nguyen—PA Wire/Press Association Images
Apparently, American parents don't have a monopoly on crazy. The 2016 holiday season's hysteria over Hatchimals -- the interactive furry toys that hatch out of an egg and have become the must-have this year -- is transcending U.S. borders.
For weeks, desperate parents all over the globe have been stymied in their efforts to find a single Hatchimal left for sale in stores. The result is a robust resale market in which opportunistic sellers are listing Hatchimals at "highway robbery prices," and many parents see no other choice but to pay steep premiums for the toys in order to avoid disappointing kids on Christmas.
Here's a look at how the Hatchimals craze is shaping up around the world.
Australia
"Opportunistic re-sellers are asking up to a thousand times the retail price for these items," the Australian New Daily recently reported. Hatchimals were originally sold in stores for AUD$79 (around US$60), but they've typically been selling for three to six times as much on eBay and other sites Down Under. "Desperate Australian parents are snapping up Hatchimals for between $230 to $500 on resale sites."
Canada
Back in early November, one mom in Edmonton had to visit five stores before finally finding Hatchimals in stock. She grabbed the last one from the store shelf, and even then she didn't feel safe. "Walking around the store, I didn't leave my cart because I was too afraid someone might take this, because I knew that's what everyone was looking for," she explained to CBC News.
Spin Master, the company that makes Hatchimals, is based in Toronto, but that hasn't made it any easier for Canadians to find the hot toy. (They're manufactured in China.) On one Friday in mid-November, for example, a crowd waited outside a Canadian Tire location in anticipation of a new stock of Hatchimals -- and all 36 sold out just after the store opened at 7 a.m., the Globe and Mail reported.
Ireland
Hatchimals are reportedly the most searched-for toy in Ireland. But as in stores all over the world, Hatchimals are completely sold out on the Emerald Isle. "They're nowhere to be found in Irish stores and even in the U.K. and further afield, they're a rare sight," the Irish Times reported recently. "The chances of nabbing one for Christmas are pretty slim, unless you are open to the idea of selling a kidney to buy one on eBay."
In fact, the stock of Hatchimals appears to have been depleted in early November throughout the country. Irish parents were buying Hatchimals for three or four times the original price at local resale sites like Done Deal in mid-November, according to the Irish Sun.
New Zealand
The New Zealand Herald reported that searches for "Hatchimals" on the Trade Me resale site are up 245% this week, with some selling for close to NZD$300 (about US$210).
Callum Irvine, a father of two from the North Island town of Thames, said he began buying up Hatchimals in late October after noticing on social media that people were chatting about them and having a hard time finding the toys in stores. "I started importing some of them from overseas and then that dried up, so I got a few local ones as well," he said. "I've sold about eight to 10 for on average about $250."
United Kingdom
As is true everywhere else, Hatchimals have been sold out throughout the U.K. for weeks. Lately, cyber criminals have been launching scams that list Hatchimals at a reasonable price and demand upfront payment -- but the toys are never delivered.
Desperate parents are paying a premium for Hatchimals from independent sellers on eBay and Amazon (sometimes from listings originating in France or Germany), while others are opting for a strategic stalling technique. The UK version of the Huffington Post has suggested that instead of paying four or five times more for a Hatchimal now, parents could leave a note from Santa Claus -- like one posted on Facebook -- explaining why their kid's dream toy isn't under the tree. That one reads: