These 2 Brothers Predicted the Hatchimal Craze In October, and Now They're Cashing In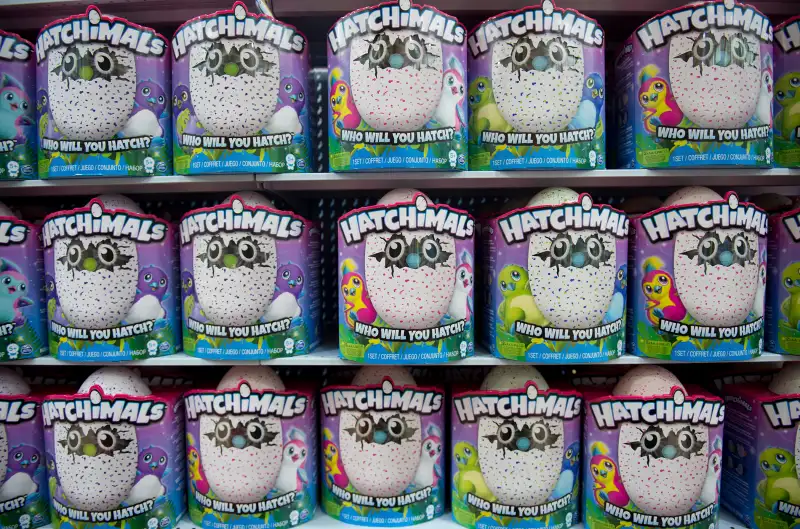 If you're remotely familiar with Hatchimals—the 2016 holiday shopping season's hottest toy—you probably hate Mike and Stan Zappa right about now. Thanks to a hot tip from Mike's 10-year-old daughter, the two brothers from Glendale, Ariz., bought 100 Hatchimals in early October with the hope of reselling them at a profit during the frenzied holiday shopping weeks ahead.
And oh, what profits Hatchimals have brought forth! By mid-November, Hatchimals were sold out at all major retailers, and a full-on toy craze had taken over, with desperate parents paying $125, $150, or even over $200 for the hatching interactive toy that retails for $50 to $60. According to a one Arizona TV station, the Zappa brothers had already broken even on their $5,000 investment by Black Friday, and they still had 60 more Hatchimals left to sell.
So you may sorta hate them because they're opportunistically cashing in at the expense of crazed parents who will pay anything to avoid disappointing their kids on Christmas morning. Or perhaps you hate them because you're jealous that they had the foresight to stockpile Hatchimals and you didn't. Just look at how pleased the brothers are with themselves in a photo Mike Zappa posted on Twitter on Black Friday:
Read Next: Everything You Need to Know About Hatchimals, The Hottest Toy for the Holidays
Toy crazes tend to pop up around this time every year, but the Hatchimals frenzy is unique because the toys caught on and sold out so early in the season. The toys are even sold out in the U.K. Thus far, the manufacturer, Spin Master, has been unable to ramp up production to come anywhere close to meeting demand in time for the holidays. The company says on its website that a huge fleet of Hatchimals will arrive in stores in early 2017, and that in the meantime it most certainly does not "support inflated prices from non-authorized resellers."
The Zappa brothers are among these resellers. They recently explained to another local TV station that the idea to pile up Hatchimals in early October originated when Mike Zappa's daughter asked for one for Christmas. "I had a hunch it would be a big hit for the holidays," he said.
Mike and his brother Stan then began scooping up all the Hatchimals they could find. They hit six Barnes & Noble stores and cleared them out of Hatchimals, putting a total of 100 of the toys on credit cards. Lately, each of the $50-$60 toys has been selling for $150-$200 on eBay.
While the idea is obviously paying off now, it hardly looked like a sure thing when they first hatched the scheme. "Three weeks ago there wasn't one person we knew who thought this was a great idea," Stan Zappa explained a few days before Thanksgiving. "Even our father called us idiots. Now they can't believe it."
Assuming that each of their remaining Hatchimals sells on eBay for somewhere around $200, the Zappa brothers stand to net up to $9,000 in profits on their 2016 holiday resale adventure.
Read Next: How to Capitalize on Sales Crazes and Make Quick, Easy Profits Selling on eBay
If you're wondering, yes, the brothers have been the victims of some backlash on social media thanks to their successful profiteering strategy, and no, they're not particularly bothered by it. "We were expecting this," Mike Zappa said. "But we also took a risk. We didn't break any laws. And we aren't dictating how the market is pricing the toys on eBay. What we are doing is capitalism at its best."
The Zappa brothers aren't just about capitalism, however, In the spirit of holiday season giving, they created a Facebook group and will be giving three Hatchimals away. They are asking parents to submit photos and messages explaining why a Hatchimal will make a child's Christmas better, and the Zappas will pick three lucky winners soon.