Here's How This Whole Hatchimals Craze Is Going to Play Out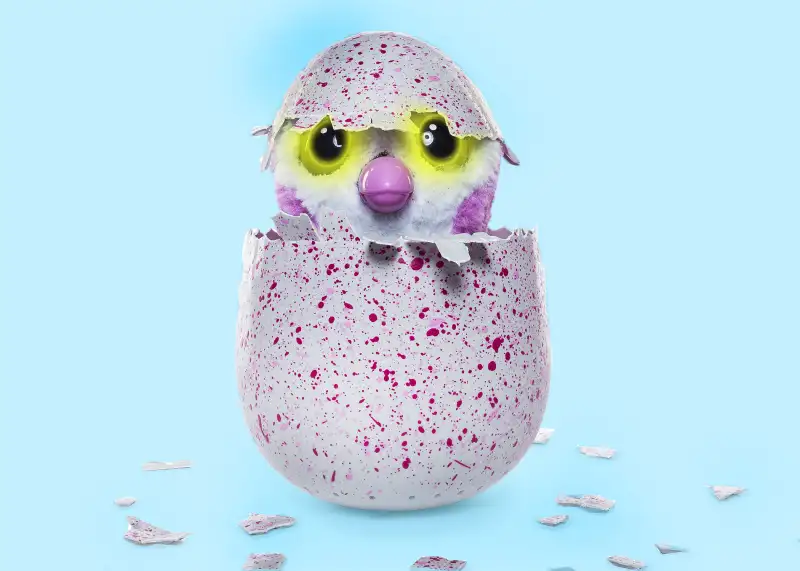 There's more than a month to go before Christmas. Some parents, however, seem to have shifted into full nuclear panic mode and are paying crazy amounts of money for the season's hottest toy.
That toy is Hatchimals, which are interactive stuffed animals that a child gets to help hatch and then teach to walk, talk, and play. It's sort of like a Furby that hatches from an egg, adorably poking through its glowing shell when you rub it.
The normal price of Hatchimals is $50 to $60, but this season's must-have toy is sold out in virtually all stores and major retailer websites. Desperate parents who don't want to disappoint their children are hunting through resale markets at eBay, Amazon Marketplace, Craigslist, and the like to find Hatchimals for around $200, and sometimes much, much more. There are sellers listing individual Hatchimals for $450, $1,080, $2,500, and even one extremely hopeful individual asking $100,000 (some of this is supposed to go to charity). At eBay auctions—where people often become irrational with their bids, focused on winning rather than the value of the item up for bid—many sales have been closing at over $250 during the week of Thanksgiving.
Read Next: Everything You Need to Know About Hatchimals, The Hottest Toy for the Holidays
Where does the Hatchimals market go from here? And what can potential buyers (and sellers) expect in the weeks ahead?
No one really knows, but there are insights to gain by looking back at previous toy crazes. While almost every holiday shopping season has its share of hot must-have toys, the last time a toy this popular appeared to be completely sold out so early in the season was the great Zhu Zhu Pets craze of 2009. A few weeks before Christmas, the supply of those electric hamsters in stores wasn't anywhere near matching sky-high demand. Soaring unemployment during the Great Recession at the time also meant that there were plenty of people looking to make some quick profits around the holidays by buying and selling toys to frantic parents.
There were over one million "Zhu Zhu Pets" searches at eBay over Thanksgiving weekend 2009, and roughly 100,000 Zhu Zhu Pets were sold during the first week of December that year. Some opportunistic sellers cashed in, like the laid-off insurance worker who said he made $6,000 in profits throughout the season in the Zhu Zhu Pets market.
We asked some experts what they thought would happen with the latest toy craze, Hatchimals. Everyone agrees that the Hatchimals market will collapse in the near future. There is some debate, however, about when exactly prices will peak—and then hit bottom.
Read Next: How to Get Free Shipping on All Your Holiday Purchases in 2016
"Once production ramped up after Christmas, all the prices plummeted" for Zhu Zhu Pets, Jordan Malik, an e-commerce expert who has written three books about making money selling goods on eBay and Amazon Marketplace. "There is no predicting where this will go unless you at least have insight on the Hatchimals production plans."
Danna Crawford, an eBay expert who goes by the nickname "Power Selling Mom," thinks that Hatchimals manufacturer Spin Master will figure out a way to get more of these toys on store shelves in order to maximize profits while the craze is hottest. "Just as I've seen over the years with the hot-selling toys, the moment they go hot the manufactures kick butt making them so that they have plenty out in time for the last week or so before Christmas," Crawford said.
This could mean the resale market (and prices) would crash just before Christmas. After all, why would anyone pay $200 for a toy on eBay that you can buy for $50 at Target or Walmart?
Waiting is obviously risky. A parent who hopes the Hatchimals supply is refreshed in stores at the last minute could be left empty-handed if the manufacturer doesn't come through, or if even the new crop of Hatchimals is snatched up by shoppers right away. At that point, you might see no other option buy to pay whatever the market rate is on eBay, and it could be much more expensive than it is right now.
Read Next: How to Capitalize on Sales Crazes and Make Quick, Easy Profits Selling on eBay
There is one other option, however. "A better plan is to ask yourself if you really want to succumb to a craze. Which is what this is, a craze. As in people have gone crazy. You don't want to be one of them," consumer psychologist (and frequent Money contributor) Kit Yarrow said regarding Hatchimals. What's more, she said, most crazes like the current one over Hatchimals ultimately aren't really about making kids happy. "It's a craze fueled by competitiveness—parental competition. It's not about the product, it's about winning and obsessiveness."
"If you must have one, buy it now," Yarrow said. "Prices will only get higher and then they'll crash right after Christmas." But again, her larger point is that no one really must have one of these cute hatching Furbies.
As for the flip side of the sales equation, it is also probably unwise for sellers to get greedy with the hope that buyers will pay much higher than the market is now bearing for Hatchimals. "If you're lucky to get your hands on the real thing in stores, price it high but competitively on Amazon or eBay, with the goal of getting 3x to 4x what you paid and be done with it," Malik said via email.
Also, Malik advised, take into account that Hatchimals are hardly the only item that can be resold for profits around the holidays. "You don't have to follow the herd to win: there is plenty of money to be made reselling boring things this holiday like toasters, Barbie dolls, tool bags and coffee makers."