6 Ways to Save on Halloween Haunted Houses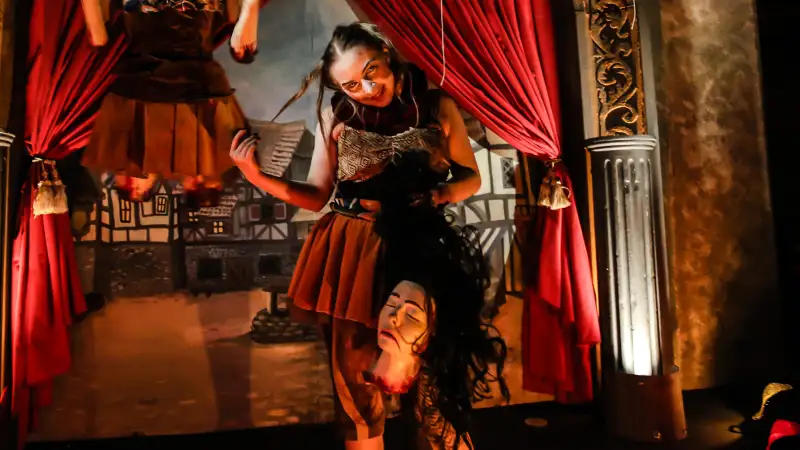 Would you pay someone to scare the, uh, sense of out you? For 1 out of 5 Americans, the answer is yes. That's how many people say they plan to go to a haunted house this year, according to a recent survey from the National Retail Federation. And while there are still plenty of mom-and-pop haunted houses (spoiler: those "eyeballs" are actually peeled grapes) where getting spooked only costs a couple bucks, an increasing number of Halloween attractions are professionally produced, legitimately terrifying, and scarily expensive.
America Haunts, a group of haunted house companies, estimates that there are roughly 1,200 haunted attractions charging admission, plus another 300 or so amusement parks that transform themselves for Halloween. These hardcore houses typically cost between $25 and $40 a person—and that's not including the various line-skipping and VIP options that could easily boost your total bill to $60 or more.
Dying to get some face time with a zombie or psychotic clown but not ready to empty your wallet? Here are six strategies for getting discounted haunted house tickets.
Look into rush tickets. Just like less-terrifying performances, some haunted houses offer last-minute discounts, which go on sale right before the event. Nightmare New York, in New York City, offers $20 student rush tickets, vs. the usual $35, one hour before the attraction opens.
Check the deal sites. Haunted houses are all over the daily deal sites right now. A recent search of LivingSocial turned up tickets to Psychosis Haunted House outside of Chicago at $18 for two, down from $36. On Groupon, we found entry to Fright Fest at Denver's Elitch Gardens amusement park marked down from $46 to $32.
Get a group. Most haunted houses offer group discounts. In general, this will require you to wrangle at least 15 people.
Try an off day. Not surprisingly, weekends are prime time for haunted attractions, so some drop the price during the week. At Indy Scream Park in Anderson, Ind., tickets drop from $32 to $25 on Wednesday, Thursday, and Sunday.
Check for local coupons. Tickets to Knott's Scary Farm, the Halloween iteration of the Buena Park, Calif., amusement park, start at $39 online. However, shoppers at SoCal costume store chain Halloween Club can pick up coupons for the attraction. Horror fans planning to brave the 13th Gate in Baton Rouge, La. can pick up $5 coupons at local MetroPCS stores.
Go after Halloween. Hear us out. Some haunted houses run for a few days after the big night, and others are actually open all year long. Groupon is currently offering discounted tickets to Times Scare, a massive haunted house in, yes, New York's Times Square. The catch: You only get the full discount if you go after November 2. It may be worth it to some horror fiends. Adult admission drops from $27 to $16 and kids' tickets, from $22 to $13.
Related:
13 Halloween Costumes for Finance Geeks