Here's the Salary of Every Quarterback in the NFL Playoffs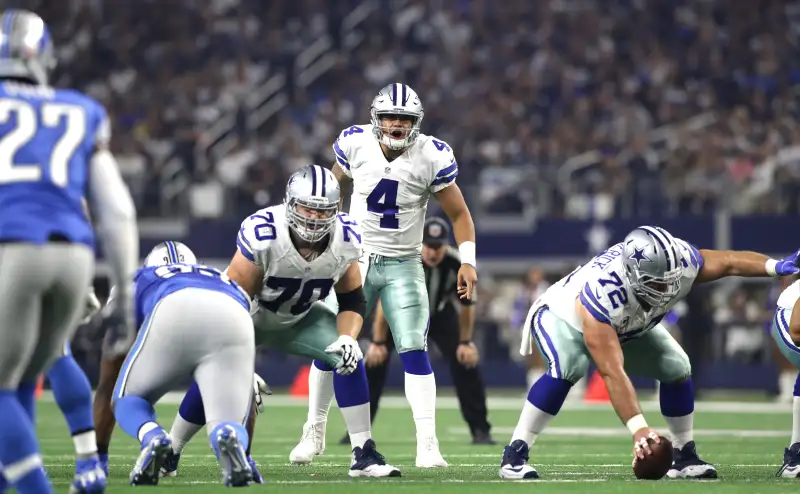 Ronald Martinez—Getty Images
The NFL playoffs get underway this weekend. Only 12 teams have the privilege of competing in the postseason, and their chances of making it to the Super Bowl rest largely in the hands of their starting quarterbacks.
Understandably, most playoff teams have top-notch quarterbacks, and these premier players dominate the list of the league's highest-paid athletes. According to Spotrac, the NFL's 14 highest-earning players—all averaging above $19 million per year—are quarterbacks, and seven of them helped steer their teams into the playoffs this year.
But not every playoff QB is earning millions. Two are rookies earning the league minimum base salary of $450,000 this season. One is Connor Cook, who is expected to make history on Saturday as the only quarterback to make his NFL debut in a playoff game. Cook was named the surprise starter for the Oakland Raiders after the team's regular starting quarterback, Derek Carr, broke his leg. The other is Dallas Cowboys' rookie Dak Prescott, who was also pressed into a starting role due to injury, when four-time Pro Bowl quarterback Tony Romo broke a bone in his back during the 2016 preseason.
Prescott, the rookie fourth-round pick out of Mississippi State, has been the biggest surprise star and arguably the best value player in the NFL this season. He started every regular season game for the Cowboys, leading the team to an NFC best record of 13-3, while throwing 23 touchdowns and only 4 interceptions. He is also a top contender for the league MVP award, even though he earns a relatively pittance by NFL standards. With bonuses added to his $450,000 base salary, Prescott will make $680,848 this year. By contrast, Romo, the man Prescott replaced, is hauling in $18 million this season.
In addition to the rookies, there's one other player earning far below what fans might expect for a starting playoff quarterback. It's the Miami Dolphins' Matt Moore, who has played mostly as a backup during his nine-year NFL career but became the team's go-to QB when Ryan Tannehill was injured and forced to miss the regular season's final three games. Moore has a base salary of $1 million for 2016, and with bonuses will earn $1.775 million, which is peanuts compared to the $19.25 million Tannehill averages each season.
Player earnings can be confusing because they can vary widely year to year during the course of a contract, and because teams often pay a large portion in bonuses rather than salary in order to comply with the NFL's salary cap. With that in mind, we're listing each expected starting quarterback's average annual earnings below—including bonus money—with each player's base salary in parenthesis. All of the figures come courtesy of Spotrac.
Average Annual Earnings in Current Contracts (2016 Base Salary)
Dak Prescott, Dallas Cowboys: $680,848 ($450,000)
Connor Cook, Oakland Raiders: $739,973 ($450,000)
Matt Moore, Miami Dolphins: $1.775 million ($1 million)
Alex Smith, Kansas City Chiefs: $17 million ($14.1 million)
Matthew Stafford, Detroit Lions: $17.67 million ($17 million)
Brock Osweiler, Houston Texans: $18 million ($4 million)
Tom Brady, New England Patriots: $20.5 million ($764,705)
Matt Ryan, Atlanta Falcons: $20.75 million ($15.75 million)
Eli Manning, New York Giants: $21 million ($17.5 million)
Ben Roethlisberger, Pittsburgh Steelers: $21.85 million ($17.75 million)
Russell Wilson, Seattle Seahawks: $21.9 million ($12.342 million)
Aaron Rodgers, Green Bay Packers: $22 million ($11.5 million)