3 Burning Questions About Clinton's Gigantic Medicare Proposal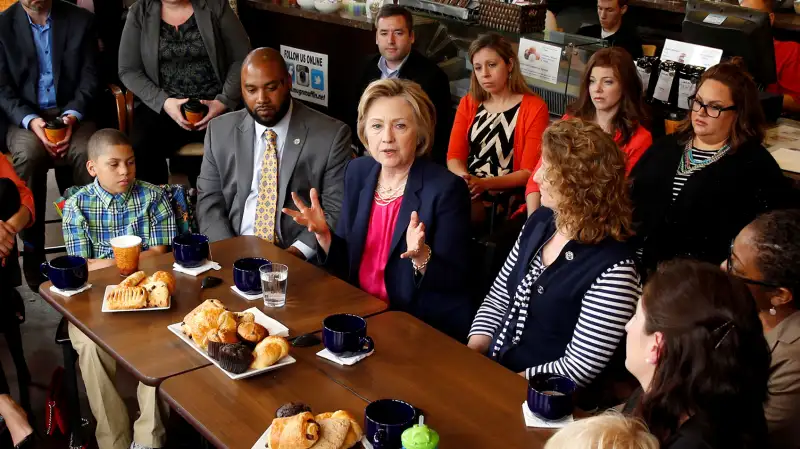 While public support for Obamacare remains tepid, Medicare gets more love. On Monday, Hillary Clinton proposed extending the popular government health insurance program to more Americans.
At a campaign stop in Northern Virginia, Clinton said she supported a so-called public option, which would allow people to buy into Medicare at a certain age, Bloomberg first reported. That age would be around 50 to 55, the New York Times reported. The current Medicare eligibility age is 65 for most beneficiaries.
Clinton's Democratic opponent, Bernie Sanders, has made "Medicare for all" a central part of his platform. While Clinton's proposal would fall short of that goal, her remarks are still a big deal.
Just how big, though, will depend on the fine print—and while Clinton's campaign web site mentions her support for a public option, it doesn't offer many details. So here's what we need know:
How much would premiums cost?
And how would they compare to what's currently available, including Obamacare?
Current Medicare beneficiaries—more than 55 million Americans age 65 and over and younger people with certain disabilities—receive highly subsidized healthcare. Most beneficiaries pay no premium for Part A, which provides hospital care, and $104.90 a month in premiums for Part B, which covers doctors' office visits and other outpatient services. The Part B deductible is only $166 per year, and while the Part A deductible is higher, the overall cost of coverage is generally lower than what those with commercial insurance pay.
Clinton said she supported pre-retirees "buying into" Medicare, which suggests that these younger beneficiaries wouldn't get quite such a bargain. The big question is how Medicare premiums for the 50-to-65 crowd would compare to those available under the Affordable Care Act, both on healthcare.gov and on the individual state marketplaces?
A 60-year-old non-smoker would pay an average of $7,617 per year for a silver plan on the federal marketplace at healthcare.gov, according to the Kaiser Family Foundation. That works out to $634.75 a month without government premium subsidies, which are income-dependent. The average silver deductible for individuals, meanwhile, is $3,117, according to HealthPocket.
While Medicare premiums are relatively inexpensive for most beneficiaries, those on original Medicare face high catastrophic costs. That's because health plans through Obamacare and employers generally cap consumers' annual out-of-pocket spending, but Medicare has no such limits. (Medicare Advantage plans, which are offered by private insurers, generally do have a cap.)
One factor that isn't in play is access to care. The Affordable Care Act (also known as Obamacare) banned discrimination based on pre-existing conditions. Before coverage on the health insurance marketplaces began in 2014, insurers could charge sicker people more or deny them individual coverage altogether. "The dynamics have changed completely," said Tricia Neuman, senior vice president at the Kaiser Family Foundation.
What impact would this have on healthcare costs for individuals?
Younger consumers on the Obamacare exchanges could see lower premium if older consumers left the public marketplaces and joined Medicare. The reason: Insurance carriers pool the risk of all consumers they cover, and insuring fewer older consumers—who tend to be sicker—would lower their costs. In turn, insurers would likely pass some of those savings along to the remaining policyholders in the coverage group.
People 50-plus are considered older on the exchanges but would be considered young compared to current Medicare beneficiaries. If these pre-retirees join Medicare, premiums could come down for all thanks to the influx of relatively young, healthy people, Neuman said.
Would this lower American health care spending overall?
Per capita Medicare spending would likely decline under Clinton's proposal, since the new entrants will be younger and healthier than those 65-plus. Yet since the government is insuring more people in total, overall costs to the program would likely rise.
In 2014, U.S. health care spending totaled a whopping $3 trillion, according to the Centers for Medicare & Medicaid Services. It's possible that Clinton's proposal could lower this tab, Neuman said. Medicare pays doctors and hospitals less than commercial insurers do, so having more people insured by Medicare could bring system-wide costs down.
Prescription drug costs wouldn't likely be affected by Clinton's proposal. Medicare is not allowed to directly negotiate with drug makers, a factor that contributes to the high prices that U.S. consumers pay for drugs.
Clinton hasn't yet said how her proposal would be funded. It could be paid for without overall tax increases if the new beneficiaries were willing to pay premiums that are in line with the going market rate, said Dan Mendelson, president of Avalere Health, a Washington, D.C.-based consulting firm. "You want to design this in such a way to make Medicare more solvent."