This Man Wants to Retire in a Holiday Inn. Here's Why That's a Terrible Idea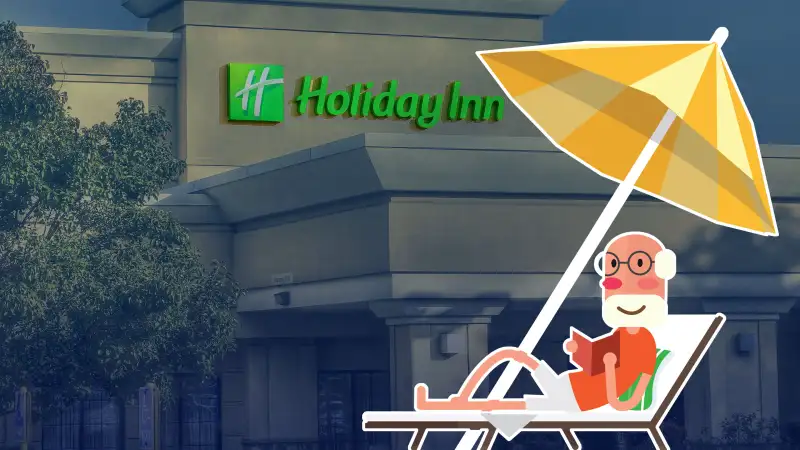 Photo illustration by Money; Getty Images (1); Shutterstock (1)
As a retirement plan, it sounds pretty irresistible: "No nursing home for us. We'll be checking into a Holiday Inn!"
A Texas man posted this vision for his golden years on Facebook, and the Internet agreed it sounded pretty sweet. Who wouldn't want to pay $59.23 per night (his estimated rate for a combined senior and long-term stay discount) for a hotel with housekeeping, a pool, and other amenities, versus his quoted rate of $188 per night for a sterile nursing home? The post had about 88,000 likes and 110,000 shares by Tuesday afternoon.
The man, whose Facebook page identifies him as Terry Robison, has a point on the cost savings. The national median cost of a nursing room bed is even higher than his rate. According to Genworth's 2018 Cost of Care Survey, the national median annual cost of a semi-private room in a nursing home is $89,297-- or $245 a day.
But here's the thing: that price includes help with activities of daily living, such as using the bathroom, eating, and dressing. Most nursing home residents need help with at least a couple of these basic activities. And since most people prefer to age in place, in their own homes, it's a need for this kind of assistance that drives them into a care facility.
Not everyone will need a nursing home--according to research, the typical person who is alive at age 65 can expect to live another 20.9 years, and at least half can anticipate needing at least some long-term supports and services, which may or may not include institutional care.
But it's safe to assume that most of those who do need a nursing home will need more care than a hotel can provide. The Facebook poster says, "$5-worth of tips a day and you'll have the entire staff scrambling to help you." That depends on what you mean by "help." Housekeeping is not going to change your adult diaper or make sure you take your medications three times a day. And there might guards on duty, but they're not going to watch you 24/7 to make sure that you stay safe from your tendency to wander from dementia.
No nursing home for us. We'll be checking into a Holiday Inn! With the average cost for a nursing home care costing...
Posted by Terry Robison on Thursday, February 7, 2019
"Who's really looking out for you?" says Carolyn McClanahan, a financial planner in Jacksonville, Fl., who is also a medical doctor. "What happens if he gets cognitive decline? Maybe the dollars work out ok, but if he needs care, it's not going to work at all."
A spokesperson for InterContinental Hotels Group, Holiday Inn's parent company, did not address Money's question about care needs in an email response: "While we're not certain how Mr. Robison arrived at his current budget calculations, we look forward to welcoming him when he reaches his 'golden age.' He did miss one big benefit in his long list of reasons to stay with us – kids eat for free at Holiday Inn. So that's another excuse for the grandkids to come and visit."
A hotel may be a better way station for the stage before you need a nursing home--the stage when maintaining a home, doing laundry, and cooking meals becomes difficult, but you can still manage basic activities of daily living for yourself.
The national median rate for an assisted living facility, which provides housekeeping services but less hands-on care, is $48,000 a year, according to Genworth, or $132 a day. So you'll still come out ahead at the Holiday Inn--and your grandkids can splash in the pool when they visit.
Robison did not respond to a request for comment.