Hooters Is the Proudly 'Tacky' Restaurant Chain That Just Won't Die. Here's How It's Thriving Against All Odds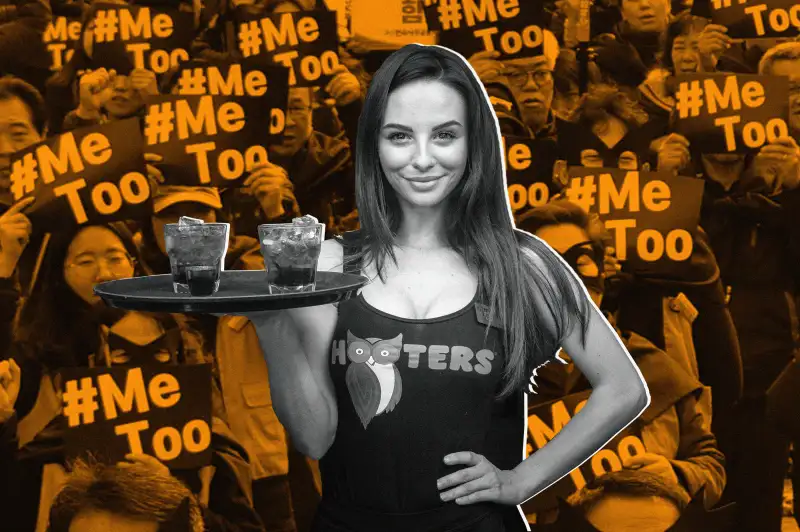 Photo illustration by Money; Getty Images (2)
Let me start by saying that I am not, by any stretch of the imagination, the typical Hooters customer.
I'm a woman. I'm a straight woman. I hate sports (and by proxy, sports bars). I have never, in my entire life, eaten a chicken wing.
Still, there's a certain anthropological appeal to visiting a restaurant that, for the last 35 years, has dressed waitresses in uniforms designed to leave little to the imagination, and footwear straight out of a geriatric ward. So when I recently found myself moseying past the orange glow of Manhattan's last remaining Hooters, I decided to go inside.
Hooters NYC is just a few blocks from Times Square, so there were some tourists, but the bulk of the crowd could have been plucked from any chain restaurant, anywhere in the country. Families of four, five, and six huddled around boxes of crayons; couples held hands and debated appetizers. Waitresses cleaned up soda spills and moved sticky highchairs from table to table — low-cut tops be damned.
It was all sort of quaint. And shockingly, quite busy.
This was a Sunday afternoon in July, one of the slowest months of the year for some restaurants. More importantly, this was in an era of #MeToo, "Time's Up," and a paradigm shift where conversations about systemic inequality, power imbalances, and the myriad ways women are subjugated in the workplace are supposed to be moving us towards a more equitable future. Hooters, it's safe to say, does not exactly jibe with this new, woke worldview. And I'm not the only one who's confused.
"I'm scratching my head," says Juelene Beck, a Florida-based chain restaurant expert and consultant. "It's amazing that the brand has such power. It's like, sex still sells."
Delightfully Tacky and Growing
So what, pray tell, is going on?
Hooters is a privately-owned company and declined to talk to me for this story. So officially, the answer =¯_(ツ)_/¯. But there a few socioeconomic trends that could be contributing to the brand's lasting appeal.
In December 2017, Hooters opened its 200th corporate location, and has added a dozen more in the months since. The number of franchise units, or non-company-owned branches that pay a fee to Hooters headquarters, have dipped slightly, but the chain is still one of the highest-grossing restaurants in the country, beating sales at Ruby Tuesday, Macaroni Grille, Dave & Busters, Chuck E. Cheese's, Hard Rock Cafe, and California Pizza Kitchen, according to the data firm Technomic.
Internationally, the brand is growing even more rapidly. In the last six months, Hooters outposts have opened in Germany, Spain, Mexico, Costa Rica, Japan — with 14 additional locations slotted for Spain and Portugal over the next three years.
There's no public data on exactly how much sex Hooters is selling, but earnings reports show that some branches, at least, are doing quite well. Chanticleer Holdings, a public company with a minority stake in Hooters, and the franchisee of eight domestic and international locations, reported in April that sales at those units grew significantly year-over-year. The company's Tacoma, Wash. location grew nearly 20%.
This comes after a rough couple of years, where reports of declining revenue led to speculation over whether the so-called "breastaurant" can survive our current cultural moment.
Now, astonishingly, things seem to be turning around. Nationwide, Hooters sales are up from five years ago, according to Technomic estimates. It's slight, just 2%, but in a tumultuous market that's shuttered branches and slashed sales at restaurants like TGI Fridays, Applebees and Bob Evans, it's certainly defying expectations.
All things considered, Beck says, "You could say that Hooters is almost doing well."
In many ways, the "delightfully tacky, yet unrefined" restaurant is stuck in a time warp, where Teddy Ruxpin and acid wash jeans are pinnacles of popular culture. Poke around its job postings, though, and you'll find language that predates the company's '80s origins. The Hooters Girl is "an exclusive position," a recent ad for a waitress in Fairfax, Virginia reads. "In the restaurant, she is identified by her glamorous styled hair, camera ready make-up, and her fit body." Among her qualifications: "approachable, upbeat, and attentive to the needs of the guests as she socially engages with, and entertains each individual guest at the front door and on the floor." If you didn't know any better, you might think this was an ad for a blowup doll.
A highly-circulated employee handbook dates the chain even further. Hooters Girls are required to "acknowledge and affirm" that "The Hooters concept is based on female sex appeal and the work environment is one in which joking and entertaining conversations are commonplace," according to that policy. If "joking" is baked into a job description, what could possibly pass for harassment? "Yeah I told Courtney I'd fire her if she didn't sleep with me/agree to be my girlfriend/send me nudes but that was just for yucks!"
Aside from all that, working at Hooters is similar to most restaurant jobs. There are busy days and slow days; friendly customers and the kind that make your eyes roll backwards.
On the employee review site Glassdoor, Hooters' score is 3.5/5 — higher than Chili's, Red Lobster, Buffalo Wild Wings, Panera Bread, and Red Robin. In those reviews, waitresses point to things like tuition reimbursement and a steady income as perks that make the job worth it.
Do all of these women have Stockholm Syndrome? It's doubtful. Anyone in food service, or any job that relies on tips, is expected to show a modicum of presentability, and some degree of tongue biting on behalf of customers.
Perhaps that's why Hooters has managed to slip through the cracks. In the Glassdoor reviews, many of the same waitresses who say they enjoy working at Hooters also complain about racist dress codes (braids, dreads, and other natural hairstyles are allegedly prohibited), and policies that equate beauty with a thin waist and a full face of makeup. But the chain's executives aren't making racist remarks on conference calls, like former Papa John's CEO John Schnatter, or claiming women aren't biologically fit for high-level company positions, like ousted Google engineer James Damor. Hooters is simply carrying on a long-established company culture.
That doesn't mean it's subtle -- Hooters has been plagued with controversy ever since it opened its doors. Among the most egregious: a 2008 lawsuit lodged by an Iowa waitress who claims that she was fired for coming back to work with a black eye and bruises after a domestic violence dispute. A 2010 episode of UnderCover Boss, a reality TV series where CEOs disguise themselves as the rank and file, in which a Hooters manager named Jimbo held a hands-free bean-eating contest to decide which of his waitresses could go home first. This actually happened, and a film crew actually got it on tape.
To stay relevant, the brand has rejiggered a few things over the years. New locations, and remodeled existing ones, have a more contemporary sports bar design (think: more flat screen TVs, less wood paneling). The menu has also been updated: Customers who aren't in the mood for chicken wings can now nosh on fish tacos and spinach salads while side-eyeing their server's barely-covered assets.
The company has also ratcheted up its takeout and delivery efforts, doubling down on their food instead of their "talent." In 2017, Hooters' delivery business grew more than 30%, the New York Daily News reported. (Hooters girls, sadly, do not make the deliveries.)
The result is a mundane, if slightly offensive restaurant experience that jibes with millennial trends. When I visited the Manhattan location, I walked in at the tail end of brunch (BRUNCH), and drank a not-terrible glass of Malbec. My friend ordered a Grey Goose martini. We marveled at the sensory overload that overwhelms a restaurant filled with Christmas lights, flat screen TVs, and a strange mishmash of framed celebrity candids (Kristen Stewart, Snoop Dogg, Selena Gomez). But we weren't miserable.
It actually kind of made sense. A restaurant can't be everything to everyone. But fried food, alcohol, and a kids menu makes it good enough for most.
The Future of Hooters
There are other factors working in Hooters' favor.
Overall, consumer dining habits have shifted, Beck says. People still love to go out to eat, but they're more likely to choose casual restaurants than they were ten years ago. Hooters isn't terribly expensive — and for reasons stated above, diners know they're guaranteed to get attentive service.
Americans ate a record amount of chicken last year, and wings — the chain's trademark food — are more popular than ever. Wingstop, a Dallas Texas-headquartered chain, is one of the fastest-growing franchises in the country, according to the trade publication Nation's Restaurant News.
"A lot of people have gotten sharper on exactly what they want," Beck says. "And what some people want is to sit at the bar awhile, have a few drinks, maybe get some food, and talk to their pals."
Is this a sustainable business model? It's hard to tell.
The new Hooters locations are mostly corporate-owned, not franchises, which means the restaurant's growth isn't going gangbusters, says Roger Lipton, an investing and restaurant expert. Sometimes, he says, chains open corporate stores to invigorate sales at their existing franchises — leading by example with new menu items and procedures (i.e. delivery) the franchisees haven't adopted yet.
"Opening up a handful of company stores just shows that they're not going out of business," Lipton says. "They've got enough money to show the world they're still here."
Hooters' shtick is getting stale, Lipton adds, and will probably dry up eventually. We're in the Gilded Age of internet pornography — women in various states of undress are hard to avoid at this point. Hooters isn't even the only "breastaurant" anymore; now competitors like "Twin Peaks" have nudged into the space. If #MeToo doesn't topple Hooters, the trudging banality of scantily-clad women might just finish the job.
"Explicitness is all around us," he says. "Those Hooters girls in their low-cut shirts are not as intriguing as they used to be."
For now, the draw persists, and the rationale is less mysterious than it seems. How many restaurants have both a booster seat, and a written policy for how hot your waitress has to be? What kind of business, outside of an escort service, promises a guaranteed conversation with a pretty woman?
At the end of the day, Hooters is a bonafide sports bar where the waitresses are obligated to laugh at your jokes, and pretend to be interested in your life (it's in the job description). And that's still a lucrative market.