Here's How Much It Really Costs to Go to Burning Man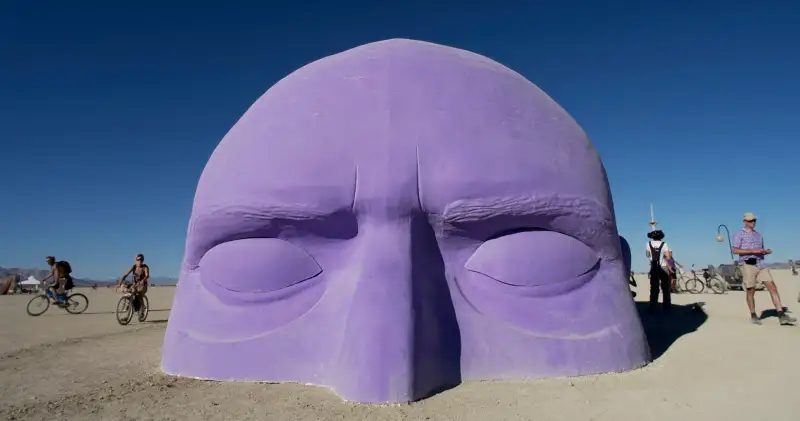 Jim Rankin—Toronto Star via Getty Images
Outdoor art installations, altered consciousness, weird costumes, dust, the odd infestation of smelly bugs — if it's the end of summer, it must be Burning Man. This year, the eight-day festival kicks off August 28 in Nevada's Black Rock Desert.
Wondering what it costs to spend a week in the desert, frolicking with a bunch of artists and ravers? The short answer is: It depends.
Burning Man has a fiercely noncommercial cultural core, which has led to some friction as the festival grows in popularity. Put briefly, it's not like other festivals, and its "gifting economy" — the event has a strict no-vendors policy — has been a subject of study and curiosity for years. The Atlantic called it "a full-bodied example of the potential fruits of the sharing economy."
People can and do show up and offer food, drinks, massages, you name it, with the stipulation that everything must be given away or shared, with no money changing hands. There's no requirement to share, however. And the still-expanding (after 30 years) popularity of Burning Man combined with newly minted tech billionaires from Silicon Valley looking for the next novelty means that there are some people who spend the duration of the festival in air-conditioning and eating catered meals. (Such practices, it should be noted, go totally and 100% against Burning Man's credo of "radical self-reliance," but nobody's policing this.)
While you can't spend money while you're at Burning Man, you'll certainly be pulling out your wallet before you get there. Here are the key elements to keep in mind if you plan to spend a week braving the elements and immersing yourself in art, music, and one of modern culture's biggest social experiments.

Tickets
A regular ticket for the eight-day shindig is $390, plus 9% tax, plus another few bucks in handling/delivery fees, depending on how you want to claim your tickets. This year, organizers also added a $1,200 ticket tier, but they're pretty clear in spelling out this doesn't get you any kind of VIP perks. The extra money raised from these ticket sales goes to grants given to artists.
Read Next: 7 Trips That Are Better (and Cheaper) In the Fall
Transportation
Although Burning Man festival started in San Francisco, it's been taking place in the Black Rock desert, or playa, 120 miles from Reno, Nev., since 1991. Since the festival takes place over Labor Day, plan on flights being priced accordingly (meaning: more expensive than usual because of the peak travel time). The same is true for car rentals: Plan ahead, and brace yourself for high prices, as well as logistical hassles.
Burning Man regulars warn on online forums that some car-rental companies at the Reno airport, where many festival-goers arrive, prohibit off-roading. Driving across an ancient desert lakebed, which you must do to get to the festival, certainly qualifies as "off-roading." Regulars also say it's common to get socked with a cleaning fee on rentals ($100 to $150 seems to be common) after the fact because the playa is so dusty. And everyone driving in must pay an extra $80 when buying Burning Man tickets for a parking pass.
Since burners literally have to carry everything in and out — yes, including enough water to make it through the week in the desert — many will go together as groups of friends and split the cost of a moving truck or trailer. Conversations in online forums indicate that this tends to run about $1,000, although it can vary greatly depending on how far you have to travel. There's typically a per-mile fee in addition to the base rate for such rentals.
Moving up the price spectrum, RVs are also popular, but in addition to gas and the rental fee (unless you happen to own one already), there are also costs for water and sewage servicing. One user on Quora said an RV rental for the week cost a total of about $4,000 two years ago.
The big-money alternative to all of this is to charter a flight from an airport in the area to the playa through Burner Express Air. It costs $645 round-trip per person from Reno, or $1,243 from Oakland. The big catch here is that you're limited to carrying a carry-on bag with a 25-pound weight limit. Alternately, you could charter the whole plane for a group for several thousand dollars, in which case the baggage limit would be a little more flexible.
Food, Drinks, and Lodging
For most burners, the basics are simply a tent, water, and provisions of nonperishable food. But as Burning Man mushrooms in popularity, it's also begun attracting the kind of audience that is more accustomed to resorts than roughing it.
Read Next: 10 Absolute Best Bargains at America's National Parks
Unlike other festivals that charge you $3 for a bottle of water or $12 for a beer, there are no inflated prices at Burning Man. In fact, there are no prices at all — it's a "commerce-free event," the FAQ says. For a week straight, the only things you can buy are coffee (bring your own mug, regulars suggest, to stay in the "leave no trace" spirit of eco-friendliness) and ice ($3 a bag), sold in a few central, designated areas.
While this means you won't spend the week grumbling about the price of food or supplies, the flip side is that you need to bring everything you need with you, including food and water, not to mention toilet, shower, and cooking equipment (we did say everything).
Unless, that is, you're filthy rich. An article in Bloomberg last year described a private, walled camp that sprung up at the 2014 festival within "Black Rock City," as burners call the patch of desert they take over. The area, conceived by a Bay Area venture capitalist, featured air-conditioned tents, showers, Wi-Fi (there's no cell service out in the desert), and paid attendants. The cost: $16,500 for the week.
It's far from the only such camp, where prices reportedly range from $5,000 to $10,000 and up — way up, if you're a celebrity bringing an entourage. In fact, Bloomberg reported there are so many of these so-called "turnkey camps" that regular burners refer to that part of the campground derisively as "Billionaires' Row."
After some backlash two years ago, these camp outfitters have lowered their profiles, but they're still out there, much to the consternation of the folks who hew to organizers' "radical self-reliance" ideals.
Read Next: What It Really Costs to Attend Coachella
For the rest of the 99%, most people manage by getting together with friends and splitting costs and responsibilities, either in small groups or as part of an organized "camp" or "village," for which they might contribute a few hundred bucks and a healthy amount of elbow grease volunteering while on-site. The site PlayaBikeRepair.com has an exhaustive list of expenses to factor into your budget, and this packing list is similarly detailed.
One Quora contributor said they spent about $1,600 to attend the festival in 2014, although they noted that they already owned camping gear and had membership in a camp that provided food and water in return for $300 and pitching in. Another Quora contributor on the same thread put their cost at somewhere between $6,400 and $6,900 — although they said that this included a significant investment in camping gear, RV rental and a few nights' lodging on their way to and from the festival.
Costumes
"As the scene has grown in psychedelic outrageousness, so has the need among Burners for ever more inventive costumes," the New York Times noted last year.
Regular burners look down on people who buy their get-ups like normal consumers. But since not everyone has access or ability to turn out a week's worth of zany outfits, many folks make do with buying costumes, and retailers have caught on in a big way.
Read Next: How Waiting in Line to Buy an iPhone Is Like Burning Man
The Times noted that stores in San Francisco hawk Halloween-worthy costumes that start at less than $100. It's certainly possible to spend much more. Regulars emphasize the necessity of Mad Max-style accessories like a dust mask to cover the nose and mouth as well as eye goggles, although this is less an aesthetic statement than a necessity to protect against the playa's regular dust storms.
If you don't want to be mocked as a poseur, you can turn to Etsy, where at least your costume will be handmade, even if not by you. There's a booming cottage industry of DIY entrepreneurs cranking out butterfly wings ($185), unicorn headdresses ($229), florescent tie-dye faux fur coats ($350), light-up fuzzy legwarmers ($70) and more flower crowns than you can shake a glow stick at.
Or if you want to be a renegade and go au natural in the desert, there's always body paint ($115).