10 Absolute Best Bargains at America's National Parks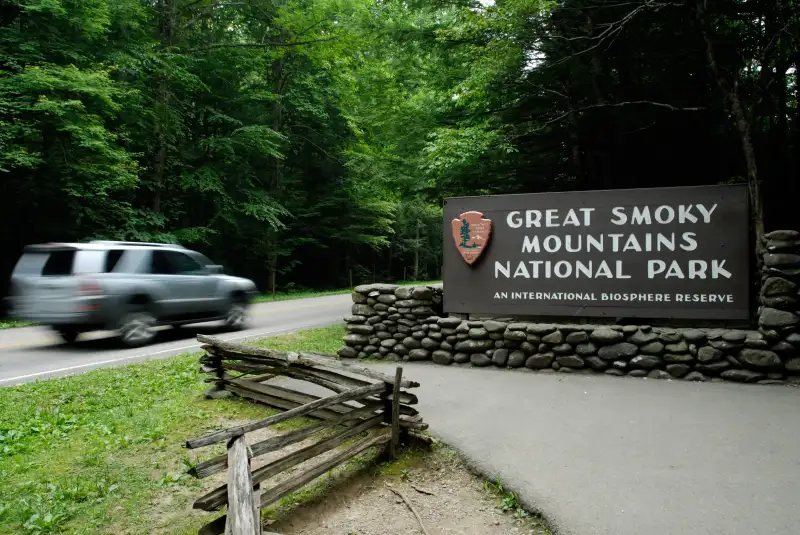 Martin Shields—Getty Images/Science Source
August 25 marks the 100th anniversary of the establishment of the U.S. National Parks Service. We thought it a fine time to reflect on what a tremendous value—in more ways than one—the national parks represent for our country. Here are some of the best deals visitors should be on the lookout for at the national parks.
Days with Free Admission for Everybody

Every year, the NPS announces that there will be somewhere around 9 to 16 days when admission is free for all visitors. The fee-free parks days generally always include Martin Luther King, Jr., Day, National Public Lands Day (September 24), and Veterans Day, as well as one or more days around National Parks Week (mid-April) and the National Parks Birthday (August 25). Considering that admission to parks like Yellowstone and Yosemite costs $30 (for a carload of people, for seven days), these annual free days are terrific deals.
Take note: In celebration of the 100th anniversary of the National Parks Service, all national parks, monuments, and federal lands that normally charge an entrance fee will be free from August 25 to 28 in 2016.
Free Shuttle Services

They may have first been launched in order to alleviate road congestion and keep parks pristine, but the free shuttles available in several major parks can save visitors plenty of time and money. They're also incredibly convenient for hikers heading into the backcountry who would rather not leave cars unattended for long periods of time.
Read Next: All the Days During the Year When You Can Get Free Stuff
Among the parks with free transportation services are Yosemite, Glacier, and Grand Canyon. Some shuttle buses in Denali in Alaska are free too, though there are charges for adults to board longer tour buses; still, even these are free for kids 15 and younger.
Parks That Are Always Free

While nearly all national parks charge an entrance fee, some are free year-round. For instance, Great Smoky Mountains National Park is always free. (Unsurprisingly, the park sees the most visitors annually of any national park.) Redwood National Park in California is also free every day of the year, as are the Boston National Historical Park, Cumberland Gap, and most of the memorials, parkways, and parklands around the nation's capital.
Free One-Year Admission for Active U.S. Military

The America the Beautiful Pass is available for no charge for active members of the military and their families. The pass, which is valid for 12 months from the time of issue, covers admission to nearly all national parks, monuments, and forests.
One-of-a-Kind Lodging That No Car Can Reach

You wouldn't normally expect there to be a hotel with clean beds and bathrooms, plus a restaurant and cold beer awaiting at the end of a long hike into the wilderness. Yet this is exactly what's available at a select few national parks. And despite the obvious difficulties of running such operations, they're reasonably affordable for guests.
Read Next: Where to Find Five-Star Hotels for Three-Star Prices
An overnight at the historic Phantom Ranch, which lies at the bottom of the Grand Canyon, starts at just $49 for a dorm bed or $142 for two in a private cabin. Meanwhile, staying at the Granite Park Chalet in the backcountry of Montana's Glacier National Park costs $105 for the first person, and $80 per person for others sharing the same room. The High Sierra Camps in Yosemite, also reachable only on foot, run around $150 per night for adults, $85 for kids, and include dinner, breakfast, and canvas tent accommodations. This may seem expensive compared with camping, but it's a tremendous value considering this is a bucket list experience for some—getting a reservation at Yosemite's High Sierra Camps generally involves winning an online lottery.
The hike-in hotel is only one kind of unique lodging available at reasonable rates at our national parks. In the winter, Yosemite boasts the Glacier Point Ski Hut, reachable via a 10-mile cross-country ski trail (from $146 per night, with three meals included). The main way guests get to the Lodge at Stehekin in Washington's North Cascades National Park is boat, though some come via seaplane or on foot. And considering the remoteness and beauty of the setting, it too is a deal at rates from $134 a night for a room for two.
Free Passes for Fourth Graders and Their Families

To celebrate its centennial, the National Parks Service has been handing out free parks passes to all fourth graders and their families. The initiative, dubbed Every Kid in a Park, has given out tens of thousands of passes, which unfortunately are only valid for a little while longer—they expire August 31, 2016. It's unclear if or when similar passes will be offered in the future.
Off-Season Lodging Deals

As with most destinations, hotels in national parks go on sale during off-peak times when visitation is low. For example, rates at the Grand Canyon's Maswik Lodge start at only $93 per night as of November 6, compared with around $200 the month before.
Read Next: 7 Trips That Are Better (and Cheaper) In the Fall
Free Admission for People with Disabilities

The Access Pass, good for lifetime admission to all national parks and federal lands, is available free of charge to everyone who has proof of residency and a medically determined permanent disability. Individuals can pick up passes in person for free at recreation areas, or via mail with a $10 processing fee.
All the Free Programs Inside the Parks

The vast majority of what guests do inside America's national parks doesn't cost a penny over the price of admission. This obviously includes basics like hiking, but at most parks activities like guided hikes and tours and countless Junior Ranger programs for kids are free too.
$10 Lifetime Senior Pass

If you're 62 or older, paying just $10—one third the admission at Yellowstone alone—will buy you a Senior Pass, valid for admission in all national parks and federal lands for the rest of your life. As with all such passes, the Senior Pass covers the entrance fees of everyone in the same car with the passholder at parks that charge admission based on the carload.