All the Things I Should Have Known Before Signing Up for a Crazy-Expensive Gym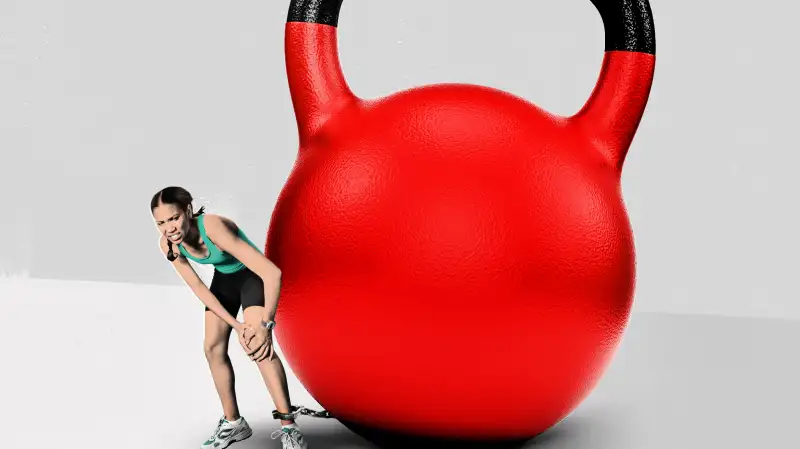 There I was, halfway through an after-work slog on the treadmill, when I realized I made a huge mistake. The $100-a-month price tag I'd been shelling out for the last three months for a gym membership was a complete waste. Sure, I'd done a few kickboxing classes and run a few miles every now and then, but my admittedly infrequent attendance made me rethink what I was really getting out of my membership. Why spend $100 to run in a basement surrounded by sweaty, grunting bros downing protein shakes between reps when I could spend it doing literally anything else?
So I began the unenviable task of attempting to cancel my membership. According to my 12-month contract, I could only get out of paying if I was sick, injured, moved at least 20 miles away, or lost my job - none of which were particularly appealing options. And while a representative had theoretically explained the policy to me when I signed the paperwork, he didn't explain why members need to jump through so many hoops to cancel their memberships to begin with.
Some only allow cancellations under the three conditions listed above; others require members to come in-person and beg for a pardon. And sometimes the terms are misrepresented or hidden outright.
Even though the pitfalls of gym memberships are well-known, millions of people still sign up for memberships when January 1 rolls around with the full intention of definitely getting in shape in the coming year. Others think the approaching swimsuit season will inspire them to hit the treadmill. But when the shine of the New Year wears off and swimsuit season transitions to chunky sweater season, what options do you have?
Here's the latest on what you should look for before committing a year of your life and wallet to a gym - and a few strategies to get out if you find yourself in my boat.
If You're Signing Up for a Gym
When you're looking into a membership there are a few ways to make sure you're happy with your commitment.
Many gyms and boutique fitness centers offers a free or discounted trial period. "Go as often as you can during the times that you realistically believe you will be using the gym," says Mark Daly, the national media director for Anytime Fitness. "See how busy it is, see who else is using the gym at that time, and ask yourself, 'Would I be comfortable working out with these other people who are here during this time?'"
Other aspects of the gym to consider before signing on the dotted line include how it will fit into your own day-t0-day life schedule and add ons. How close is the gym to your home or work, and is it open during a time you would go? Are group classes included in your membership, or do they cost extra? Is the equipment in good condition? How clean are the facilities?
If you do sign up and immediately regret your decision, there usually is a small window of time in which you can cancel, which varies by state. For example, in New York there is a 72-hour grace period that allows people to cancel a contract if they're having second thoughts, while California has a five-day cushion. These terms should be clearly outlined in your contract; if they're not, ask a representative for help.
But don't expect to re-write the contract to your liking.
"Franchisees will typically work with members, but a written agreement is a written agreement and there are only so many exemptions written into the contract," Daly says. "If you're going to sign a 12-month agreement you should be pretty sure you're committed to working out at the gym for 12 months."
Otherwise, check out the month-to-month options. They make more financial sense in the longterm.
If You've Already Signed Up
There are some extenuating circumstances that may arise, where gyms will be lenient on people who are leaving the country for an extended period of time and military members.
But chances are you're not booking a year-long trip to Greece or joining the army to get out of your regretful gym purchase.
Consider the contract terms: Actually read them thoroughly, and have a gym rep go over all of the details with you. If the terms were not explained to you or aren't in the written contract, it may be possible to cancel. Tom Holland, a one-time gym owner who now runs his own fitness consulting company, says with sites like Facebook, Twitter, and Yelp easily accessible, business owners have become more conscious of their customer service interactions, for fear of a viral customer complaint.
"[Gym owners] realize unhappy members can create problems on social media and will often let them out of their contract to avoid any issues," says Holland. "So you can often talk your way out of the contract, especially if you believe you were misled as to the contractual obligations."
That's why it's important to get every interaction with your gym in writing, warns Samuella Becker, a New York-based PR consultant, who cancelled her membership after her gym was purchased by a national chain. That includes receiving a copy of the contract at the time you sign up, and having the gym representative go over all of the details with you. There may be a provision within that can let you off the hook.
"When you cancel, communicate your intentions in writing but also seek a written acknowledgement that your request was received," Becker advises. And try doing that in-person so your request isn't overly delayed. Becker's gym required 45 days notice of cancellation, and her request was ignored for a few weeks when she emailed it, costing her another month of membership.
If you can't find a cancellation provision that you qualify for, a hail-mary to the gym's corporate or billing department could work. "Smaller gyms may be more lenient than larger chains," says Shaolaine Loving, a Las Vegas-based contract attorney.
But if you can't cancel, don't just stop paying. Otherwise, a debt collector could turn up at your door, even for a seemingly small amount. And perhaps give the bros and kickboxing classes another chance. I just might next month.