31 Ways to Save Hundreds on Clothes Shopping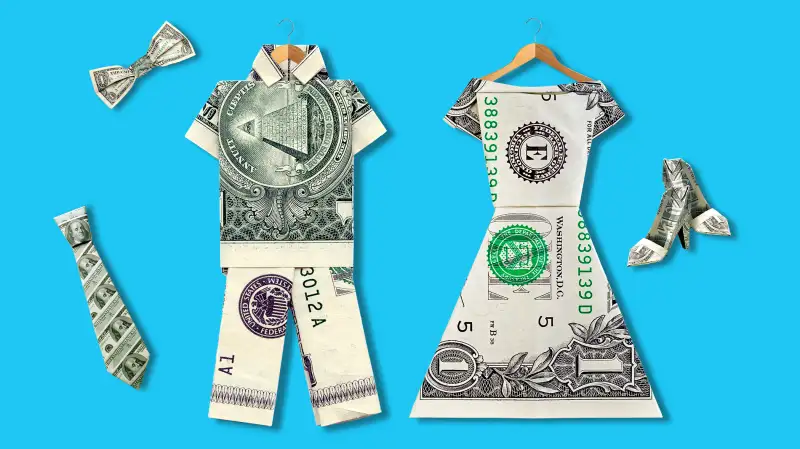 Photo illustration by Sarina Finkelstein for Money; Getty Images (6)
Each year, Americans spend $1,700 on average on clothes, according to the Bureau of Labor Statistics. That's more than the average driver spent on gas in 2014.
Unlike with gas, some of that clothes spending probably wasn't remotely necessary, but instead came as a result of impulse buys and poor deal-hunting.
To help you make the most of every dollar you do spend on clothes and even help rein in a bit of that spending, here are some nifty strategies for scoring deals and outsmarting retailers.
1. Pay with cash only. If you always seem to spend more than you intended, stick to paper money. Handing over actual dollars is more tangible and "hurts" more than swiping plastic. Plus, there is a very clear limit to how much is in your wallet. One MIT study found that people were willing to pay nearly 65% more for a basketball ticket when using a credit card rather than cash. Of course, that was an event ticket, but the logic applies to that adorable shirt too.
2. Time your purchases right. Buying off-season clothing will always cost you less, but did you know there are certain months when the prices dip lowest for a variety of items in your wardrobe. March is your best bet for running shoes, while October is best for denim. See Money's month-by-month guide to the best time to buy everything for timing your own apparel purchases.
3. Buy second-hand. We all know that used items come with smaller price tags than buying new. Next time you're tempted to go browsing for clothes, try searching Goodwill, Salvation Army, or a local consignment shop. These places can be great if you're looking for basics like jeans or just enjoy the thrill of finding a good steal.
Read Next: 22 Incredibly Useful Things Your Town Is Probably Giving Away for Free
4. Host a clothing swap party. We've all got pieces in our wardrobes that don't get enough wear, still have tags, or just never made it back to the store. Pull them out and ask your friends to do the same. Then invite everyone over to swap or trade items. You get rid of pieces you weren't happy with and hopefully gain items you'll actually wear—at no cost!
5. Get a tax deduction for your charity. Take the leftovers from your clothing swap party or any other unwanted items to a charity shop. Always make sure to get a receipt for your donation so you can deduct it from your taxes, if you itemize.
6. Accept hand-me-downs. If you're buying for kids, you know nothing fits for very long. Ask friends or relatives with children slightly older than your own if they would mind passing on any clothes, still in decent shape, that their own children have outgrown. Everyday staples may not survive the daily abuse of juice and grass stains, but special occasion outfits, dress shoes, and other less-worn items are likely to be in mint condition. Carry the good deed forward, and find a friend to pass your own children's outgrown items to as well.
7. Rent one-time outfits. Don't spend a small fortune on a fancy dress or tux you'll only wear once. Save some cash and rent the ensemble or, better yet, borrow it from a friend.
8. Abide by the cost-per-wear rule. Want to know if that splurge will really be worthwhile? Divide the total price by the number of times you're likely to wear the item. The more you'll wear it, the better the return on your investment, which is why it can pay to spend more on quality basics and scrimp on trend pieces or one-time occasion outfits.
9. Be wary of outlet store prices. Many shops claim that you can save 50% or even 70% off regular prices, but that isn't the whole truth. Outlet stores often stock items made specifically for them that never appeared in the regular store, or are lower-quality versions of items in the regular store, meaning that discount label boosting a 75% off price is largely made up. Of course, some do still also stock items from previous seasons that went unsold at the regular store, but it could take a lot of research to know for sure what pieces those are. Instead, stick to buying staples at the main stores and trendier pieces at the outlets.

Read Next: Why Teens Hate Shopping at 'Teen' Clothing Stores
10. Skip "dry clean only." Check the wash instructions listed on anything you're thinking of buying. You don't want to end up footing a dry cleaning bill each month to wear the item. Tacking on an extra $6 to $10 every few wears adds up fast and means that item will end up costing you a lot more than the sticker price. Instead, opt for clothes with that same high-end look, but that can be machine or hand washed to maximize your investment. You could also try home dry-cleaning kits.
11. Take the surveys. Several retailers offer links or phone numbers to surveys about your shopping experience on their receipts, way down at the bottom past the return policy and all the other stuff. If it's somewhere you shop frequently, take the survey. They only last a couple minutes and some retailers reward you with a coupon, typically 5% to 10% off, as thanks.
12. Count to three before you buy. Cut down on impulsive or unnecessary purchases by challenging yourself to make a list of three reasons to buy it—other than that you simply want it. Think of three other items in your closet this new piece will pair with, or think of three upcoming occasions when you'll wear it. Can't come up with three? You probably don't need it and should hold off.
13. Be smart with flash sales. Several online sites, such as Zulily, Gilt and Hautelook host flash sales where you can snag good discounts on popular or designer brands for a limited time, typically a few days. While the prices are good, know that the "limited-time" offer and ticking clock used on these sites are designed specifically to trigger impulse buys. To keep from being swept away by the time crunch, set yourself a clothing spending limit and give yourself at least a 5-minute cooling off period to think over how many times you'll likely wear the item and if it goes with anything in your current wardrobe.
14. Track the items you want. Easily scour the web for the lowest price on those shoes or that suit with InvisibleHand, a browser extension that automatically finds the cheapest rate on whatever item you're looking at. You can also use price tracking tools like CamelCamelCamel or PriceZombie to see the highest and lowest prices an item is currently selling for, as well as its price history. That way you know whether to whip out the card now or wait till it goes on sale.
Read Next: Walmart and 4 Other Rare Retailers That Aren't Floundering Right Now
15. Set up price alerts. Fall in love with an item outside your budget? Use TrackIf.com to set up email alerts that will notify you when the price drops.
16. Ask for a price match. Once you know the lowest price an item is selling for, ask your local merchant to lower their price. Most stores will price-match with their direct competitors. You can even compare prices while you're out shopping by using mobile apps like PriceGrabber, ShopSavvy, and Red Laser.
17. Shop from a cash-back site. Websites like Ebates.com, FatWallet.com, and TopCashback.com will give you cash back for shopping at certain retailers as long as you enter the shop's site through them first. You'll typically get between 1% and 5% of the purchase back, though sometimes retailers will run specials that bump that figure up to 20%.
Take note that you may have access to a similar deal through your credit cards. Discover's Discover Deals program, for example, includes several retailers who offer between 5% and 15% cash back when you click through Discover's site to the retailer. As with the sites above, these offers are on top of your usual credit card rewards.
18. Subscribe to store emails. It can be well worth the spam to sign up. Major retailers offer special loyalty coupons and early sale access to frequent customers. Just keep in mind that come-ons for 40% off clothing could cause you to ramp up spending even as you hunt for bargains. Avoid the temptation by keeping these emails in a separate folder that you check only when you actually need something.
19. Use coupons. Don't want to sign up for dozens of retailer emails? Use sites like RetailMeNot.com and CouponCabin.com to search for coupon codes before making any online purchase. Or automate your coupon clipping by installing Honey, a browser extension that tracks coupon codes for hundreds of retailers and applies the highest value one to your cart at checkout.
20. Leave your shopping cart unattended. Load up your online shopping cart, start the checkout process by entering billing and shipping info, then close the window. Stores hate this because 68% of online shopping carts are abandoned, according to web research firm Baymard Institute. Desperate to convert those almost sales into actual ones, many stores will send you an email within a few days offering additional discounts to get you to complete the purchase. You'll need to be registered at the site for this to work.
21. Swipe the right credit card. Buy your new garments with a card that offers the sweetest cash back opportunities, such as one of Money's Best Credit Cards picks: the Citi Double Cash, which gives 2% back on any purchase with no limit. Just remember to pay off the balance in full so interest charges don't erase the reward earnings.
Read Next: Clothing Stores Are Having a Rough Year
22. Be very wary of store credit cards. Retailers roll out all kinds of tempting offers to get you to open a credit card with them, but these retailer-branded credit cards have much higher APRs than standard credit cards—23.2% vs. 15%, according to creditcards.com. Many also engage in the sneaky practice of "deferred interest," which means if you don't pay off the balance in full by the time the introductory 0% interest period ends, you'll be charged interest retroactively on the entire amount from the initial date of purchase. If you ever carry a balance, you'll pay a much steeper price and that 40% off initial savings will be quickly wiped away.
23. Claim price adjustments. Save your receipts and continue to keep your TrackIf price alerts on even after you've bought your new rags. Some retailers like Target, Walmart, and Kohl's will refund you the difference if an item you bought goes on sale later, though the window for making such adjustments varies with each retailer. Your credit card may also handle this chore for you. Citi Price Rewind and any Discover or MasterCard offer price-protection programs. For instance, Discover will give you a refund for any price change within 90 days.
24. Buy discounted gift cards. Take advantage of other people's unwanted gift cards by buying them for as much as 25% off the face value at GiftCardGranny.com or Cardpool.com. Use the savings to help fund your new wardrobe purchases.
25. Round up the item's price. Every price tag seems to end in .99, and that's strategic. William Poundstone, author of Priceless: The Myth of Fair Value, found that using this "charm pricing" method increased sales on average by 24% when compared with the use of rounded, even pricing. To combat this, round up the numbers yourself before deciding whether to buy.
26. Avoid handling the merchandise. Research shows your willingness to pay more increases as you spend more time looking at and physically holding objects. Of course it's hard not to pick up garments when you're shopping for clothes and want to feel the material and check buttons and stitching, but limit yourself to only touching items you're seriously considering. So hands off funny designs and odd colors you want to check out for curiosity's sake. As for that checkout line full of tempting impulse buys, just whip out your phone and play a game or text a mate so you don't succumb to that candy bar, necklace or sock purchase.
27. Admire yourself outside the dressing room. Mirrors in shop's try-on rooms aren't always a good reflection of reality. Many stores play with the lighting in these rooms so that we appear tanner and fresher. Martin Lindstrom, author of Brandwashed: Tricks Companies Use to Manipulate Our Minds and Persuade Us to Buy, told LearnVest of a recent experiment in which people actually spent 19% more when they thought they looked better in the looking glass. Mirrors in the front of the store typically aren't tampered with so try modeling your wares in one of those or get your most brutally honest friend to shop with you.
28. Learn the layout. There's a reason the clearance section is always at the back of the store. The more aisles you walk down, the more likely you are to make unplanned purchases. Shoppers who walked fewer aisles checked out with only half their carts filled with impulse buys vs. 68% of items for those who visited all or most of the store, a Marketing Science Institute study found.
Read Next: The Best Free Thing To Do in Each State (and DC)
29. Bring your own soundtrack. Create your own mix of upbeat songs to combat the slower tempo songs that stores pick. Studies show that such songs encourage you to move more slowly through the aisles, and that slower pace can lead shoppers to buy 29% more, according to Lindstrom.
30. Keep interactions with salespeople to a minimum. A study found that a woman's touch—but not a man's—makes people of either sex looser with their money. So when that saleswoman touches your shoulder, you may go home with a much lighter wallet than you intended. It's not just touch that turns us unconsciously into spendthrifts either. Other research found that if a salesperson imitates your gesticulations, you're more likely to buy whatever she or he is selling.
31. Choose the right price anchor. There is a reason stores will stock high-end luxury brands and position them right at the front of the store. Looking first at such high-cost items makes everything else you admire after seem that much cheaper in comparison. Avoid this trick by heading straight for the sale or clearance section. Your price anchor then will be the lowest- (instead of the highest-) priced merchandise.