Here's How to Save on Tutoring for Your Kids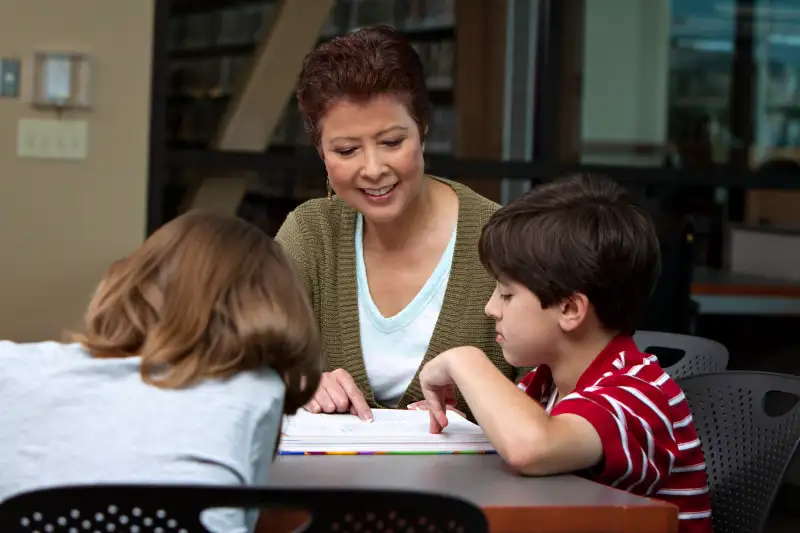 Katherine Moffitt—Getty Images
Junior's report card didn't show the letters you expected?
If that first quarter assessment was a shock, you're probably now scrambling to figure out how to get your child back on course.
Tutoring can be a very effective way to reinforce academic lessons taught at school—but it also can be expensive. You're typically looking at anywhere from $20 to $100 a session for one-on-one tutoring, depending on the person's experience. Those fees can add up fast if your child requires multiple sessions.
Here are seven lower-cost options that can help boost your child's slumping G.P.A.:
1. Start at School
Talking to your child's teacher should be your first move.
"The teacher is a great resource for understanding what kind of tutor might be best for your child," says Steve Pines, executive director of the Education Industry Association.
Once you know whether your child responds best to one-on-one interactions, study groups, or online programs, you can find the tutor who best matches her learning style—rather than wasting money on something that won't stick.
The other reason to check in with the teacher: Depending on how much help your child needs, the instructor may be willing to give your child additional (free) help after school or during recess. Or, may point you toward tutoring programs offered by the school or other teachers.
Plus, he or she can point you toward additional resources—like online activities or practice assignments—that you can work with your child on at home to supplement classroom lessons.
"If you learn the material with your child, then you can become a tutoring resource yourself," says Katie Bugbee, Care.com senior managing editor.
2. Visit the Library
Many libraries offer free online tutoring and homework help for K-12 students through partnerships with online companies like Brainfuse Online Tutoring. You may even be able to access these resources from home.
The services can be a great resource for older students who are struggling with a tricky homework assignment or who are looking for targeted help in a specific subject area.
But if your child is having problems across more than one subject area or needs help with something like reading comprehension, these programs won't be the best fit, since it may be hard for a child to communicate the problem through online chat and likewise challenging for a tutor to explain larger concepts in this medium.
3. Try the Nonprofits
Call local nonprofits aimed at children—like YMCA and Boys & Girls Club—to see whether they offer free or low-cost academic help. Some have formed partnerships with tutoring services; others have developed their own programs.
Online nonprofits like the Learn to Be Foundation and Khan Academy also offer free education resources that can help your student, says Bugbee. The Learn to Be Foundation has tutors available almost 24-hours a day to help answer homework questions or more general concept issues. The Khan Academy doesn't offer one-on-one help, but instead offers lesson plans, videos and brief explanations of concepts in subjects ranging from art history to algebra.
4. Call a College
Education majors need to gain experience teaching, so many universities with education departments partner with nearby libraries or public schools to offer free or reduced price tutoring services. Vassar's education majors, for example, tutor seventh- and eighth-grade students at a nearby middle school, while Columbia University offers individual tutoring to elementary children living nearby on Saturdays.
It's worth seeing if a college near you offers any such service.
5. Pick a Combo Caregiver
The same person in your child's life can hold the jobs of babysitter and tutor.
When advertising for this type of position, emphasize in your job description what you're looking for and that you're willing to pay a little more for this extra level of service, says Bugbee. Figure on $2 to $5 more an hour on top of the average babysitter rate.
That few extra dollars an hour more will likely still end up costing you less than if you hired a separate tutor, and save you the gas and trouble of having to drive to a different location.
Plus, if the child is under the age of 13 and you hire a babysitter who is also tutoring the child, then you're eligible for all dependent-care tax breaks.
This type of caregiver will most commonly be a college student, Bugbee says. "They have the usual after school time slot of 3 p.m. to 7 p.m. open." She recommends looking for students who are majoring in the subject your child struggles with or ones who are majoring in education.
6. Name Your Rate
One-on-one tutoring in the home is the most expensive option you have, says Pines. "That's because this method is very customizable and convenient."
It also tends to lead to the best results: "The more in person interaction your child can get, the better the concentration and focus on the material will be," says Bugbee.
If you decide to go this route, you might start at a site like Wyzant.com, Care.com or Noodle Education, which all allow parents to search through tutoring candidates by subject, location, budget and preferred interaction.But rather than searching from available candidates, instead craft a specific job posting listing the qualifications you would like in a tutor and the price you are willing to pay. That way, you can keep the costs in your parameters. Only those comfortable with the price you've listed will apply.
Be sure to look at resumes, call references and do background checks for candidates you're considering. Also request an initial consultation in which the person comes to meet your child, to see if their personalities mesh. "The child and tutor have got to connect to have a good learning relationship," says Pines.
7. Find a Group
If you know your child needs ongoing help, but one-on-one sessions are not feasible, ask the parents of your child's schoolmates if their kids are experiencing similar issues.
You may be able to hire one tutor for the group, then split the cost. While tutors will charge more for multiple students, the rate once divided could be far less then what you'd pay for one-on-one interactions.
Another way to get a group rate would be through large national companies like Kaplan, Sylvan, and Kumon. These firms offer tutoring packages that are good for students who have struggled consistently in a general area like reading comprehension.
You typically buy a number of sessions at once. Depending on the number you purchase, it could break down to be under $30 a session, with a trained and experienced tutor who will also provide resource material for the lessons. These companies also do the vetting for you, meaning you don't have to take on the responsibility of finding a tutor and conducting a background check.
Plus, you may be able to find special pricing deals, particularly on daily deal sites like Groupon, allowing you to knock the price down further. You can bank the savings in Junior's college fund—now, that's A+ parenting.