Coinbase for Beginners: A Complete Guide to Buying and Selling Cryptocurrency on a Popular Exchange
Money is not a client of any investment adviser featured on this page. The information provided on this page is for educational purposes only and is not intended as investment advice. Money does not offer advisory services.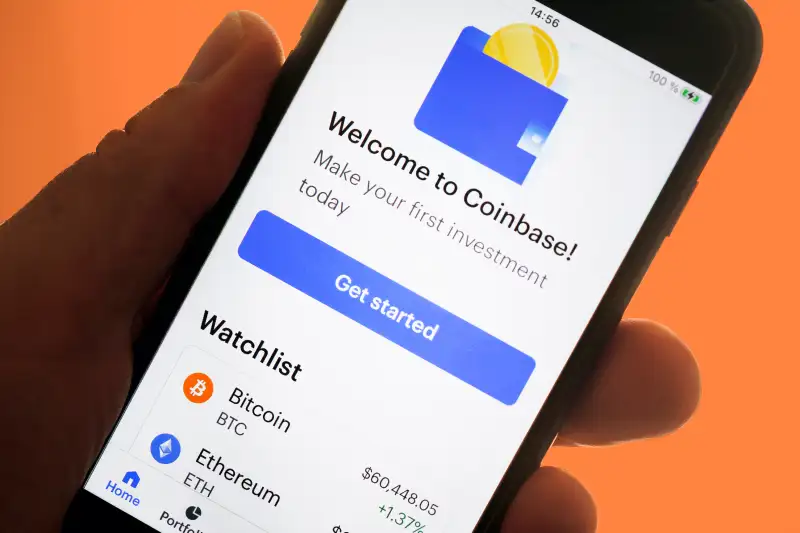 If you're looking to start trading cryptocurrency you've likely come across Coinbase.
One of the largest cryptocurrency exchanges in the U.S., Coinbase is a place to buy, sell and hold digital currencies like bitcoin and ether.
Now that cryptocurrency has gone more mainstream, there are several ways to buy and sell coins on your own, whether it be via Venmo, Cash App or a trading app like Robinhood. But Coinbase is a popular option, touting more than 110 million verified users. The company made its public debut in April of 2021, which many saw as a vote of confidence for digital currencies as a whole. Crypto prices — and the crypto industry overall — have been on a wild ride since then, but investors are still logging into their Coinbase accounts to check how various tokens are performing, buy, sell and more.
Here's everything you need to know about trading cryptocurrency on Coinbase.
What is Coinbase?
Coinbase is a trading platform that allows users to buy, sell and store cryptocurrency. There are around 240 tradable assets on the exchange, which you can browse here. Coinbase is more for beginners, while Advanced Trade is for avid and experienced traders who make high volume transactions and want more trading options. (Coinbase announced it was sunsetting its premium service Coinbase Pro in June of 2022 and migrating its users to Advanced Trade.)
Interest in investing on apps like Robinhood has boomed recently. Cryptocurrency is no exception, and Coinbase reaped many of the benefits. Coinbase is now available in more than 100 countries.
The platform is pretty straightforward. Like many trading apps, users can see their balance and a watchlist, which allows them to track the prices of different kinds of cryptocurrencies. Traders can also check which cryptocurrencies are the biggest movers. The company also offers Coinbase Card, a Visa debit card that users can use to earn rewards for spending the assets in their portfolio.
In September 2021, Coinbase announced a new direct deposit option that will allow users to have their paychecks directly deposited to Coinbase and their pay automatically deposited as bitcoin or another cryptocurrency.
Is Coinbase free?
Coinbase charges a fee for trading via the platform (unlike apps like Robinhood, which touts "free trading").
The fees differ for trading on Coinbase can be complicated, since it doesn't charge a flat fee. The company is also not very transparent about its fees — you won't be able to see exactly how much you're paying until just before you submit your order. Fees are calculated when you place orders and take into account factors like your location, payment method and order size, as well as market conditions, volatility and liquidity. Coinbase also includes a spread in the price, which is the difference between the asset's market price and the price you're buying or selling that asset for.
The fee structure for Advanced Trade uses a simpler maker-taker model. (Maker orders are those that provide liquidity, while taker orders remove liquidity.) The fees are between 0% and 0.60% per trade with lower costs for larger dollar transactions. For example, a transaction of less than $10,000 has a 0.40% maker fee and a 0.60% taker fee, while a transaction between $10,000 and $50,000 has a 0.25% maker fee and a 0.40% taker fee.
Coinbase doesn't charge users to hold their assets in a digital wallet or to transfer cryptocurrency from one wallet to another within the Coinbase network. But Coinbase's fee can definitely chip away at your winnings, especially if you're not using Advanced Trade.
How to open a Coinbase account
Opening a Coinbase account is pretty straightforward. You'll need a government-issued photo ID, as well as information like your phone number and the last four digits of your Social Security number. Be ready to answer questions about what you'll use the platform for. When choosing a password, use proper cyber hygiene — like a unique password you haven't seen elsewhere and multi-factor authentication — to avoid hackers getting ahold of your account.
Before you begin trading, you'll need to attach a payment method to your Coinbase account. In the U.S., you can use a bank account, debit card, wire transfer, PayPal account, Apple Pay or Google Pay. Actions like cashing out aren't available across all these payment methods, but you can see what you can do with each here.
Once you have your digital wallet set up, you're ready to trade. Coinbase doesn't offer trading for all cryptocurrencies, but the exchange does regularly add new coins.
Is it a good time to invest in cryptocurrency?
Crypto prices reached several record highs during the pandemic, but they've since fallen significantly.
In November 2021, bitcoin's price hit a record high of around $68,000 per coin, more than double what the price had been in July of that year. Meanwhile, ether — the second-largest cryptocurrency by market value after bitcoin — also hit a new high in November 2021 at around $4,800. Altcoins, cryptocurrencies that aren't bitcoin, have grabbed attention too: Dogecoin surged 8,000% in the first few months of 2021, and Shiba Inu coin and a token called Omicron once skyrocketed.
Nowadays, it's a different story. The Federal Reserve has been raising interest rates since March 2022 — a move used to tamp down inflation but that also tends to weigh on the price of financial assets like stocks, bonds and crypto. The crypto industry has also experienced an extreme erosion of trust, in part due to the implosion of some previously trusted companies, like the major exchange FTX. The price of bitcoin has tumbled to below $20,000 per coin since its record high and, as of March 2023, is around $28,000 per coin.
Of course, these wild ups and downs should give investors pause.
Aside from its price volatility, cryptocurrency is a risky investment. As a relatively new technology, crypto isn't regulated the way financial assets like stocks and bonds are. While there have been recent moves to more closely regulate crypto, experts say the future is still uncertain (especially since added regulation could change up the way crypto companies do business). In March, the U.S. Securities and Exchange Commission (SEC) warned Coinbase that it had identified potential violations of U.S. law related to some of its crypto products in just the latest example of a crackdown on the industry. Overall, financial advisors tend to recommend not investing money in crypto that you aren't prepared to lose.
How to buy and sell cryptocurrency with Coinbase
It's time to pick your cryptocurrencies.
Cryptos that are among the most popular and expensive cryptocurrencies — like bitcoin, ethereum, litecoin and bitcoin cash — are often considered safer than others, Hanna Halaburda, an associate professor at NYU Stern School of Business, previously told Money. That's because there is more computational power put into maintaining their blockchain, the technology behind cryptocurrencies, making them more expensive for hackers to attack. They have also been around for years, so if there was a bug, we would likely know about it, she adds.
For most investors, buying a bitcoin that has had a price as high as around $68,000 per coin likely isn't an option. Ether has cost more than $4,000 per coin and even litecoin, which has cost more than $300 per coin in the past, may be more than you want to spend. But Coinbase allows users to buy a small fraction of a coin. It's common for investing apps like Robinhood to allow traders to buy fractional shares — like investing $25 in popular stocks like Amazon and Apple instead of the more than $100 you would need to buy a full share. With Coinbase, traders can buy or sell as little as $2 worth of digital currency.
But that doesn't mean there are no concerns in general. Cryptocurrencies have proven to be volatile — just look at the market's last few years.
The digital currencies also, again, aren't regulated in the same way as other assets. Before a company sells its stock to the public, it needs to go through strict scrutiny by the SEC. Before an investment advisor can recommend that stock, they need to be confident it's in the investor's best interest. There are a lot of protections for investors that you don't have with crypto, says James Angel, a finance professor at Georgetown University.
Plus, cryptocurrencies don't actually have any intrinsic value, so the speculative asset is completely at the whim of the value the market attributes to it.
Is it safe to buy and sell cryptocurrency with Coinbase?
To buy and sell cryptocurrency, you'll need a digital wallet where you'll hold your currency between transactions. Unlike a regular wallet, a digital wallet has an added concern: Is the crypto wallet safe from hackers?
There are a few options, each with their own security measures.
If you don't want to worry about keeping cryptocurrency separate from the Coinbase app, you can use what is called a hosted wallet. This wallet is held for you by a third party — in this case, Coinbase — which means you don't have to worry about forgetting your password and losing all your cryptocurrency. (That's a real concern: Some crypto investors have lost millions of dollars because they can't remember how to get into their wallets.)
Cryptocurrency isn't insured by the Federal Deposit Insurance Corporation (FDIC) or the Securities Investor Protection Corporation, like your bank account or investment portfolio. But Coinbase says it "carries crime insurance that protects a portion of digital currencies held across our storage systems against losses from theft" — like from a cybersecurity breach — but not from unauthorized access to your account. The company also says that it keeps 98% or more of its customers' digital currency offline. A dollar balance of up to $250,000 is FDIC-insured on Coinbase.
If you want full control of your cryptocurrency without a third party's involvement, you can opt for what's called a non-custodial wallet. While you don't have to worry about the third party being hacked, you do have to remember your password yourself, or risk losing your cryptocurrency. But having more control means you can participate in more advanced activities, like yield farming, which allows the cryptocurrency owner to lend out their assets to generate higher returns. Coinbase customers can choose to download the Coinbase Wallet, separate from the app, which is a non-custodial wallet.
If you want security from your computer being hacked, you can go for a cold wallet — also called a hardware wallet — which is a physical device like a USB that's not connected to the internet. They can be pricey; the Ledger Nano X is $149 and the Trezor Model T is $219 as of March 2023.
Want to learn more? Money has a full list of the best crypto exchanges as well as a list of the best crypto wallets (spoiler: Coinbase is listed as the best for beginners on both). You can also check out our full review of the Coinbase crypto wallet.
This story was originally published in 2021 and has been updated.
More from Money:
You Can Buy Bitcoin on Venmo Now. Should You?
3 Ways to Bet on Bitcoin Without Actually Buying Bitcoin
Robinhood for Beginners: A Complete Guide to Investing With the Controversial Stocks App