Here's How Much Bitcoin Is Down Since Crypto Firms Went All in on Super Bowl Ads Last Year
Money is not a client of any investment adviser featured on this page. The information provided on this page is for educational purposes only and is not intended as investment advice. Money does not offer advisory services.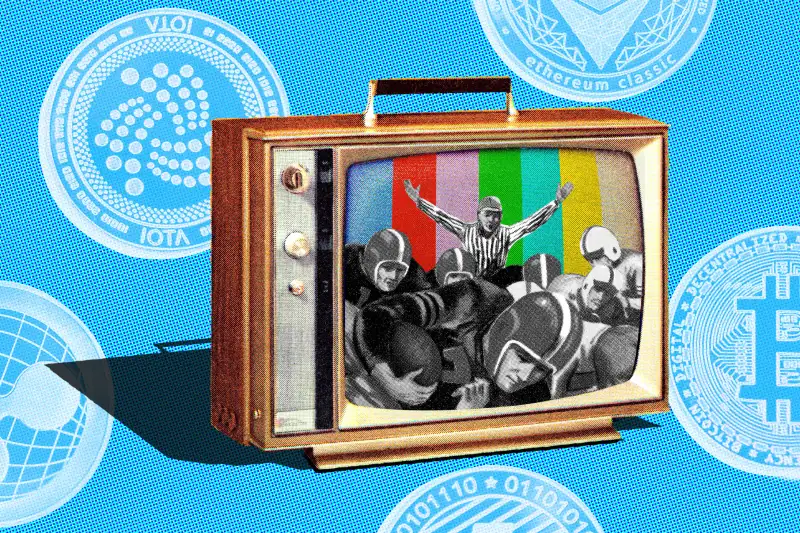 Vanessa Garcia / Money; Getty Images
A year ago, the crypto industry was in a much better place. Bitcoin was trading above $42,000, and crypto exchanges made a splash during the Super Bowl with ads that earned the event the "crypto bowl" moniker.
But if Coinbase's memorable floating QR code ad got you to buy some cryptocurrency or Coinbase stock after the game, your investment has likely lost significant value.
A broad crypto crash began around April 2022, and even after some rebounding to the start off this year, bitcoin and ether are still down massively since last year's Super Bowl when the Rams claimed the title over the Bengals.
That's part of the reason why you won't see any national ads from crypto companies during this year's matchup between the Chiefs and Eagles, a Fox executive told Sports Business Journal, noting that several crypto ad deals for the game fell through after the collapse of FTX in November.
That included a 60-second spot FTX had booked, which would've made Sam Bankman-Fried's now-bankrupt company a repeat advertiser after they featured Larry David in a 2022 ad.
Crypto's fall since last year's Super Bowl ads
Bitcoin and ether prices are both down by nearly 50% from their levels a year ago going into the Super Bowl.
The price of bitcoin is about $23,000, down 48% in the past year. The recent trend has been positive, however. Bitcoin is up 38% so far this year. (Bear in mind that bitcoin was down more than 75% in November 2022 from its all-time high one year prior, when the price reached $68,790.)
The price of ether, the native token of the Ethereum blockchain network, is about $1,650, down 47% from a year ago. The coin has also had a strong start to 2023 and is up 35%.
Coinbase, the largest crypto exchange in the U.S., will not advertise during the 2023 Super Bowl, which is not really surprising given that the company has laid off thousands of employees since the summer. Coinbase stock has surged so far in 2023, just about doubling year to date, but its share price is still 65% lower than a year ago.
Bottom line
The "crypto bowl" of 2022 was followed by a horrible stretch for major tokens and exchanges. Crypto has been rallying recently, but the lack of ads during this game on Sunday will be a reminder of how much the industry has fallen.
More from Money:
6 Best Crypto Exchanges of February 2023
8 Best Crypto Wallets of February 2023
Bitcoin Is Up Nearly 30% This Year — Here's What to Know About the Enormous Rally