How to Watch the 2019 Golden Globes Online for Free Tonight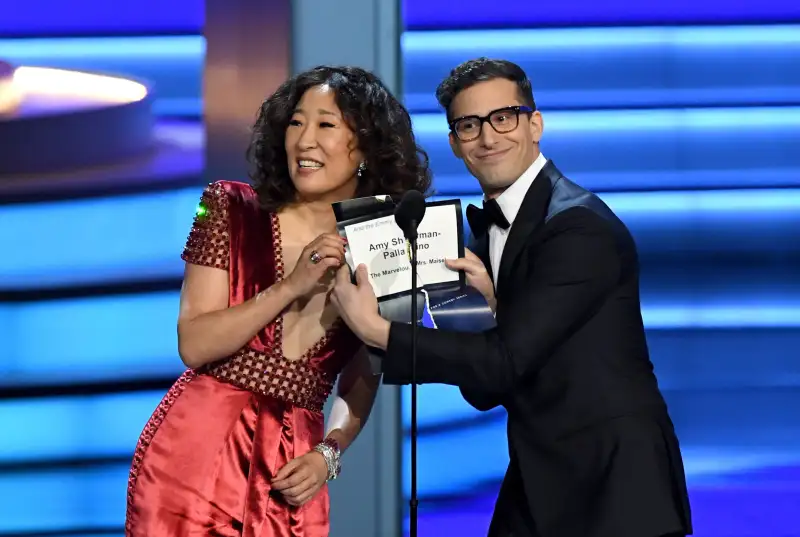 Kevin Winter—Getty Images
Each product we feature has been independently selected and reviewed by our editorial team. If you make a purchase using the links included, we may earn commission.
Get ready, culture vultures: The 2019 Golden Globe Awards are tonight, with the TV broadcast scheduled to start on NBC at 8 p.m. ET.
This year's Golden Globes hosts are Killing Eve's Sandra Oh and Andy Samberg, star of Brooklyn Nine-Nine. Vice, the Adam McKay film about Dick Cheney starring Christian Bale, captured six Golden Globe nominations, the most of any movie this year. Green Book, The Favourite, and A Star Is Born are also starting with night with five Golden Globe nominations apiece. Most predictions say that A Star Is Born will be the big Golden Globe winner this year, with frontrunners Lady Gaga and Bradley Cooper leading the best actress and actor in a drama categories.
Here's all the info you need for how to watch the 2019 Golden Globes for free tonight.
When Are the Golden Globes?
The Golden Globes TV broadcast start time is 8 p.m. ET tonight (Sunday, January 6, 2019), on NBC. The Golden Globe Awards show will begin soon after the NBC broadcast of the Philadelphia Eagles vs. Chicago Bears NFL Wildcard playoff game, which starts at 4:40 p.m. ET.
If you're already wondering when are the Oscars, the 2019 Academy Awards are scheduled for Sunday, February 24, and this year's Oscar nominations will be announced on Tuesday, January 22. The 2019 Oscars will be televised on ABC.
How to Watch the Golden Globes for Free on TV
It's easy to watch the Golden Globes for free on TV. If you have cable or another pay TV package, it probably already includes major networks like ABC and NBC. Simply find your local NBC station and tune in.
If you don't have cable, in most of the country you can still watch the Golden Globes for free by hooking up your TV to a digital antenna. You can buy a decent HDTV antenna for about $25, and once it's connected to your TV you'll be able to watch local broadcasts of nearby affiliates for major, over-the-air networks, including NBC, CBS, ABC, and Fox.
Across most of the U.S., viewers with digital antenna can watch NBC and all the other broadcast networks totally for free and in hi-definition — without having to pay a cable bill. But the exact list of channels you get may vary based on where you live, the strength of your antenna, and where the antenna is positioned.
How to Live Stream the Golden Globes
There are several ways to live stream the 2019 Golden Globes. If you subscribe to cable, satellite TV, or another pay TV service, you can watch the Golden Globe Awards online via the NBC Live Stream or the NBC app. Take note that you must first log in with your pay TV provider subscription information to access these live streams.
If you don't have cable, there are streaming TV options to watch the 2019 Golden Globes online. In many parts of the country, live streaming TV services like Fubo TV, Hulu Live, DirecTV Now, PlayStation Vue, YouTube TV, and Sling TV include local broadcasts of some network TV stations alongside dozens of other channels in their packages. They all offer free trials that last about a week to new subscribers.
So you could register for a free trial with a streaming TV service in order to watch the Golden Globes online for free tonight. Just remember to cancel before the free-trial period ends if you ultimately decide you do not want to become a paying subscriber. If you miss the deadline, you'll be charged in full for the first month's service — with rates starting at $25 to $40 per month for most streaming TV providers.