How to Watch the 2019 March Madness Basketball Tournament Online for Free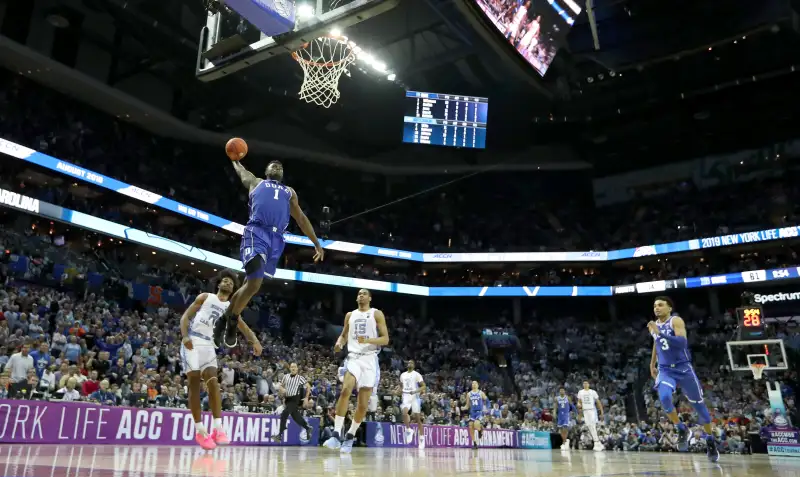 Streeter Lecka—Getty Images
College basketball fans, it's that time of year again: March Madness 2019 is here, with the NCAA men's basketball tournament Sweet 16 games scheduled throughout Thursday, March 28, and Friday, March 29.
The official 2019 March Madness bracket was announced on Sunday, March 17, and the tournament kicked off last week with its classic field of 64 teams.
For the 2019 NCAA basketball tournament, Duke, North Carolina, Virginia, and Gonzaga have been awarded No. 1 seeds. Duke — led by freshman phenom Zion Williamson — is the overall top seed, and the favorite to win the 2019 national championship. While millions of people fill out March Madness brackets every year in the hopes of winning their office pool, the 2019 NCAA tournament is special because it's the first year that fans can bet on March Madness legally in several states.
Here's all the info you need to watch March Madness — online or on TV, for free — today and all the way through the 2019 Final Four in early April.
How to Watch March Madness Live on TV
If you are wondering what channel March Madness games are on, the answer depends on which matchup you're trying to watch.
The TV broadcasts for 2019 March Madness games are being handled by four different networks: CBS, truTV, TNT, and TBS. Go to the NCAA's TV broadcast schedule to find out game times and what channels are doing the broadcasts.
First-round games scheduled for Thursday, March 21, and Friday, March 22, are split fairly evenly among the four different channels. Once the field of 64 is narrowed to 32 teams, and onward through the Sweet 16 and Final Four, truTV coverage mostly disappears and nearly all March Madness games are broadcast on CBS, TNT, or TBS.
For the 2019 Final Four, both semifinal games scheduled for Saturday, April 6, in Minneapolis, are airing on CBS. The 2019 NCAA men's basketball championship on Monday, April 8, will be broadcast by CBS as well.
If you have cable or another pay TV package, your bundle of channels probably comes with all of the networks broadcasting 2019 March Madness games live. All you need to do to watch March Madness for free is find the appropriate channel.
If you don't have cable, you should still be able to watch many 2019 March Madness games for free, including the Final Four and NCAA championship game, with an HDTV antenna. You can buy a decent digital TV antenna for about $25, and once it's hooked up to your TV it will let you watch unlimited over-the-air networks — including CBS, ABC, NBC, and Fox.
The exact list of channels you can watch for free with a digital antenna will vary based on the strength of the antenna, where you live, and where the antenna is placed in your home. Viewers in most of the country should be able to tune in a local CBS station and watch all the March Madness games for free that are airing on CBS.
How to Stream March Madness Games Online for Free
There are several different options for you to watch the NCAA basketball tournament online — and yes, you can often stream March Madness games for free.
First off, there's the NCAA's March Madness Live, which you can watch in a browser or with an app for Android or Apple. The site (or app) will let you stream March Madness games for free for a set time, before you are prompted to log in with a pay TV account and password. But at least based on previous years, it should be easy to watch most if not all of an individual March Madness game online for free before the stream is shut off.
Another option to consider is signing up for a free trial of a live-streaming TV service that includes the channels broadcasting March Madness games in its bundle of networks. If you are unfamiliar with live-streaming TV, think of it as cable TV that's delivered online to any connected device you want. Streaming TV services let you watch a bundle of pay and broadcast TV channels online for one flat price each month, and the packages are typically less expensive and come with fewer fees than cable.
The live-streaming TV services FuboTV, DirecTV Now, Hulu + Live TV, PlayStation Vue, and YouTube TV all come with TBS, TNT, and truTV, among dozens of pay channels. They also all include broadcasts of local CBS stations in most of the country. Prices for these services start at $40 to $50 per month, but new subscribers can try out any of them for free for five to seven days during free-trial periods.
Yet another way to live stream March Madness for free is by signing up with Sling TV streaming service. It also has free trials for new subscribers, and it's good to know that Sling TV is the cheapest streaming service out there that includes channels showing March Madness games.
What's more, right now there is a special discount from Sling offering its basic "Sling Blue" streaming TV package — which includes TNT, TBS, and truTV — for only $15 per month for the first three months. After that, Sling prices go up to the normal rate of $25 per month. Note that Sling TV does not offer CBS streaming with its packages, but as mentioned above you should be able to watch CBS for free on TV with a digital antenna.
If you don't have a TV and want to stream March Madness games that are being broadcast on CBS, you can sign up for a free trial of CBS All Access. The service lets you stream CBS broadcasts live, and it is available to new subscribers for free during a one-week trial. After that, CBS All Access costs $5.99 per month.
Remember that if you only want to watch live-streaming TV while it's free, you must cancel before the free trial ends. If you miss the deadline, you'll be charged in full for the first month's subscription.
What March Madness Games Are on TV? Here's the 2019 Schedule
Here are the March Madness game times and TV channels for the NCAA tournament's first round and beyond. All starting times are listed for in Eastern Time (ET).
FIRST ROUND: THURSDAY, MARCH 21
• Minnesota vs. Louisville, 12 p.m. on CBS
• Yale vs. LSU, 12:30 p.m. on truTV
• New Mexico State vs. Auburn, 1:20 p.m. on TNT
• Vermont vs. Florida State, 1:50 p.m. on TBS
• Bradley vs. Michigan State, 2:30 p.m. on CBS
• Belmont vs. Maryland, 3 p.m. on truTV
• Northeastern vs. Kansas, 3:50 p.m. on TNT
• Murray State vs. Marquette, 4:20 p.m. on TBS
• Florida vs. Nevada, 6:45 p.m. on TNT
• Abilene Christian vs. Kentucky, 7 p.m. on CBS
• Saint Mary's vs. Villanova, 7:15 p.m. on TBS
• Fairleigh Dickinson vs. Gonzaga, 7:15 p.m. on truTV
• Montana vs. Michigan, 9:15 p.m. on TNT
• Seton Hall vs. Wofford, 9:30 p.m. on CBS
• Old Dominion vs. Purdue, 9:45 p.m. on TBS
• Baylor vs. Syracuse, 9:55 p.m. on truTV
FIRST ROUND: FRIDAY, MARCH 22
• Iowa vs. Cincinnati, 12 p.m. on CBS
• Oklahoma vs. Mississippi, 12:30 p.m. on truTV
• Northern Kentucky vs. Texas Tech, 1:30 p.m. on TNT
• UC Irvine vs. Kansas State, 1:50 p.m. on TBS
• Colgate vs. Tennessee, 2:30 p.m. on CBS
• Gardner-Webb vs. Virginia, 3 p.m. on truTV
• Arizona State vs. Buffalo, 3:50 p.m. on TNT
• Oregon vs. Wisconsin, 4:20 p.m. on TBS
• Washington vs. Utah State, 6:45 p.m. on TNT
• North Dakota State vs. Duke, 7 p.m. on CBS
• Georgia State vs. Houston, 7:15 p.m. on TBS
• Liberty vs. Mississippi State, 7:15 p.m. on truTV
• Iona vs. North Carolina, 9:15 p.m. on TNT
• UCF vs. VCU, 9:30 p.m. on CBS
• Ohio State vs. Iowa State, 9:45 p.m. on TBS
• Saint Louis vs. Virginia Tech, 9:55 p.m. on truTV
SECOND ROUND: SATURDAY, MARCH 23
• Maryland vs. LSU, 12:10 p.m. ON CBS
• Wofford vs. Kentucky, 2:40 p.m. on CBS
• Florida vs. Michigan, 5:15 p.m. on CBS
• Murray State vs. Florida State, 6:10 p.m. on TNT
• Baylor vs. Gonzaga, 7:10 p.m. on TBS
• Minnesota vs. Michigan State, 7:45 p.m. on CBS
• Villanova vs. Purdue, 8:40 p.m. on TNT
• Auburn vs. Kansas, 9:40 p.m. on TBS
SECOND ROUND: SUNDAY, MARCH 24
• Iowa vs. Tennessee, 12:10 p.m. on CBS
• Washington vs. North Carolina, 2:40 p.m. on CBS
• UCF vs. Duke, 5:15 p.m. on CBS
• Buffalo vs. Texas Tech, 6:10 p.m. on TNT
• Liberty vs. Virginia Tech, 7:10 p.m. on TBS
• Oklahoma vs. Virginia, 7:45 p.m. on truTV
• Ohio State vs. Houston, 8:40 p.m. on TNT
• UC Irvine vs. Oregon, 9:40 p.m. on TBS
SWEET 16: THURSDAY, MARCH 28
• Florida State vs. Gonzaga, 7:09 p.m. on CBS
• Purdue vs. Tennessee, 7:29 p.m. on TBS
• Texas Tech vs. Michigan, 9:39 p.m. on CBS
• Oregon vs. Virginia, 9:57 p.m. on TBS
SWEET 16: FRIDAY, MARCH 29
• LSU vs. Michigan State, 7:09 p.m. on CBS
• Auburn vs. North Carolina, 7:29 p.m. on TBS
• Virginia Tech vs. Duke, 9:39 p.m. on CBS
• Houston vs. Kentucky, 9:57 p.m. on TBS
ELITE 8: MARCH 30-31
• Games, broadcasts TBD
FINAL FOUR, APRIL 6
• TBD vs. TBD, 6 p.m. on CBS
• TBD vs. TBD, 8:30 p.m. on CBS
2019 NCAA NATIONAL CHAMPIONSHIP GAME, APRIL 8
• TBD VS. TBD, 9 p.m. on CBS