How to Watch the 2019 NFL Pro Bowl Game Online for Free Today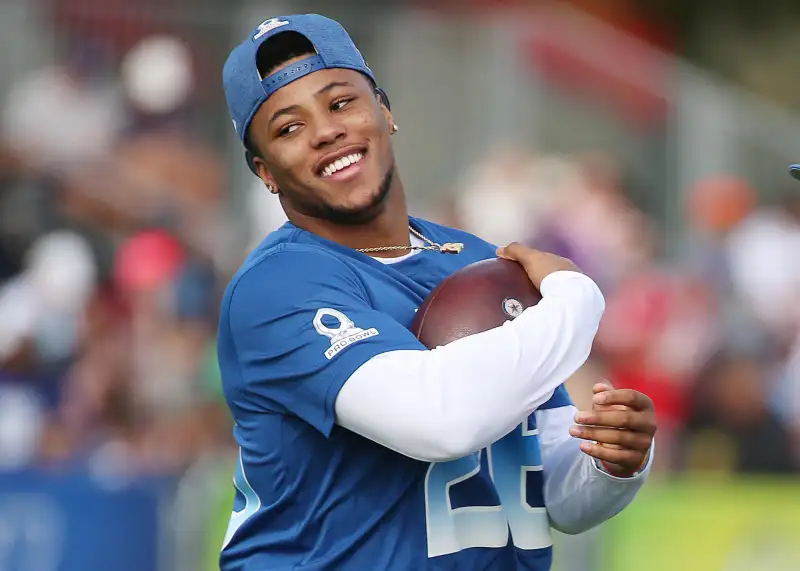 Orlando Sentinel—TNS via Getty Images
Sorry football fans: You have to wait another week for the 2019 Super Bowl kickoff. But there is still one NFL game today for fans to watch: The 2019 NFL Pro Bowl starts at 3 p.m. ET on Sunday, January 27, with a TV broadcast on ABC and ESPN.
Who is playing in the NFL Pro Bowl 2019? The Pro Bowl rosters include NFL stars like Patrick Mahomes, Von Miller, and Tyreek Hill as starters for the AFC team, matched up against the likes of the NFC's Saquon Barkley, Dak Prescott, Bobby Wagner, and George Kittle.
Meanwhile, it's the New England Patriots vs. Los Angeles Rams in Super Bowl 2019 next week. Though the Patriots' Tom Brady and Rams' Jared Goff, Todd Gurley, and Aaron Donald were voted into the Pro Bowl this year, none of them will play today in order for them to avoid injury and prepare for the Super Bowl.
Where is the Pro Bowl being played? This year, the game is at Camping World Stadium in Orlando, Florida. Here's everything else you need to know to watch the 2019 NFL Pro Bowl today.
First Off, When Is Super Bowl 2019?
While the Pro Bowl is fun, many NFL stars skip the game, and there isn't much at stake for players and coaches beyond mild bragging rights. Essentially, the Pro Bowl gives NFL fans something to watch during the weekend in between the AFC and NFC championships and the league's most heavily-anticipated game: the 2019 Super Bowl.
Speaking of which, when does Super Bowl 2019 start? The TV broadcast of the Patriots vs. Rams Super Bowl starts at 6:30 p.m. ET on Sunday, February 3, on CBS.
This year, the Super Bowl announcers will be Tony Romo, the former Dallas Cowboys quarterback, and longtime CBS commentator Jim Nantz. The Super Bowl 2019 halftime show will feature Maroon 5, along with Travis Scott and Big Boi.
What's the NFL Game Schedule Today?
There is only one NFL game scheduled for today: It's the 2019 Pro Bowl, and it's easy to watch for free on TV.
The TV broadcast of the Pro Bowl starts at 3 p.m. ET on local ABC stations around the country, as well as the pay channel ESPN. If you have cable or another pay TV package, you probably have the option to watch the Pro Bowl on either channel.
If you don't have cable, you can still watch the 2019 NFL Pro Bowl in most of the country with a digital antenna. A decent HDTV antenna costs about $25, and it will function like old-fashioned "rabbit ears" antenna, allowing you to tune in local nearby affiliates of over-the-air broadcast networks — including ABC, NBC, CBS, and Fox — for free. It's well worth the investment if you don't have cable, or want to stop paying for cable.
How to Get a Free Live Stream of Super Bowl 2019 and the NFL Pro Bowl
For a free live stream of the Super Bowl next week and the Pro Bowl today, fans can download the NFL App or Yahoo Sports mobile app. Either app lets you live stream national televised NFL games, including the Pro Bowl and the Super Bowl, entirely for free on smartphones (and sometimes, tablets).
Unfortunately, while the apps allow you to live stream NFL games on a phone, they cannot be used to watch the Super Bowl or other games online on a larger screen, such as a laptop or smart TV. They don't allow you to screencast NFL games to TVs either.
How to Watch the Pro Bowl Online for Free
To watch the 2019 Pro Bowl online on a larger screen, consider signing up for a live-streaming TV service that includes ABC and other broadcast channels in its packages.
In most of the country, the streaming TV services Fubo TV, Hulu Live, DirecTV Now, PlayStation Vue, and YouTube TV include ABC, CBS, Fox, and NBC in packages, in addition to dozens of other traditional "pay TV" channels. The cost of these live streaming TV services generally starts at $40 to $45 per month, but new subscribers can watch online for free during free-trial periods that last five to seven days.
So, to watch the NFL online for free today, you could register as a new subscriber with a live-streaming TV service and take advantage of a free trial. Afterward, you'd still have several days left to try out the service further before paying up.
If you do not want to become a paying subscriber, remember to cancel before the free trial ends. If you miss the deadline, you'll be charged in full for the first month.