How to Watch Adam Rippon and Nathan Chen Skate in the Olympic Men's Short Program for Free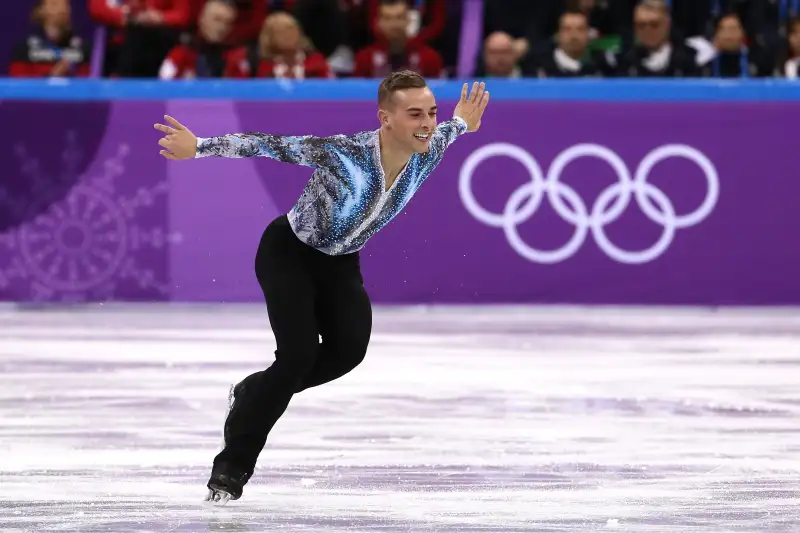 Jamie Squire - Getty Images
For those of you who have been wondering when Team USA figure skaters Adam Rippon and Nathan Chen will skate again, now is your chance: The men's short program for figure skating at the 2018 Winter Olympics in PyeongChang kicks off tonight at 8 p.m. EST on NBC.
However you're planning to watch Rippon, Chen, and others perform, make sure you settle in — 30 skaters are competing at the Gangneung Ice Arena and they're saving the best for last.
According to the men's figure skating lineup, the six olympians favored to medal are skating at the end of the event, which means you have to stay up until midnight if you want to watch what are supposed to be the best routines.
Fan favorites Rippon and Chen don't skate until much later in the evening — Rippon performs at 10:54 p.m. EST and Chen performs at 11:54 p.m. EST. But if you can't stay up that late, you can still watch American Vincent Zhou skate earlier at 8:21 p.m.
The U.S. Olympians will have to contend with incumbent champion Yuzuru Hanya of Japan, who skates right before Chen at 11:48 p.m.
Here's how to watch the men's figure skating program with or without cable:
How to watch men's figure skating on TV for free
NBC is home to all things 2018 Winter Olympics since the network owns the broadcasting rights to the games, airing on free local NBC stations around the country, as well as the cable TV channels CNBC, USA Network, and NBCSN. So if you have a paid TV subscription you should be all set to watch the games on NBC, NBC-owned channels and any NBC local affiliates — either live as they're happening or later on during produced and edited broadcasts. You can find out which channels are broadcasting what events when on the network's official TV listings page.
How to live stream men's figure skating for free
NBC is streaming a record 1,800 hours of the 2018 Olympic Winter games this year on almost every device you can think of. You can watch all the live streaming you want on NBCOlympics.com and the NBC Sports app on your computer, your smart phone, tablet or connected TV.
The downside? To watch the majority of coverage, you must be an authenticated user (or borrow your mom's cable login).
If you can't watch all of the live streaming as authenticated user, NBC offers a "temporary pass" which allows you to stream 30 minutes of coverage the first time you watch, but only five minutes every day after that.
Your other option to watch the men's figure skating program is to sign up for a streaming service — or a free trial of a streaming service — that offers NBC cable channels, such as YouTube TV, Hulu Live and DirecTV Now, or even try a digital antenna. If you choose the free trial option don't forget to cancel your membership when it expires, as most of the trial offers require a credit card to sign up.
Additional Olympics programming
Additional content is also being offered in the form of three online-only programs: Gold Zone, Olympic Ice and Off the Post, which offer reviews and extended coverage of certain sports. You can also check out the social-focused, short-form video series Ever Wonder online.