I Rejoined the Corporate World After a 9-Year Break. Here's How I Found My 'Returnship'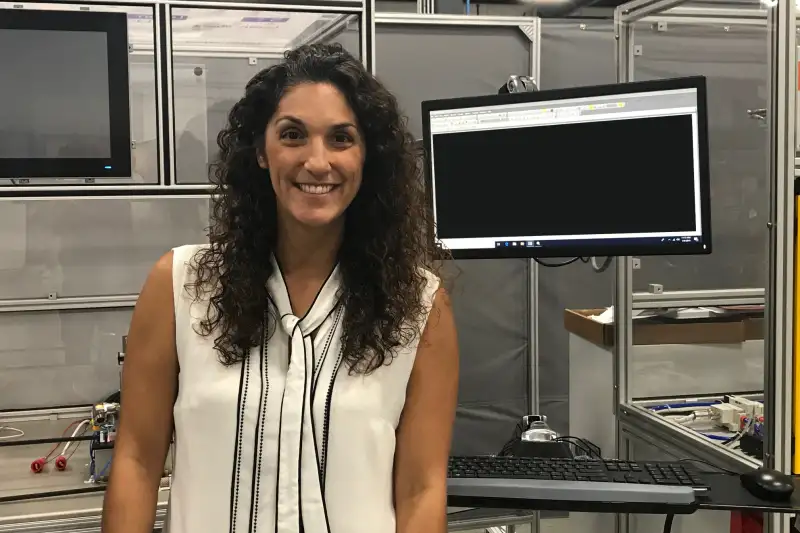 Courtesy of Nicole Richardson
Nicole Richardson never intended to take nine years off from the corporate world. As a new mom, she worked as an engineer in the aviation and automotive industries, but everything changed when she had her third child.
"Suddenly I felt like I hit a wall and couldn't perform at work the way I wanted to," Richardson says. "I decided to put my focus into one area—my kids—with the intent of getting back to work in a very, very short period. But, life just got crazier and crazier."
Proud of her achievements in raising her three girls, Richardson also wanted them to see her contributing in the workforce. Seven years into her pause, she was ready to return to her engineering career, but the path back wasn't obvious. Busy at home, she had let her network dwindle.
A chance meeting on the sidelines of a youth soccer game in 2017 turned out to be the open door she needed. A fellow parent from her daughter's team told her that his company, Johnson & Johnson, had a new initiative that offered short-term positions for people returning to careers in science, technology, engineering, math, manufacturing and design roles. One phone call and one email later, Richardson was on her way to formally applying for their Re-Ignite returnship program.
Under the guidance of her new mentors, Richardson, now 43, pivoted to a robotics career at Ethicon, a Johnson & Johnson medical company. Although the returnship placement was smooth, she still found herself plagued with "what if" questions.
"What if I have to program the robot? What if the tools have changed while I've been away? What if I've been out of the workforce for too long? What if my family can't handle me being away from home all day?" Richardson wondered.
She found answers to those questions through the mentors and support that were offered through the program. Richardson and Ethicon found each other to be a good fit during the six-month trial period and, she was offered a permanent position as a part-time Senior Development Engineer in the same department.
"I love the challenges I face every day," Richardson says. "I enjoy being part of a team and making such an impact in the surgical space."
Courtesy of Nicole Richardson
Internships have long been used to entice top college students to a company, but returnships are newer. With tight labor markets and increasing diversity goals in many industries, many large companies are adding returnship programs to their recruitment toolboxes.
Over the course of their career, 37% of women and 24% of men will take a career pause. The most common reason for the break is family caregiving, but career pausers also include people returning from activities as varied as military service or volunteer work.
Usually offered as three-to-six-month programs, most returnships are designed for people who have been out of the workforce for at least a few years. The programs offer both the employer and future employee a chance to try each other out without the risk or commitment of a permanent hire. In addition to giving the returner an opportunity to hone and showcase her skills, the programs also offer training, mentorship, and the support of a cohort of workers in a similar phase of life.
First piloted by Goldman Sachs a decade ago, returnships are still most plentiful in the finance and tech industries, although new companies in manufacturing and retail have been rapidly joining the trend in 2019. Follow-up studies of the early programs show promising results, with the vast majority of returnship participants still successfully working today.
Returnships offer a formal structure for returning to the workplace. But even if you can't find one in your field, there are plenty of steps you can take to ease your way back. Here are a few:
Stay Connected
One study found that 85% of all professional job placements take place with the help of a connection. This means your network is critical. Even if you've been away from the workforce for years, LinkedIn is the one social media platform where it's acceptable to reach back through the years to renew those connections.
Also, don't forget to expand your network to include the people you've met during your pause. Richardson discovered her returnship through a fellow soccer parent. Once you're ready to return, make certain your network knows you're available and what you're looking for in a new job. If you're not yet sure exactly what you'd like to focus on, do the discovery work first.
Refresh Your Skills
Regardless of how long you've been away, the fast pace of technology almost guarantees your skills are dated nearly as soon as you step away from any job. The good news is that it's easier and less expensive than ever to find an online course in everything from digital marketing to data analytics.
Start a Side Hustle
The top of your resume can be a daunting blank space when you're applying for jobs. While companies are beginning to view career pauses more expansively, one of the best options is to fill that blank space yourself. Consulting in your previous line of work can be a great way to ease back in to the workforce. Even if your side hustle is unrelated to your previous line of work, it can put you back in a business mindset.
Build Your Confidence
Once you take a career pause, you've also stepped away from regular performance reviews, promotions, and the overall boost that comes from success at work. It's critical that you regain this confidence for your job search. One way to renew that confidence is to look to non-work activities—discussing your past successes with a friend, completing a 5k, or achieving another goal. It's also important to surround yourself with positive messages and people who support your goals.
Erika Parker Price leads the Ready Pause Go community for women who have taken a career pause. Her weekly podcast highlights stories of women who have successfully relaunched their careers. For a list of returnship programs, visit her website.