You Can Now Have Free Breakfast in Bed at IKEA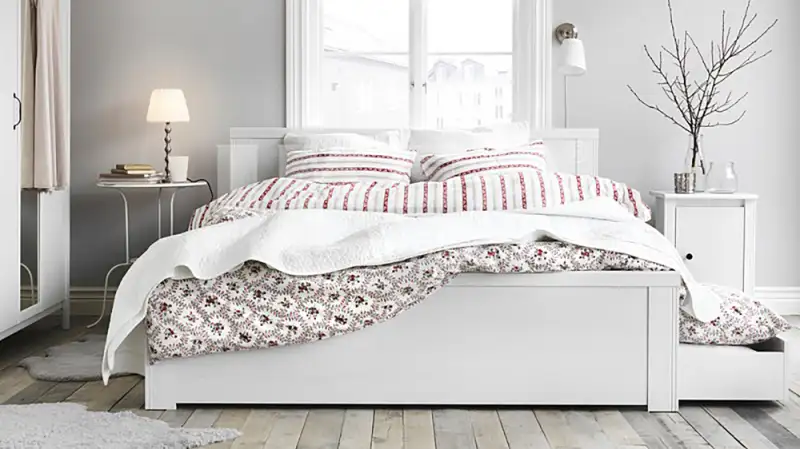 IKEA stores pride themselves on being homey. Customers in China are known to visit IKEA stores for hours on end and even go to sleep on the furniture. It's a practice IKEA encourages.
The Swedish furniture company is also known for quirky marketing ploys. Last summer, an IKEA in Sydney, Australia, hosted a contest in which three families were allowed to spend the night. The winners also received perks like a communal Swedish meal and one-of-a-kind wakeup calls ranging from the bedside performance of a full orchestra to the arrival of a bundle of soft puppies available for cuddling.
Part of the Sydney package was breakfast in bed—an amenity that features quite prominently in IKEA's latest whimsical PR move. From Monday to Wednesday next week (May 18-20), the Swedish furniture giant is opening a "zzzany pop-up" in East London dubbed the Breakfast in Bed Café.
Instead of tables, customers reserve single or double beds and are served a Scandinavian breakfast that includes pastries, juice, and coffee. Breakfast is served from 7 a.m. to 12 p.m.; from noon to 3 p.m. the beds are reserved strictly for napping. Sleep specialists will be on hand to help customers maximize their slumber time.
It's all available for free for those who manage to get reservations. To do so, you must email IKEAbreakfastinbed@hopeandglorypr.com.
As for what IKEA gets out of this, well, beyond the publicity ("Var sa god," we're pretty sure that's "You're welcome" in Swedish), the store presumably gets to expose plenty of potential paying customers in London to its beds, comforters, and other products. There will be plenty of IKEA merchandise on hand at the pop-up, naturally.
Note that while IKEA may welcome customers to take naps in its stores, and on rare occasions even welcomes them to breakfast in bed, there are limits to what's acceptable in retail locations. For instance, IKEA frowns upon games of hide and seek in its stores, at least ones involving tens of thousands of participants.